Calle Rey is a new plant based eatery on King Street in Newtown with a Peruvian Mexican twist. There's a menu of dishes where you won't even notice that there's no meat thanks to the flavours and use of seitan and konjac as meat substitutes and vegetables.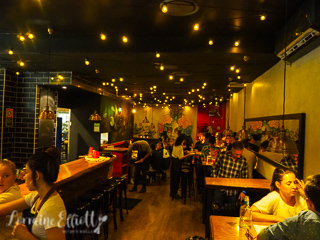 Calle Rey means King Street in Spanish. It was so new when we went that we knew very little about it and the Diablo Pisco Bar when we walked in but my brow furrows when I see the menu. There's the list of cocktails all named after Peruvian drinks and then our waitress explains that it is a Peruvian Mexican take on vegan food.
The chef is Peruvian JC Miranda and he and his business partner Madison Cohen met when she dined at his restaurant. For the past 7 years he has worked exclusively in plant based cuisine.
Service here is friendly and efficient. Cocktails are a big feature here and we watch enormous Lagerita cocktails make their way to tables. They're enormous, the most popular is the pastel pink one meant for sharing (or not) but rather than risk it on the one cocktail we go for the more regular cocktails.
Cholapolitan $18 Sweet And Salty Watermelon $18
There's a big list of original cocktails based on Pisco. Mine is the Cholapolitan with Pisco, Acholado, Cranberry juice, lime juice, Cointreau, passionfruit pulp and sugar which is delicious. Mr NQN's is the sweet and salty watermelon with Olmeco Platos tequila, fresh lime juice, watermelon juice and sugar. Alas we aren't really taken with this one as it sounds refreshing and fruity but isn't so much.
Buffalo Cauliflower Wings $15
The food comes out quickly. One of my favourite dishes are the buffalo cauliflower wings which are crisp and lightly battered and served coated in a smokey and sweet bbq sauce with a side of garlic confit aioli which is creamy and herby. It's so good that I ask for another pot of it.
Guacamole Nachos $18
The nachos are corn chips layered with refried beans, sweet potato cheese, guacamole, habanero pico de gallo and yellow cheese sauce. It's not bad, quite good although I do miss the cheese in this and adding some of the creamy aioli does help.
Mushroom Quesadilla $18
The quesadilla is cut into quarters and is two flour tortillas filled with sauteed potobello mushrooms. On the side is a Mexican cheese sauce, guacamole and salsa. You spoon a bit of everything into the tortilla and it's delicious.
Calamari Tacos $12 for 2
My favourite dish apart from the cauliflower buffalo wings are the tacos. Corn tortilla tacos are filled with a range of fillings and I like that the corn tortillas are soft and pliable as they can sometimes be dry and cracked. The fried calamari is everyone's favourite and tastes pretty much just like fried calamari rings. It comes with avocado, a purple coloured olive aioli, togarashi and chives. The prices for the tacos is also very reasonable with two coming per serve.
Prawn Tacos $12 for 2
Another close favourite is the prawn taco with konjac prawns, anticucho (usually grilled beef hearts) marinade, guacamole, garlic confit aioli and chives. I love how generous the filling is in these.
Roast Duck Tacos $12 for 2
The best seller is the roasted duck taco made with smoked bbq and roasted "duck" aka seitan or wheat gluten, cabbage, onion, coriander and red chilli. It's a fairly good imitation of duck especially with the sauce.
Taco Potato $12 for 2
Even the taco potato without any mock meat or seafood is very tasty. There's lettuce, crunchy potato cubes, Peruvian aji or yellow chilli sauce with olives and parsley.
Crispy Tacos $12 for 2
We also try the taco wonton. Peru has a lot of Chifa or Chinese Peruvian restaurants. This is a Barrio Chine tamarind sauce with pineapple, carrots and snow peas. The corn tortillas are filled with mashed potato and carrot and folded up into a won ton and deep fried.
Sweet Potato Creme Brulee $12
There are two desserts on the menu. There is the sweet potato crème brûlée. It's a crème brûlée that's a bit thicker in texture with the addition of sweet potato. There isn't the crackling toffee layer, it's a bit soft and thin but it's quite nice.
Churros With Chocolate Dipping Sauce $12
I think most of us prefer the churros that come as a generous serve dusted in cinnamon sugar and served with a dark chocolate dipping sauce on the side.
So tell me Dear Reader, are you eating more plant based foods? Do you like the meat substitutes on offer or do you prefer to eat just vegetables?
This meal was independently paid for.
Calle Rey
62-64 King Street, Newtown, 2042
0475 587 074
Open Tuesday to Saturday 5pm-12am (closed Sunday and Monday)
shareplantbased.com