Rice Pantry is a Vietnamese restaurant at Marrickville Metro shopping centre featuring tasty South East Asian dishes in a photogenic indoor and outdoor setting. There are dishes like a refreshing Vietnamese beef and fresh herb salad, tamarind caramel prawns, okonomiyaki loaded tater tots and 8 hour slow cooked beef rib. There's also a very creative dessert menu-and MasterChef fans might recognise one of the desserts on the menu thanks to their chef Bryan Zhu!
Rice Pantry was started by Jackie Tran and her mother Mumma Le 7 years ago in 2015. They originally started catering events and weekend markets but soon had enough business that they could open up a shopfront. The St Peters branch opened in 2017 at Precinct 75 and is run by Jackie's mother Le. This lunch-only branch focuses on traditional Vietnamese flavours with a modern spin. The Marrickville branch opened in June 2021 on Smidmore Street. The menu here is more about South East Asian flavours rather than strictly Vietnamese flavours.
Jackie explains how MasterChef's Bryan Zhu got involved, "Our St Peters store is nestled in a lovely creative precinct that use to hold monthly markets - Bryan decided he was going to attend the market that one time, walked into our store, and we just all hit it off! We recognised him from MasterChef, offered some of Mum's food and that was it. We did a number of events together and started working together from then!"
I'd been planning a visit to Rice Pantry because my friend Monica lives very close to their St Peters location but COVID and everything put that on hold and in that time they'd opened up a branch at Marrickville Metro that was also open nights. It was a warm summer's night and Mr NQN and I had been busy unpacking and needed a break. One involving food.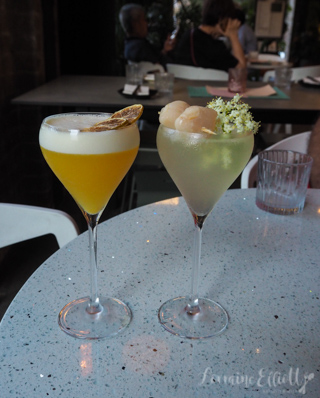 We take a seat in the outdoor section. After a busy day in the garden and unpacking we both need cocktails. I am always down for anything with lychee and elderflower and the Suddenly Lychee is made with vodka, elderflower, umeshu, lychee and lime. It's a beauty with the flavour of lychee at first and then elderflower. Mr NQN has the Crouching Ginger, Hidden Mandarin with Mary Street Gin, mandarin and ginger and ironically it's stronger in citrus than ginger.
We start with a range of snacky dishes and honestly we could have just stopped with those as we're full by the end of these. I've never been able to go past fried chicken and this Vietnamese version is similar to Korean fried chicken in that it is served boneless and succulent with a pot of daikon pickles. The spice mix is a secret (I asked!) but Jackie says that it has over a dozen spices including but not limited to garlic powder, smoked paprika, cumin and ground coriander seed and was inspired by the night market skewers of Taiwan and Hong Kong. There's also a delicious Sriracha mayonnaise. And yes I ate most of this.
That was fine for Mr NQN as he really loves the okonomiyaki tater tots that take crispy, fried tater tots and pairs them with the flavours of okonomiyaki like nori salt, furikake, Japanese BBQ sauce, kewpie mayo, pickled ginger, shichimi togarashi, bonito and lime. Each bite is reminiscent of okonomiyaki with a crispiness to it.
The most popular dish at Rice Pantry is a Vietnamese beef and herb salad based on a traditional Vietnamese dish with thinly sliced raw beef cured with lime juice with a sauce of sticky fish sauce and garlic oil. Added to the beef is a bounty of fresh herbs and sliced onions. It comes with chunky puffed rice crackers rather than the traditional prawn crackers and you break these up and add the beef salad on top. The fresh herbs are the key to this dish and they use Rau Om or "rice paddy herb" that is a fragrant herb with a citrus undertone. This is a dish we can't stop eating because it is so fresh and delicious. The sauce is surprisingly sweet which also adds to its appeal.
Usually baos are sold in lots of two but we tried three different kinds: the eggplant, prawn and crispy pork belly bao. The eggplant one is crispy and good but perhaps could have a bit more flavour added to it as I didn't taste much XO sauce. The crispy pork belly has a delightful crunchy rind although I prefer the pork belly meat to be a bit softer. My favourite bao is the honey yuzu prawn bao with an enormous, crunchy tempura prawn inside a soft, steamed bao.
We also try the house made scallion roti which is served with 3 dips: smoked red pepper, gochujang, cashew; caramelised onion with aged Chinese black vinegar and roasted eggplant, honey and white miso. The roti is a tad dryer than expected and quite crunchy but we like the dipping sauces, particularly the red pepper and gochujang sauce with its sweet spiciness.
Onto the mains! A popular dish are the tamarind prawns. These enormous Spencer Gulf prawns are served split open with heads and tails on and then charred and served with a delicious tamarind caramel . The caramel sauce is sweet but tempered with a light tang from tamarind. A little tip: you do have to get rice because the mains have some delicious sauces that you will want to seep into the rice.
It's hard to choose my favourite main out of the prawn and beef but I think it's the beef for its wonderful cotton-soft texture. The sauce is a sweet soy based sauce that the beef soaks up over its 8 hour cooking time. It comes with daikon pickles and a seasonal salad, in this case it's cherry tomatoes with yellow mustard seeds for a bit of piquancy with the rich beef ribs. It's so good that we take what we can't eat home because of course leftovers are the best especially when they're this delicious in the first place.
I absolutely love side dishes and when our lovely waitress gave us her recommendations she could not recommend the broccolini enough. She was right, it's highly addictive thanks to the sesame dressing and plenty of sesame seeds but the charring is what makes it so addictive (and the char isn't achieved by charcoal but with a blowtorch!). It also has the perfect texture to the broccolini itself but has crunch from the black and white sesame seeds and crispy garlic.
Despite how much we've eaten you cannot hold Mr NQN back from dessert and we try two of the four desserts on the menu. These two have a limited amount of serves every day and the first is a dessert that is close to Bryan's heart as it was his signature dish in his audition for MasterChef Australia in 2017 and incorporates his favourite ingredient, yuzu. It's yuzu ice cream, curd, lime meringue, citrus, saffron caramelised pineapple, sago and mint. I particularly like the saffron pineapple with its delicious honey-like quality. I'm also struck that this is the level of dessert being plated up at a casual dining place because they could be at home at a fine dining restaurant.
The Hainan Rice Cream first started off as a 2am dream for Bryan where he was craving a sweet version Hainan chicken rice. This dessert is for people that love intriguing desserts or savoury desserts like cheese plates. I was a bit surprised when I took my first bite and tasted the sesame and thought that it tasted just like Hainan Chicken Rice. Then I became slowly addicted to the smooth ginger and toasted rice gelato, coconut, chicken skin crackling, brown butter, puffed Forbidden rice, and chicken fat caramel. It's smoky, crunchy and every bite is different thanks to the variety of crunchy textures. And not a skerrick goes back to the kitchen.
So tell me Dear Reader, do you take home food if you like it but can't finish it? Would you be more interested in the yuzu ineapple dessert or the Hainan rice cream dessert?
Rice Pantry
Unit #G002/20 Smidmore St, Marrickville NSW 2204
Monday & Tuesday 11:30am–3pm
Wednesday , Thursday, Sunday 11:30am–3pm, 5:30–9pm
Friday & Saturday 11:30am–3pm, 5:30–10pm
Phone: (02) 8018 8832
Reservation: ricepantry.com.au