Ashfield Apothecary is a cafe in Ashfield with a creative, original cafe menu. Coffee lovers flock here for their rotating coffee made using ethical suppliers but those looking to eat can choose from dishes like burnt eggplant with halloumi with toast, a pumpkin tartine, their take on a Reuben sandwich or home made Persian love cake.
Up until recently truthfully most of what I had known about Ashfield is Liverpool Street with its dozens of Chinese restaurants and dumplings houses. But lately I have been discovering lots of newer places and suburbs in the inner west and today Valentina and I are headed to Ashfield Apothecary on Charlotte Street right near Ashfield train station.
Ashfield feels like the new Marrickville with so many new cafes popping up and this side of Ashfield is like Little Nepal with Nepalese shops and restaurants. Valentina and I take a seat on the stools outside. The owner of Ashfield Apothecary is Mandeep Bhusal who has managed cafes and eateries like Three Williams and The Pig and the Pastry. He chose this space as he fell in love with the heritage building with green and red tile.
Ashfield Apothecary (which brings to mind Rose Apothecary from Schitt's Creek) wasn't actually an apothecary. Instead they named it this as they believe that they heal people through coffee much like an apothecary would heal people through drugs. The menu has around 8 dishes but it is still hard to choose because they all sound good. The coffee is by Single Origin although they do rotate their other coffee suppliers. "All our coffee we source is very ethical and sustainable. We are very proud to establish a very genuine relationship with coffee roasters and farmers," says Mandeep.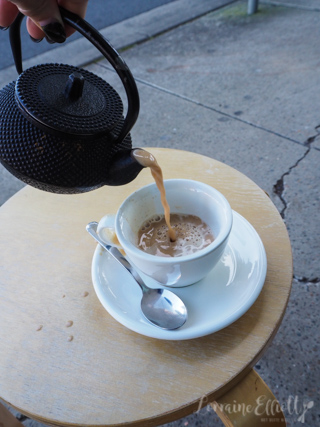 Bush Chai $5
Coffee is their thing and Valentina orders a cappuccino using Single Origin beans which she really enjoys and says is very smooth The bush chai has strong notes of powdered ginger and comes in a small cast iron teapot.
Burnt Eggplant $17 and Halloumi $4
I asked for food recommendations and the staff are super friendly and helpful. Valentina orders the Burnt Eggplant dish which is oven roasted eggplant served warm with capsicum, truss tomatoes, Persian feta, pomegranate and walnut relish with a long slice of lightly toasted ciabatta bread and she added two slices of pan fried halloumi on top. It has complex flavours with sour, creamy, sweet and salty flavours in one and we both like that this is a bit different from run of the mill cafe dishes.
Pumpkin on Toast $17
The pumpkin tartine along with the burnt eggplant are their two most popular dishes so I ordered it. It's roasted pumpkin puree with pomegranate molasses, Persian feta with soft boiled eggs on a slice of multi grain toast with coriander sauce on the side. It's a toss up between which one I like more, the eggplant or the pumpkin but I do love the sweetness of the pumpkin on top.
Pastrami Sandwich $16
I could not resist the pastrami sandwich because toasted sandwiches are the things getting me through winter. This has slices of overnight cured round beef, mustard mayonnaise, sauerkraut and melted Swiss cheese and a hit of Sriracha for a bit of spice. It's very good and I end up eating half of this even though I had only intended to have a bite and then take it home to Mr NQN.
Persian Love Cake $8
The Persian Love Cake is a house-made cake available on Fridays and Saturdays with the aroma of cardamom and the flavour of butter. It's moist and comes unadorned on the plate and is ideal for having with a cup of coffee or tea.
So tell me Dear Reader, when you go to a cafe do you tend to order classic breakfast dishes or do you go for something a bit more unusual?
This meal was independently paid for.
Ashfield Apothecary
19 Charlotte St, Ashfield NSW 2131
Monday to Friday 7am–3pm
Saturday 7am–2pm
Sunday closed
Phone: 0423 495 012
https://www.ashfieldapothecary.com/