It's time for a visit to Australia's capital Canberra! Take a peek into our stay in Kingston at the East Hotel where we breakfast at Muse Cafe, long lunch at Agostini's and have an aperitif at Joe's Bar, all without leaving the hotel!
It's been literally years between visits to Canberra. Our Canberra trip had been postponed 4 times because of COVID and now Laura and I are driving down the highway on a Friday afternoon hoping to reach Canberra with plenty of time to make the most of the day.
Our first stop along the way was for a bite of something to eat to break up the 3.5 hour drive. Moonacres Kitchen is a cafe in Robertson in the Southern Highlands. It is also about to close by the time that we get there so we call and ask if there's any possibility of ordering ahead as we'll arrive just after the kitchen closes. That's no problem says the lovely woman on the other end of the phone and she texts us a menu and takes our order over the phone. "We will be there at 2.35pm!" we tell her and sure enough when we pull up they pop their head out the window and ask, "Did you guys call for the food?". She brings us the food, steaming hot and freshly made and we sit at the outdoor picnic tables in front of the café.
Broccoli Sandwich $14
We sink our teeth into the broccoli sandwich and if anyone had any doubts about this as a concept, they may miss out on a deliciously, gooey, cheesy sandwich. The sandwich has charred broccoli with chilli, Swiss cheese and cashew butter. This is our favourite item, the bread fresh, soft and toasted and the filling is creamy and delicious.
Bruschetta with Spiced Apple Chutney, Morcilla, Fried Egg and Baton Chips $18.50
I also both love the bruschetta with a chunky spiced apple chutney, a sunny side up fried egg, crumbled morcilla or Spanish black pudding sausage and tiny, crispy crunchy baton chips. The apple and the morcilla work together beautifully and the egg yolk dresses the toast nicely.
Chips $4.50
Whatever you do, try the fries. These are made from locally grown Robertson potatoes. These fries are skin-on hand cut potato fries and are triple fried for extra crunch. We also ordered a pot of miso mayonnaise to dip them in. The town of Robertson is so proud of their potatoes there is a Big Potato here that you can take a picture in front of. I still have pictures of Mochi in front of the Big Potato last time when we stayed at a house in Robertson.
Having eaten our fill we hop back onto the road to complete the remaining 2 hour journey to Canberra. We arrive at East Hotel just after 5pm and I check-in. East Hotel is located in Kingston which puts it near a lot of restaurants. It is a family owned and run hotel by sister and brother team of Dion and Dan Bisa, both of whom grew up in Canberra. There are 4.5 star studios and apartments each with luxe upgrades. In the lobby there are complimentary lollies that you can help yourself to (today's pick is Jaffas).
I'm staying in a 1 bedroom luxe apartment in room #426 on the fourth floor of the hotel. It's spacious at 57 square metres and is set out like a suite with a separate lounge room with a good sized balcony, couch, comfortable chair and a two seater dining table. The kitchen has a cooktop, oven, fridge, microwave, dishwasher, kettle and coffee machine as well as a washing machine and dryer. There's also a mini bar in the fridge with some interesting drinks by Pizzini wines but the chips and snacks are a regular assortment of chocolates and chips.
`
The all white bathroom is spacious and has a big bathtub as well as separate shower and a single sink. The products are by Appelles Apothecary and has everything from a vanity kit to a body lotion, soap, shampoo and conditioner.
The bedroom has a comfortable king sized bed, a television in the corner and robes and slippers in the cupboard and a safe to store valuables. There is also a full length mirror in the cupboard. Internet is fast and free for an unlimited amount of devices and a lot of information is accessed by the tablet in each room.
East Hotel is one of my favourite hotels in Canberra because the rooms are so spacious and one of my favourite parts are the on site restaurants. There is Muse cafe that opens from 7am-12pm 7 days a week and a new restaurant called Agostini's for lunch and dinner as well as Joe's Bar.
The next morning we have breakfast downstairs at Muse Cafe, a bookstore and cafe located on the lobby level of the hotel. The cafe has an indoor and outdoor section with an all day menu. We start with a Bloody Mary for Laura who has spent the morning feuding with her hotel (she's not staying at East Hotel as they were fully booked). I start with a green juice which is healthy but not punishing at all.
Baked Cheddar & Ham Soufflé $24
We enjoy the cheese soufflé. And yes you too can and should start the day with a baked cheddar and ham souffle. It comes with toast although I'd gently suggest another serve of toast and halloumi on the side. The soufflé is rich, light in texture with cubes of ham sitting underneath a delicious double baked cheese soufflé.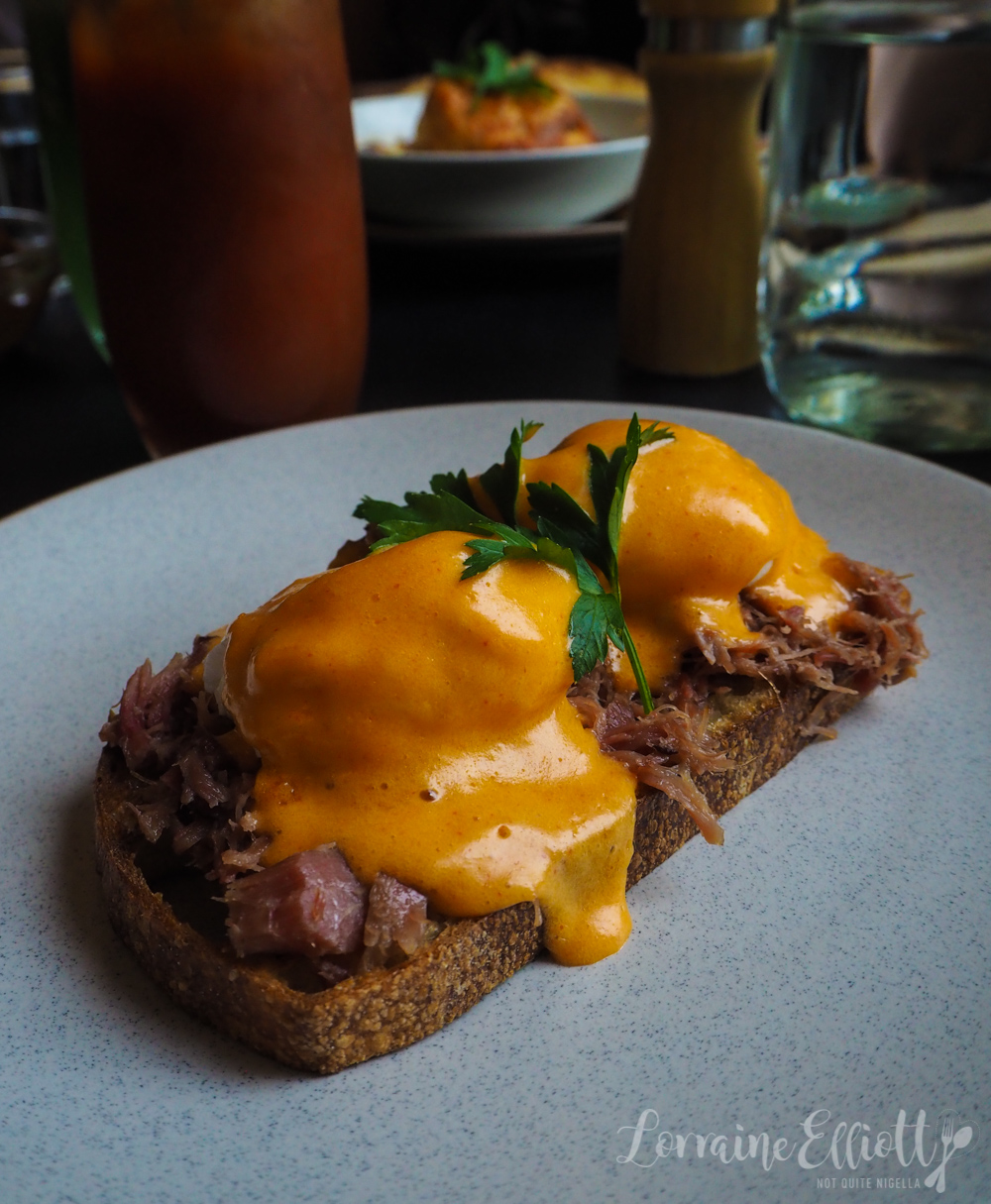 Sriracha Eggs Benedict $22
We had less luck with the other items on the menu. The Sriracha Eggs Benedict has two poached eggs atop a layer of ham hock with Sriracha hollandaise. It's probably not for those looking for a traditional eggs benny and the ham hock resembles corned beef. The French toast sounds interesting but the bread is only dipped one side in beaten egg and doesn't feel soaked so it is like a fried egg on one side of the French toast so that the rest of the thick slab of bread is quite dry. We left most of this behind.
The best place for a long, leisurely lunch is on the covered terrace at Agostini's next to Muse Cafe and Joe's Bar. Agostini's bucks the trend of Australian hotel restaurants that tend to have serviceable but ho-hum food. The last time I came here Rome born Chef Francesco Balestrieri was cooking up a storm in Joe's Bar but now they have expanded to a spacious 150 seater restaurant with indoor and outdoor seating. We take a seat in the sun drenched terrace.
Carpaccio Di Tonno $24
Contributing to this warm summer vibe (never thought I'd say that about Canberra!) the tuna tartar is finely diced with cucumber, radish, dill, eschalot, mustard and caviar and served with house-made crackers. It's delicious and fresh and a great start to the meal.
Ricotta Al Forno Con Fichi $20
The baked ricotta is done in their Marana Forni oven comes and is topped with fresh figs & honeycomb and served with wedges of their house made bread.
Frico $16
While Agostini's has some classics there are also dishes that you may not commonly find on an Italian menu. The Frico is one of these, and is a a typical dish from the Friuli region of Italy. It is made with layers of cheese and potato, oven-roasted so that it resembles, a chewy pizza or pancake. It's best eaten warm and gooey and I can imagine this being popular in Winter.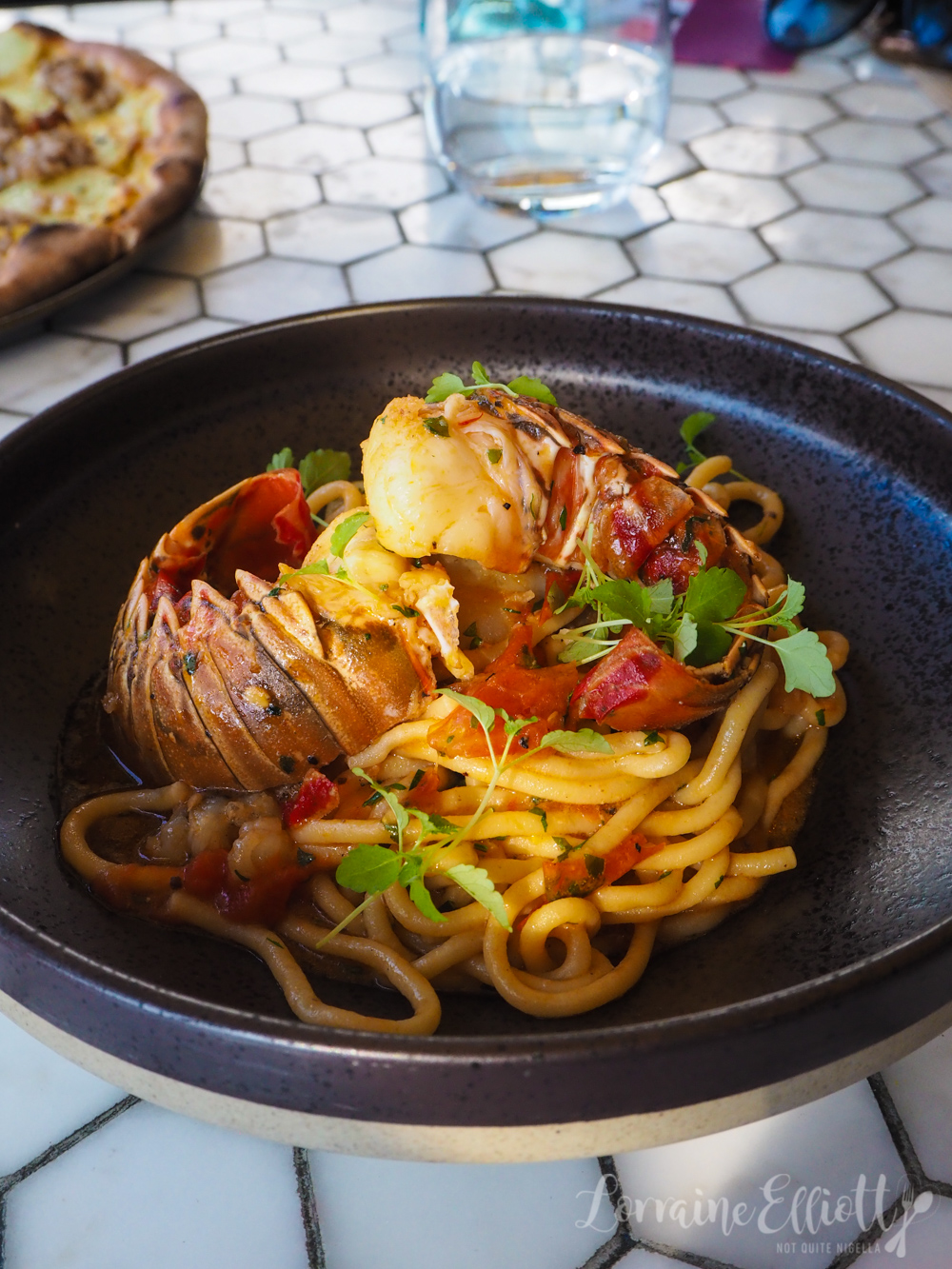 Lobster Spaghetti $35
The lobster spaghetti is a daily special and if it is on the day that you visit I really recommend it (and that's not a typo with the price there). The spaghetti is house made and has a wonderful al dente texture to it with a thickness similar to bucatini. There are two whole lobster tails and chunks of lobster in there too.
Melanzana Pizza $24
While Laura and I usually agree on most things to order, pizza can be a challenge as I love pepperoni or spicy sausage pizza so she chooses one and I another. Her choice is the Melanzana with grilled eggplant pieces, chilli, Stracciatella cheese & basil. It's actually delicious, I think I would perhaps add a little more chilli oil or chilli but that's just personal taste.
Francesco Pizza $25
I chose the Francesco, a bianco or white pizza on the basis that I love Italian pork & fennel sausage and a chef wouldn't name a pizza after himself unless it was epic. It's thinly sliced potatoes, nduja, fior di latte mozzarella and Italian pork and fennel sausage. It's delicious especially as the potatoes are perfectly seasoned and there's just the right amount of sausage in each bite.
Tiramisu $16
We order one dessert each. My favourite Italian dessert is tiramisu with plenty of espresso coffee and a creamy mascarpone mousse layered with Italian savoiardi biscuits.
Cannoli $16
Laura loves cannoli so this is her choice. It's locally made piccolo cannoli shells filled with sheep milk ricotta and pistachio. I usually find cannoli shells a bit too thick but these ones are nice and thin and crisp and the filling is very creamy. I also love the crunchy roasted pistachios.
And if you want an apertif before a night out, pop into Joe's Bar right next to Agostini's. This is a gorgeous little bar with a range of seating from high tables to sexy velvet couches.
Ginger Buzz $22, Canberra Native Negroni $22
Laura loves her Canberra Native Negroni with Big River Canberra gin, Outlandish Claims Rosso Vermouth and Imbroglio Australian Bitter while I really enjoy my Ginger Buzz with Big River Cinn gin, Cognac, peach, cloves, honey syrup and ginger beer.
Calamari Fritti $18
If you're looking for a little snack to go with your cocktails then the most popular bite is the calamari fritti. It's rings of lightly battered and tender calamari with lemon and a mint aioli that both lift the fried seafood perfectly. It's so good that all we want to do is order more and stay in for the night and watch tv in our room!
So tell me Dear Reader, do you tend to stay in the one area when you visit a new city? Do you have a favourite area in Canberra?
NQN was a guest of East Hotels but all opinions remain her own.
East Hotel
69 Canberra Avenue, Kingston ACT 2604
+61 2 6295 6925
https://easthotel.com.au/