Hearthe is the name of pastry chef Christopher Thé's new cake shop and cafe. Located on Douglas Street in Stanmore it showcases Christopher's latest obsession: shelf stable cakes using native Australian ingredients. As expected, the chef that created the cult watermelon strawberry cake has some strikingly beautiful and original cakes on offer. So what are they like?
The name Hearthe is actually a portmanteau of Heart and Thé, Christopher's last name. The cafe and bakery is located opposite Stanmore train station in a former butcher's and more recently a café called Mrs Underwood. But at the newly renovated space that Christopher and his family did themselves, the marble benches and glass displays won't hold refrigerated cakes. Instead Christopher is playing with traditional refrigeration techniques.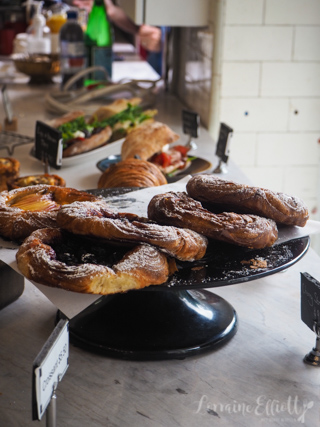 In 2009 Christopher created "Australia's most Instagrammed cake": the watermelon and strawberry cake. It was initially developed for a friend's wedding but then found its place at his bakery Black Star Pastry and proved so popular that at its height of popularity they were making 6,000 portions a day of the cake. He sold the business in 2018 and then, "I tried mostly everything I thought I wanted to do and realised running a small business, cake shop & café is where I am happiest all along," says Christopher.
Hearthe has a different cake philosophy to Black Star Pastry. "At Black Star every cake wanted to melt!" says Christopher. It was a trip to Austria that got him thinking about transporting cakes when he saw that they ship the classic Sacher torte around the world. He started to research what makes food stable like the active water content. When water molecules are completely enclosed they have no contact with air i.e. why items like ganache don't need refrigeration. Sugar, salt and alcohol also aid in this this too. He also uses a "hot fridge" that helps to maintain the temperature of food so that it doesn't cool down and can maintain the selected temperature of the food.
As most of his cakes will be shelf stable for 3 days this saves on courier costs at around $12-$14 for delivery within metropolitan Sydney. If orders are placed by 12pm then people can receive their cake by the end of the day. The intention is to ship his cakes in their compostable boxes around Australia.
At the moment Hearthe has baked goods like pies, pastries and cakes but there are also eat-in items like oysters, congee and hot smoked salmon hash. For the moment they're open for breakfast and lunch with the possibility of dinner. They're also licensed if you want a glass of wine or a Green Ant gin and tonic with your Akoya oysters.
Akoya oysters $3 each
Akoya oysters were originally grown for pearls but are now also harvested for food. These are chewier oysters with a stronger texture and the Kilpatrick version with balsamic, Serrano ham and parmesan are the pick. The Serrano ham is made in-house where it hangs for 6 months intensifying the flavour. It's also wonderful paired with olive oil and their olive fougasse.
Olive fougasse and serrano ham
Saltbush scone $14
Hearthe's version of scones have a distinct Australian flavour. Here they are flavored with native saltbush and served with roasted donut peaches topped with grapefruit mint and white peach cream.
Stone Tart $8
There is also a small vegan selection including these Stone Tarts that feature a baby paradise pear filled with centre of vegan mylk chocolate, pear custard, rose petals on a crisp Pinnaroo sprouted red lentil flour base.
Paperbark cake $148 serves 16
And then we try the cakes. There are a range of creative cakes sold as both whole cakes or as slices in store. The cakes have an optional add-on of whipped cream either plain or vegan or flavoured with wattleseed or white peach. They're all striking in appearance from the Paperbark Cake with Paperbark pastry (dacquoise with filo), a strong eucalypt caramel, smoked chocolate ganache, white kunzea honey and macadamia reminiscent of the aromas of the Australian bush with a lozengy vibe.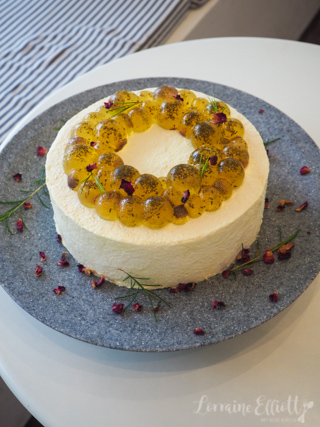 Geraldton wax cheesecake $108 serves 12
Another striking cake is the Geraldton wax cheesecake made using Geraldton Wax leaves. This is a baked cheesecake with candied dessert limes in the centre, Geraldton wax agar jelly bubbles on top and a thick layer of ermine cream and strawberry gum crumb biscuit base. Ermine cream is often used as a whipped cream substitute but is made using a more stable roux base. This cake isn't as shelf stable as others with the cheesecake filling.
Hibiscus Cake $90 serves 10
The Hibiscus cake is a basil olive oil cake layered with raspberry jelly, hibiscus marshmallow with lilli pilli and white borage flowers served with a shot of gin when ordered in store (although the delivered version will not have gin). Oh and that's not any old gin, it's gin flavoured with green ants that impart a citrusy flavour.
So tell me Dear Reader, what do you think of this cake concept? Which cake speaks to you the most?
NQN attended a media preview but all opinions remain her own.
Hearthe
16 Douglas Street, Stanmore, NSW, 2048
Open 7 days 7am-4pm
https://www.hearthe.com.au/