The pudding love continues. Last week I gave you the top 5 rice puddings and this week I give you 5 incredible molten or self saucing puddings! From a French Canadian maple pudding, a chocolate peanut butter molten centered pudding, a quick 5 minute banana and butterscotch pudding to a self saucing apple and quince pudding. Or if you're going healthy there's a 5 minute coconut and chia pudding. We've got your pudding needs covered!
Did you make this recipe?
Share your creations by tagging @notquitenigella on Instagram with the hashtag #notquitenigella
This pudding is a French Canadian pudding from the Quebec region and was originally created by female factory workers during the Great Depression ("chômeur" means unemployed). This delicious egg free pudding is at first a self saucing pudding but once it cools it becomes more cake-like!
We've probably all tried a chocolate fondant pudding when eating out but how about one filled with molten peanut butter? What a delightful combo.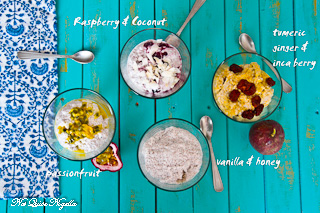 I know not everyone is in winter at the moment and this pudding is great for those enjoying some warm weather and I promise 5 minutes and then you're done! This delicious coconut chia pudding is a great breakfast or a snack.
Ahh one of my favourite puddings for a quick but delicious self saucing pudding. And yes it is cooked in less than 5 minutes. This has to be tried to be believed!
And my last choice is a classic winter self saucing pudding! I love this pudding and make it when I have some quince and apple in my fruit bowl.
So tell me Dear Reader, which pudding would you choose to eat first?