Rich, intensely chocolatey and creamy this chocolate tiramisu is for chocoholics and tiramisuaholics! This chocolate tiramisu cake has a chocolate cookie base, layers of chocolate mascarpone cream, home made chocolate liqueur dipped savioardi sponge fingers and a final cap of whipped cream and chocolate shavings! If you love chocolate and you love tiramisu then this is a pushy recipe Dear Reader!
Tiramisu without raw eggs or coffee: Sometimes I get people asking me for a tiramisu without raw eggs or coffee because of their allergies or pregnancy. I always feel for people that have to miss out on things but with this chocolate tiramisu they won't miss out! This tiramisu cake is like a cross between a chocolate mousse cake and a tiramisu but with a cheesecake base instead of a dacquoise as cheesecake bases are much easier to whip up than dacquoise (the cheesecake base also makes the whole thing a no-bake cake).
My signature cheesecake base tip: I always add a few tablespoons of raw sugar in the base to give the biscuit/cookie base a little crunch. Trust me, it makes it SOO good!
Homemade Chocolate Liqueur: One of my favourite parts of this is the easy home-made chocolate liqueur which is basically like a super rich hot chocolate with a splash of Baileys (or Kahlua or Vodka if you like). And of course if you love coffee it goes without saying that you can add some coffee to the chocolate liqueur. You can also make a big batch of the chocolate liqueur and serve it with the tiramisu.
Not feeling up to making a cake? Make them in individual glasses! If you don't want to make a whole cake you can make this chocolate tiramisu in individual cup serves and you can omit the gelatine if you do this as the gelatine is there to make the cake able to stand up on its own and slice cleanly, which you won't need if it is served in a glass.
I gave this cake to Valentina and she ended up serving it to her son Will for his birthday. She asked me for this recipe because she really enjoyed it especially the crunchy base. I love that her family give me honest criticism too - when Valentina's daughter Katie tried it she told me that it could have done with a tad more coffee but she didn't know that it was a coffee-free tiramisu.
We love going over to Valentina's house for dinner as there's always great food and company. One Saturday night she invited us over and as always her dog Cooper and Katie's dog Nox (she was dog sitting Nox) greeted us at the door. Both dogs are rescues and get along well enough - Cooper is a senior mixed breed dog and a real sweetie who just sort of tolerates rambunctious 3 year old American Staffy Nox. Nox is huge and is almost as tall as I am and almost bowled me over with a greeting as he stood up to his full height and placed his paws on my shoulder. Apart from Nox I've never met an American staffy and am a little wary of big dogs but Nox seems quite gentle and has the most expressive human-like eyes I have seen in a dog. We haven't yet introduced Nox to Teddy who was staying at home that evening, although he was great with a neighbour's chihuahua.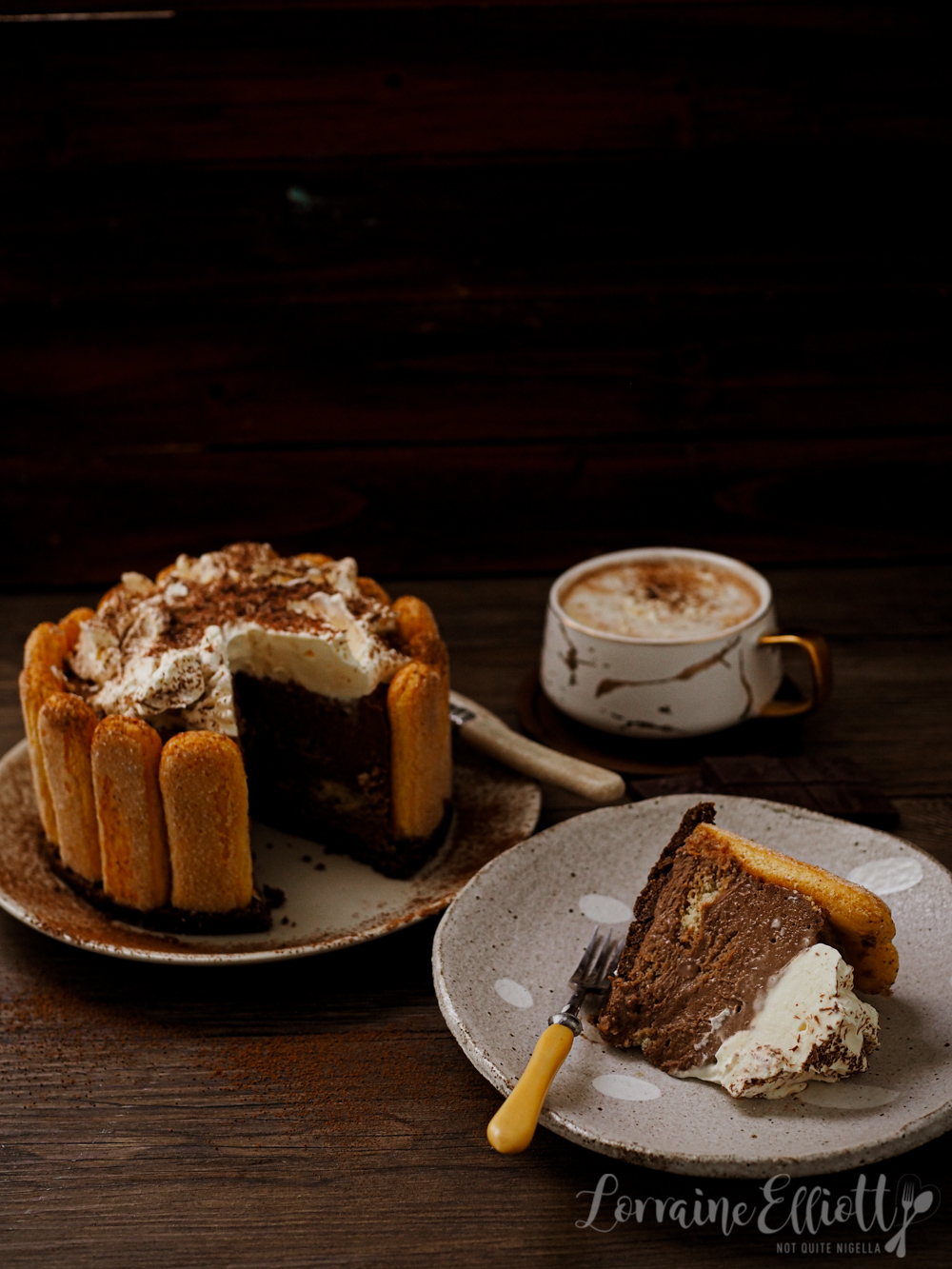 That night Valentina had invited another couple Penny and Jeff over and everyone got on really well. Conversation flowed and everyone was interesting and interested which is the ideal combo. Nox was snoozing on the couch but then suddenly he started making this strange sound like he was choking or gulping. Everyone got up concerned. I am usually absolutely useless in a crisis (see story about Nox making a break for it) but I recognised it as reverse sneezing as it was something Mochi used to do. It's actually harmless (the dog sucks air into their nose instead of expelling it like a sneeze) but Nox seemed really confused by what was happening and the poor thing looked at us his eyes showing signs of panic.
Nox - just look at those eyes!
To stop a dog reverse sneezing you put your hand over their nose and then it stops pretty much within seconds. I wasn't sure if putting my hand over a staffy's snout was a good idea - he has never reverse sneezed before apparently and looked panicked and sometimes dogs lash out if they panic. But Nox didn't bite, his reverse sneezing stopped and he so relieved about that. Afterwards he followed me everywhere that night and when I sat down on the couch he sat down and put his head and paws on my lap and looked up at me with such a look of affection. I think I have a new buddy. Me and Nox: what an unexpected team!
So tell me Dear Reader, do you like the idea of chocolate tiramisu? Would do this in cups or as a cake?
DID YOU MAKE THIS RECIPE? Share your creations by tagging @notquitenigella on Instagram with the hashtag #notquitenigella
Chocolate Tiramisu
Rated 5.0 out of 5 by 2 readers
An Original Recipe by Lorraine Elliott
Preparation time: 40 minutes
Cooking time: 10 minutes
Serves: 8 people
For base:
175g/6ozs. plain chocolate cookies
3 tablespoons raw sugar
80g/2.8ozs melted butter
250g savioardi sponge finger biscuits
For chocolate liqueur:
1/2 cup/125ml/4flozs. hot milk
50g/1.7ozs. dark chocolate, finely chopped
2 tablespoons Bailey, Kahlua, Amarula or vodka
For filling:
1 tablespoon gelatine powder
3 tablespoons water
150g/5ozs sugar
200g/7ozs. dark chocolate
500g/1.1lbs mascarpone, room temperature
200ml/7flozs. cream
1/2 cup/125ml/4flozs chocolate liqueur (see recipe below)
For topping:
1 tablespoon chocolate shavings
Step 1 - Line the base and sides of a 20cm/8inch springform tin. Process the chocolate cookies in a food processor until you get very fine crumbs and then empty into a bowl. Add the raw sugar and melted butter and mix until it becomes a damp sand-like texture. Press into the base of the springform tin and press down to flatten. Trim the savioardi biscuits to fit just over the top of the baking tin (reserve the scraps as they can fill in the corners of the cake). Place these along the outside of the cake with the sugar side facing outwards - you can press them down into the base gently to stay in place. Place in the fridge until needed.
Step 2 - Make the chocolate liqueur as you want this to be cooled. Melt the chocolate in the hot milk and mix in the Baileys. Set aside to cool.
The gelatine swelling before heating it
Step 3 - Place the water in a bowl and sprinkle the gelatine on top and wait for a couple of minutes for it to swell and become set. Heat in the microwave for 20-30 seconds or until it has become liquid and then allow to cool a little at room temperature while you make the rest of the filling.
Step 4 - Place the dark chocolate in a double boiler or in a microwave and melt until the chocolate is smooth. In a mixer with a whisk attachment whip the cream until you get soft peaks and set aside in another bowl. Then switch to a beater attachment and beat the sugar and mascarpone until smooth on medium speed and while it is beating, add the still liquid but lukewarm gelatine mixture. Fold in the melted chocolate and whipped cream and mix until smooth and the chocolate is distributed and there are no streaks.
Step 5 - Take the cake tin out of the fridge. Scoop a third of the chocolate mixture into the tin and smooth over with an angled spatula. Dip the sponge finger biscuits very briefly into the chocolate liqueur and then allow the excess liqueur to drip off. Line the base with these dipped biscuits and repeat until you've used up the sponge fingers and the mascarpone mixture and you've almost reached the tip of the sponge fingers.
Step 6 - Whip the remaining cream and icing sugar until you get soft peaks. Dollop over the top of the cake and then refrigerate for 4-6 hours or overnight. Dust with cocoa powder and chocolate shavings and serve.