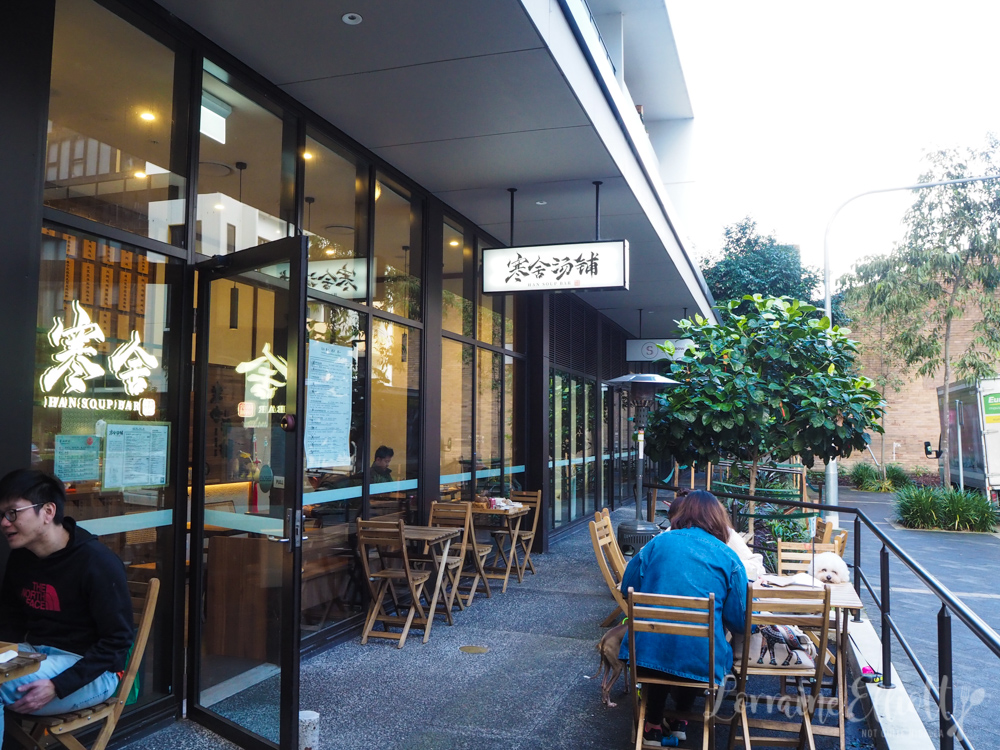 Feeling poorly? It's soup season and Han Soup Bar in Mascot serves up bowls of warming double boiled Cantonese soups. You can order soups made with silkie chicken, Cornish hen, pork ribs or crocodile to address any ails you might have. There's also a range of dumplings and rice dishes and outdoor seating and fetchingly packaged takeaway too.
A soup bar wasn't a hard sell for Mr NQN as he is a committed soup enthusiast. On a sunny Sunday Mr NQN, Teddy and I find a parking spot right next to Han Soup Bar which is located on Galloway Street Mascot (it's not part of the Mascot restaurant precinct as we both assumed). At Han Soup Bar there are around half a dozen outdoor tables as well as some indoor seating. The restaurant has opened in November 2021 and attracts a strong Chinese clientele. A little tip: try to get in early or by lunch time to order because if you arrive near closing time some soups run out.
To order you grab a menu and order inside. There are two menus: one for Saturday to Monday and one from Tuesday to Thursday with slight differences. They also do plenty of takeaway, all beautifully packaged up in bags in tightly sealed bowls. Service is helpful when it comes down to recommending what to order. You can tell them what ails and they can recommend a soup and each soup has a different function. For example number 3 is good for kids and pregnant women but soup no 6 is for circulation and strength but is slightly bitter tasting due to the ginseng so it is less popular with kids.
The premise with double steamed or boiled dun (炖) soups is to use a double chamber to cook the soup which it is a gentler way of cooking the ingredients. It is especially popular in Cantonese cuisine. They place the water and ingredients in a ceramic pot (or coconut) and then steam or boil this within another larger pot of water to gently extract the flavours. The soups are steamed for hours to extract all of the flavours from the ingredients. As there is no loss of moisture it is a popular method of cooking more expensive herbal or medicinal ingredients or ingredients like bird's nest or shark's fin. While the name suggests that it is cooked twice it isn't, it's the steaming within another vessel that gives it its name.
Silkie Chicken Soup in Brown Coconut $28.80
Double steamed soups aren't particularly cheap given the serving size but they use Chinese medicinal ingredients. The first soup is their signature soup. We had a version of this at another restaurant and quite honestly I couldn't see what the fuss was all about. This one however has a lovely sweetness to it and a nice depth of flavour as well as well as red dates, goji berries and ginseng root. The Silkie chicken has black skin and is served on the bone. It's not like the typical meaty chicken that has a large breast to it and the feature is really the broth rather than the protein. This soup also contains dendrobium catenatum which is part of the orchid family and used in traditional Chinese medicine. It is good for lowering blood pressure and to replenish fluids. Each soup comes with some seaweed and tofu skin pickles that are very tasty as well as some soy sauce and chilli slices if you want to add some more flavour to the soup.
Crocodile Soup With Fritillariae Cirrhosae and Sea Coconut $18.80
All of the soups here are double steamed and they all have a distinct flavour. The crocodile and pork soup comes in a ceramic pot covered with paper to ensure that no moisture escapes. I enjoyed the crocodile soup although it was much milder in flavour and this is where the added soy sauce and chilli comes in handy. The crocodile has a soft, slightly dry texture and the fillets resemble a creamy coloured fish. The Fritillariae Cirrhosae is a small white bulb that is used in respiratory medicine as an expectorant and to help with lung issues. There is also sea coconut (used in cough medicine), Chinese almonds and ginger in this. Mr NQN has had a strange, persistent cough where he would simply cough once an hour and that was it (not COVID, RSV or Influenza A or B) so it was interesting to see how he would respond to this. His cough did change after this and he was coughing more and more often so maybe it did work as an expectorant or maybe it was his cough working its way through his system.
Steamed Rice with Minced Pork and Preserved Vegetables $9.80
My mother used to make something like this with preserved vegetables and pork mince. I really enjoy this version as it is steamed in lotus leaves that imparts the rice with a lovely aroma. Perhaps it's nostalgia but I prefer this one to the other rice dish below which is also nice but I like the texture of the vegetables in this one.
Steamed Rice with Chinese Waxed Meat and Spare Ribs $9.80
Mr NQN loves the steamed rice with Lup Cheong pork sausage slices (listed as Chinese waxed meat) and pork spare ribs. I see most people with a pot of soup and a serve of the rice on the side and this makes for a tasty and filling lunch.
Steamed Truffle Dumplings 5 pieces $9.80
We also order some truffle and pork dumplings that are nice enough but you get the feeling that dumplings are not their main jam, soup is. But they've got a light truffle aroma if you do have to satisfy that dumpling craving.
So tell me Dear Reader, have you ever had a double steamed soup? Have you ever used Chinese medicine?
This meal was independently paid for.
Han Soup Bar
Shop 5/6 Galloway St, Mascot NSW 2020
Open Wednesday to Monday 11:30am–2:30pm, 6–8:30pm
Tuesday closed