Cook at Kurnell is a vintage Airstream trailer right next to Silver Beach in Kurnell churning out tacos and cocktails in an outdoor setting. It is also the perfect spot for a Sydney summer if you want to feel like you're overseas. Oh and did I mention is also a dog friendly eatery and located right next to the dog friendly beach? So bring your pooch along!
"Teddy are you excited about today?" I ask. Teddy looks back at me curiously, his black button eyes blinking. I swear he even smiled.
The period between Christmas and New Year's is a fog. What day is it? Who knows? The only thing on our calendars was sleeping in and eating Christmas leftovers. Unfortunately the weather in Sydney for this was less than ideal and the spectre of COVID was looming over us and we didn't want to eat indoors.
I woke Mr NQN up that morning. "I have an idea," I said excitedly. It was the first sunny day of this period, 28°C/82.4°F degrees with sun streaming through the window and a gentle breeze. "I have a place where we can eat out but it's all outdoors and we can bring Teddy along," I said. We packed everyone up into the car for a drive south.
It seems that everyone has the same idea as the traffic crawls along. Snarls of slow moving traffic build as we edge closer to Silver Beach in Kurnell but nothing can dampen our mood because the sun is out and we can smell the ocean.
Cook at Kurnell is named after Captain Cook's landing location here and the eat-in area is large and spans several sections and people can also get takeaway to eat on the beach. It is owned by the Tozzi family and I was put onto it thanks to local food and travel journalist Carla Grossetti who writes for Visit Sutherland Shire.
The tables are well spaced and after signing in they give us a table in the front section. There is also a back section but the front section is the pick as it has views of the beach. It actually feels like we are in the North Shore of Hawaii which makes me immensely happy.
Ordering is done at the kiosk. There are some specials of the day and I order drinks and food and take a buzzer to our table. Around us are dogs of every variety and size. I couldn't actually imagine wanting to be anywhere else at this moment in time (okay the North Shore of Hawaii but yeah).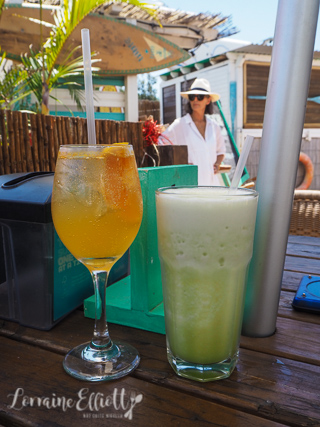 Our drinks arrive first: the Orangello spritz is delightful and sweet while the pineapple and mint frappe taste of fresh pineapple and lots of mint. There's a wait on the food but that's ok, we are just enjoying the sunshine and chatting to our table neighbours about our respective dogs.
Our food comes out and I've gone a bit overboard on the tacos although I apparently the burgers are also very popular. The fish tacos are a bit different from what you might be expecting. There isn't a large battered piece of fish, instead it is chopped up with citrus slaw and chipotle mayonnaise on soft corn tortillas. They're tasty but I mostly taste the salad.
There are two taco specials: chicken and pork. I chose the pork with soft, spiced pork and this is perhaps my favourite of the two tacos. The pork just sings with flavour and is more balanced with the amount of salad.
The Cubano sandwich isn't really like a classic Cubano but more a toastie with roast pork and cheese. It is however absolutely delicious and Mr NQN adores this.
Not wanting to leave we order another round of drinks: a watermelon daiquiri for Mr NQN and an almond milk chai latte for me. We sip on these slowly and then reluctantly get up to leave, doing so when we spy the long queue of people wanting to get in.
We head off to the dog friendly beach where Teddy and many other four legged friends frolicked in the water, sand peppering his eyelashes. It was a perfect Summer's day for everyone.
So tell me Dear Reader, how have you spent the period between Christmas and New Years? Any highlights? And have you finished your Christmas leftovers yet?
This meal was independently paid for.
Cook At Kurnell
306 - 308 Prince Charles Parade, Kurnell, NSW 2231
Wednesday-Friday 8:30am-late
Saturday-Sunday 7:30 am-late
Open 7 days during the Christmas break