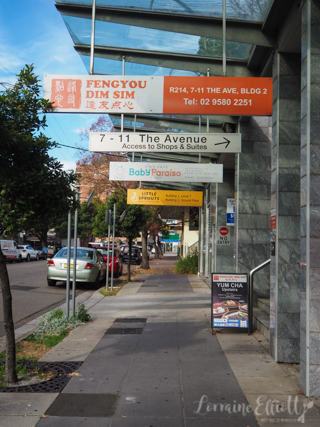 Looking for a yum cha restaurant that won't break the bank? Feng You Dim Sim in Hurstville is a no frills Cantonese yum cha restaurant with a range of over 60 types of dim sum. The yum cha is well priced and served Hong Kong style so items are cooked fresh to order. There's an indoor section as well as a large outdoor courtyard that is dog friendly too. Just bring along some patience and check the bill before paying!
I'm trying to start a public holiday tradition with Mr NQN of going out for yum cha every public holiday. A Chinese restaurant is one place that you can be assured will be open then. To this point, Feng You is closed on Tuesdays, unless it is a public holiday in which case it is open. The only problem is that Mr NQN isn't a huge fan of yum cha because he hates possibly missing out on his beloved har gows or prawn dumplings because we're not attentively looking out for or flagging a trolley down. But I explain that he will be fine at Feng You. There are no trolleys here and it's a Hong Kong based system where you tick off the items that you want from a 63 strong order list of items (there's also a picture menu accompanying it) and that way you know that you'll get everything that you want.
Or well that's how it works in theory.
We are sitting waiting for around 40 minutes when I notice a table that came in around the same time as us are tucking into an enormous spread of food. I go in and enquire about our table and they sift through some orders and apologise profusely. They refill our tea and we begin the wait again for our food.
"Hey I think this is the only teapot that doesn't spill," says Mr NQN. Tea is $1 per person and there is a $2 surcharge per person for public holidays. A few minutes later our first bite comes out.
Combination Dumpling $8.30
The first to arrive is one of my favourites. Ham Sui Gok or a "football" is a fried dumpling with an outer layer of sticky rice flour filled with pork mince and vegetables. It has a moreish sticky quality to it and is very satisfying to bite into.
BBQ Pork Rice Noodle Wrap $9.30
I'm trying to eat less prawns because I was told to lower my cholesterol by my doctor (insert sad face) and there are actually 10 types of cheung fun or rice noodle rolls ranging from prawn to beef and vegetarian. We decide to try the BBQ pork rice noodle wraps and they come out piping hot and they pour the sweet soy over it at the table. These are slippery to pick up with plenty of pieces of barbecue pork or char siu. Mr NQN wolfs these down before asking me if I'd like to share the last piece. I think he liked them a lot.
Feng You Prawn Dumpling $9.30
The prawn dumplings are very tasty and full of prawns. They're also noticeably large and the prawns have a good texture to them.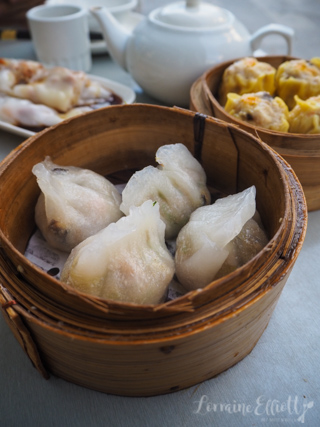 Chew Chow Dumpling $8.30
While the menu has dozens of yum cha classics, I was selecting items that were less common. The Chew Chow Dumplings are enormous specimens with a range of vegetables and peanuts and a tiny amount of pork in them. They're nice although I am not a huge fan of steamed peanuts in dumplings so probably wouldn't order these again.
Prawn Dim Sim $8.30
And then there's my favourite bite of the day. While I like siu mai, they're not my favourite as I prefer har gow or other dumplings but the prawn and pork siu mai is delicious. It has the subtle flavour like the steamed pork ribs with black bean sauce that really elevates these.
Steamed Sticky Rice Bun $8.30
The steamed sticky rice bun is an item that I order more for myself because Mr NQN isn't a fan of sticky rice while I love it. This is a steamed bao bun outer filled with seasoned sticky rice. It has a comforting quality and I like it dipped in the sauce from the bbq pork rice noodles just to add a bit of moisture to it.
Black Pepper Short Rib $9.80
Perhaps the only dish that neither of us like is the black pepper short rib. It's quite fatty but not so much that lovely melting fat but more the chewy kind and that's the only dish that we leave behind.
Steamed Sago Cake $6.80
I am tempted to order mango pancake which is a weekend special but I am lured by the unusual steamed sago cake that comes four to a serve with a sticky, gelatinous sago outer with a sweet red bean centre. These are very pretty but they are more textural than anything as the flavour is quite mild and while neither of us are wild on them, he still finishes them all.
We also ordered the French style barbecue pork bun which are the ones that are similar to pineapple buns filled with bbq pork Tim Ho Wan style but these do not arrive. They never mentioned these but I noticed their absence because I was looking forward to them so I go in to ask them. They apologise as they are out of stock. But make sure to check your bill because we were charged for it even when I asked them if it was included but I didn't realise til I got home to write this story!
So tell me Dear Reader, do you always check bills to see if they are correct? Do you like the trolleys or do you prefer Hong Kong style yum cha?
This meal was independently paid for.
Feng You Dim Sim
7/11 The Avenue, Hurstville NSW 2220
Phone: (02) 9580 2251
Wednesday to Friday 10 am–3 pm
Saturday & Sunday 10 am–4 pm
Tuesday closed (unless public holiday in which case it will be open 10am-3pm)