St Kai is a cafe in Mortdale that serves Japanese themed drinks and snacks. Think thick slices of Japanese milk toast topped with dashi scrambled eggs and salmon roe or bowls of ramen. And coffee enthusiasts will love the coffee menu with interesting riffs on coffees with coffee flower tea, iced cascara and a coffee trio called Ghost in the Shell.
St Kai is located on the corner of Balmoral and Bowman streets and there's a good sized outdoor section with around 5-6 large tables and an indoor section as well as a coffee window. It has been over 3 years since I last saw Girl Next Door. She has been busy establishing her wedding celebrant business so she was never free on weekends and then COVID hit and well, I didn't see her at all for two years. So it was high time we got together for lunch to catch up on the past few years.
Bebop $8
I'm not a big coffee drinker but if you wave coffee jelly in front of me I'm immediately interested as it was one of my favourite summer time treats when I lived in Japan. The Bebop is made of chopped up coffee jelly, iced milk and strong espresso and it's fantastic. I love this riff on an iced coffee and with every sip you suck up some coffee jelly in the straw.
Umai Bomber $8
"I need a latte," says Girl next Door, head in her hands. This is her first coffee of the day and then she skims the coffee menu and has slight regret at not ordering a more interesting offering. After her latte she orders the Umai Bomber which is made with banana lolly sauce, espresso and ice cream. It's like an affogato mated with banana lollies.
Folded dashi eggs $21
Food-wise both of us really enjoyed the folded dashi eggs with tobiko, chives and bonito powder on a thick slice of milk toast. The edges of the toast were crunchy and really good against the silkiness of the eggs and the pop of the roe. There's also a surprising creaminess via mayonnaise hiding under the eggs.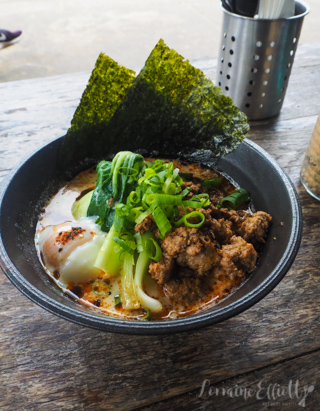 Tantanmen Ramen $22
We ordered the tantanmen with miso pork mince, mama liu's chilli oil in a soy milk broth with an onsen egg, bok choi, nori and shallots. Tantanmen has a sesame or peanut based creamy broth to it so that's a strong flavour. It's not a bad ramen but you do have to like the peanutty flavour in ramen.
Melon cream French toast with melon sorbet and pop rocks $18.50
Sometimes when my friends and I go out for lunch we both want savoury mains but also want something a bit sweet afterwards. This usually comes in the form of French toast or pancakes (lunch dessert is a thing right?). This melon cream French toast is really nothing what we expected visually or taste wise. I think I had assumed that melon pan would be involved (the Japanese bakery bun with the crunchy topping) but it's a thick slice of milk bread with a bruleed toffee crust, topped with a thick wedge of melon sorbet, a scoop of aqua coloured slightly sweetened mascarpone, pop rocks and a melon syrup over it. It's interesting, slightly difficult to eat as we chipped away at the melon sorbet and definitely in the dessert territory of things.
So tell me Dear Reader, is lunch dessert a thing for you? Have you got friends in the same city that you haven't seen in years?
This meal was independently paid for.
St Kai
38 Balmoral Rd, Mortdale NSW 2223
Hours: Tuesday to Sunday 6:30am–3pm
Monday closed
https://saintkai.square.site/