These molasses cookies are AH-MAZING! Soft and spicy they melt in the mouth and are so moreish! I added little pieces of stem ginger in them to make them pop. If you love gingernut or spiced biscuits or cookies then these are for you! This is a pushy recipe Dear Reader.
Honestly I cannot stop eating these molasses cookies. So I share this recipe with you with a warning that you won't be able to stop at one. If molasses cookies are new to you they're like a darker cousin to gingernut biscuits except molasses cookies are not hard. Instead they're soft and melt in the mouth. They have such a lovely sweet, salty and spicy flavour to them. I made so many batches to get this batch juuuust right.
Molasses cookies have been around since the late 1800s when molasses was used as an inexpensive alternative to sugar. They're based on gingerbread which has been around since the 10th century and molasses adds a lovely light aniseed flavour to gingerbread. I hope that you'll give these a try!
Tips for Making Soft Molasses Cookies
1 - I use two egg yolks in this recipe to make the cookies softer in texture.
2 - Brown sugar also makes cookies softer than using white sugar.
3 - I love spices so my spice mix is full of flavour using ginger, vanilla, cinnamon, nutmeg and cloves.
4 - Salt is really important in these cookies to balance out the sweetness. You can add salt to the cookie batter or you can sprinkle the baked cookies with sea salt!
5 - Some people roll these in caster or white sugar. I roll mine in raw sugar for even more texture!
6 - The only hitch with these cookies is that they need to be refrigerated overnight just to let the cookies bake properly.
7 - Always let these cookies cool for 10 minutes on the tray. The centre bottom is soft when it is freshly baked.
8 - I bake one tray at a time so that I always have one tray in the oven and one tray cooling.
9 - If you really love that darker colour and aniseed flavour use dark brown muscovado or dark brown sugar instead of light.
Speaking of gorgeous dark colours, I have some exciting news Dear Reader! We have a new addition to our family - meet Milo!! For a while Mr NQN and I wanted to adopt another rescue dog but truthfully I told him that now was not the time and that we needed to wait until after the renovations were finished. But one Saturday I saw an email about a chocolate toy poodle called Heidi who was available for adoption. It was fateful timing - it was Mr NQN's birthday and while he already received a present a dog seemed like the best surprise of all. I have always wanted a chocolate or black poodle and while Mr NQN was sleeping in I sent off an email to the rescue organisation. It also happened to be the same place that we adopted Teddy from and they are located on the Central Coast.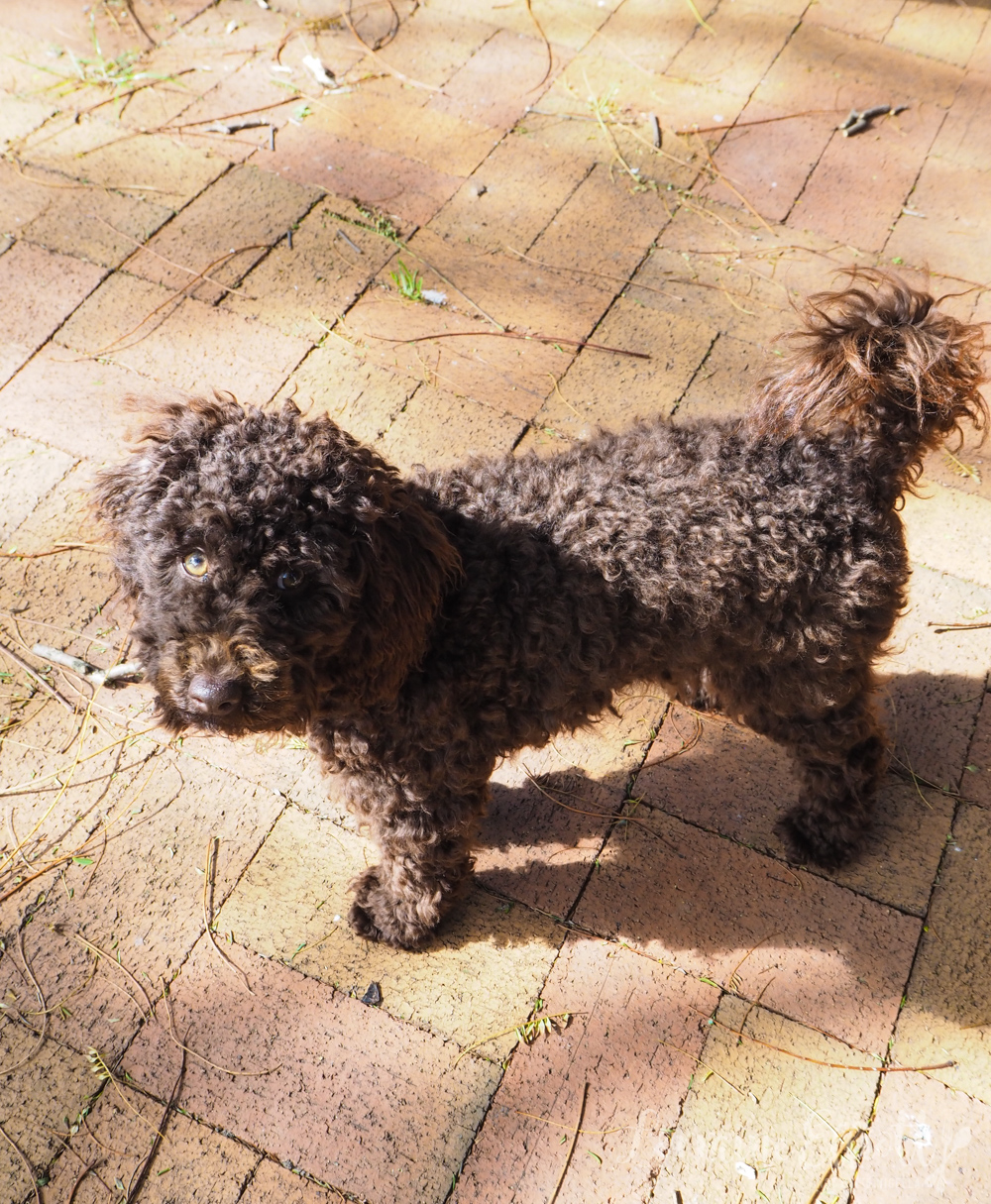 The foster carer rang us back within an hour and we had a chat and she said that Heidi was already allocated to another couple but she had two brothers and one was called Harvey and would we like to come and meet him? By now Mr NQN was awake and sat up in bed very excited when he overheard the conversation. The only problem was that we were on the far South Coast. But nothing could stop us from meeting Harvey and we decided on the Sunday once our weekend was over at noon to make the drive to the Central Coast, around 7.5 hours away. Then we would pick up Teddy from Tuulikki and then come home.
The drive north was peppered with excited chatter; while I usually nap I was fully awake. "What shall we call him?" I asked. Mr NQN didn't want to keep the name Harvey because we didn't want to think of Harvey Weinstein every time we called him. We ran through a list of food names that we liked-Coco was obvious because of his brown colour but then I suggested Milo. It was not only a cute name but I love Milo and Milo is chocolatey!
Snuggles with big brother Teddy
Within the first 24 hours he really came out of his shell. Milo is 6 months old (we adopted Teddy at 4 months) and that seems to have made a difference. He's a bit bigger than Teddy and incredibly calm, affectionate and sweet. I'm curious to see where his personality lands and whether he will blossom to be a confident, spunky dog like Teddy or whether he will be more laidback and quiet. Milo loves Teddy and follows him around a lot and is always trying to get him to play. Teddy he seems to be fine with Milo and tolerates Milo's playful puppiness although he is not shy about telling Milo when he has had enough. And Milo loves kissing everyone!
So tell me Dear Reader, have you ever tried molasses cookies? What is your best doggy tip?
DID YOU MAKE THIS RECIPE? Share your creations by tagging @notquitenigella on Instagram with the hashtag #notquitenigella
SOFT Molasses Cookies
Rated 5.0 out of 5 by 3 readers
An Original Recipe by Lorraine Elliott
Preparation time: minutes plus 2 hours or overnight chilling
Cooking time: 10 minutes per tray
Serves: 17-18
110g/3.9ozs. butter, softened
75g/2.7ozs. brown sugar (light or dark)
35g/1.2ozs caster or superfine sugar
1 teaspoon vanilla bean paste
1 teaspoon ground cinnamon
1/2 teaspoon ground nutmeg
1/2 teaspoon ground cloves
50g/1.7ozs stem or crystallised ginger, cut into tiny pieces
Cake flour can be bought at the supermarket. You can also make it at home. To make 1 cup of cake flour replace 2 tablespoons of plain all purpose flour with cornflour/fine cornstarch and whisk well
Step 1 - Place the butter, brown sugar, white sugar and molasses in the bowl of a mixer and beat for 2 minutes until pale-scrape down the sides 1-2 times during that period. Add the yolks and vanilla and beat for a minute.
Step 2 - In a jug measure the flour, bicarb, ginger, cinnamon, nutmeg, cloves and salt and sift this into the butter mixture. Add the ginger pieces into the bowl too and beat on low until just combined. Cover the bowl with a plate or cling film and place in the fridge for 2 hours or overnight (I always make these overnight).
Step 3 - The next day take the bowl out of the fridge 1 hour before baking. Preheat oven to 175C/347F/gas 3.5 and line 2 large baking trays with parchment. Place the raw sugar in a bowl. Using a 3/4 oz ice cream scoop (or you can weigh the dough to 21g) scoop out balls and roll them so that they are an even ball. Roll in the raw sugar and place 4 balls 2-3 inches apart on the tray. Bake for 10 minutes. Allow the cookies to cool on the tray for 10 minutes before removing-the bottom centre should be soft and fudgey. Sprinkle a little sea salt on top and serve with beverage of choice.