Crumbl Cookies are one of the most popular cookies in America. Have a look at Tiktok and you'll see these enormous, fat and chewy cookies everywhere. But if you can't get to a store (they're all in America) then you can make absolutely your own version at home. And do you know what? They're even better when they're homemade! This is a pushy recipe Dear Reader especially if you want to try a Crumbl Cookie for yourself!
The most popular Crumbl Cookie is their classic Pink Sugar Cookie. This cookie is a pale blonde vanilla sugar cookie slathered generously with a pink buttercream frosting flavoured with almond. Crumbl Cookies are huge at around 10cm/4inches in diameter. They're soft, chewy and come in a variety of flavours, some changing regularly.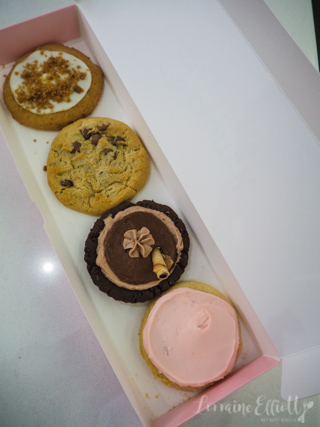 I tried my first Crumbl Cookies when I visited San Francisco last week and a lovely woman Melissa bought me a box of assorted Crumbl cookies. I had seen them all over social media and wondered what the fuss was. There are between 1-10 million monthly searches on google for "Crumbl Cookies" and they are kind of a big deal. Crumbl Cookies was started by cousins Jason McGowan and Sawyer Hemsley. They opened up their first store in Logan, Utah in 2017 and it really snowballed from there. They now have over 800 bakers in the United States and 2 in Canada.
While the Crumbl Cookies I tried were nice, I thought that they would be even nicer if they were home baked. Also I'm not a huge almond essence fan so I thought I'd prefer these with vanilla but that's just a personal preference. So I set about making my own!
Sugar cookie and buttercream are very straightforward recipes but with a small amount of differences between each recipe. I had a look at all of the ingredients listed on their site just to make sure that I had my proportions right.
The Secrets to Making A Crumbl Cookie Sugar Cookie:
My version of the Crumbl Pink Sugar Cookie
1 - I use bicarb in this sugar cookie recipe to produce lighter cookies. Also Crumbl use bicarb and not baking powder.
2- I find that when I leave butter out overnight during winter it isn't soft enough so I place it in the microwave on the lowest possible heat (10%) for 30 second bursts. It should be soft enough so that a butter knife can easily slice through it.
3 - It's important to make sure to bake these sugar cookies at a low temperature - 180C/350F is way too high and browns the cookie whereas the Pink Sugar Cookie is pale. I baked them at 140C/284F in my fan forced oven and that was perfect. Crumbl Cookies are soft and chewy and baking them higher produces a crisp, crunchy cookie.
4 - I actually don't really like almond flavouring very much at all so I mostly used vanilla in addition to a small amount of almond flavouring. But if you like almond flavouring you can omit the vanilla completely and just keep the frosting almond flavoured.
5 - With tinting your buttercream always add in colour slowly drop by drop. I grab a chopstick and stick it in the colouring and then add it drop by drop. You can always add more colour but you can't take it out.
6 - These cookies are amazing baked fresh but also keep for a few days where they will soften even further and become soft and chewy. These can keep at room temperature in an airtight container.
7 - If you don't use the buttercream straight away make sure to cover it as it will crust and go hard quite quickly (within 30 minutes). I tend to make the buttercream just when I'm ready to spread it on top of the cookie.
I came home from overseas carrying this long pink box of Crumbl Cookies and when I walked into the house I peeked my head in. The last time I went away, we got ourselves a mouse intruder so I was wondering if there would be a family of them feasting on Mr NQN's food scraps. Food-wise I had left Mr NQN clearly marked containers for breakfast, lunch and dinner and told him that he had to put his dishes in the dishwasher every day and wash the dog's bowls every night. I didn't know if he would listen but given that his slapdash attitude to mess had beckoned a mouse into our abode, I thought he might just listen.
We were going to get the pest control guy in to remove our little rodent friend but he mentioned that he would treat them with a poison. I'm worried about any sort of poison around our curious little pups and I remember someone I knew once had had a poisoned mouse die somewhere in their walls and the stench was ghastly. My friend Sammie told me that she had had dealt with lots of mouse in her lifetime especially living in the UK and the best course of action was with one of those electronic mouse traps. You put in a little peanut butter in the end of a trap and the batteries inside add a little buzz and the mouse...well it gets zapped. It is supposed to be the most humane way of dispatching with a mouse - traditional mouse traps keep them alive and injured and well, a part of me had a talk to 7 year old Lorraine who went to the pet shop to get a mouse and explained that sometimes life had to be this way.
We set the electric mouse trap out 2 nights in a row and every morning we would check it but there was nothing. Then the next night Mr NQN sat up while working on his computer in bed. "I heard a little buzz", he said excitedly. He ran downstairs and picked up the mouse trap and there was Mickey. "Can I see it?" I asked him curiously and he sent me a photo from downstairs. A part of me was sad when I saw Mickey on his side, eyes closed and tiny paws curled over. But one good thing has come of it. Now Mr NQN makes sure to clean up his dishes and plates every day without even asking. So it is possible to teach a mouse new tricks...
So tell me Dear Reader, have you ever used an electric mouse trap? And have you heard of these Crumbl Cookies?
Did you make this recipe?
Share your creations by tagging @notquitenigella on Instagram with the hashtag #notquitenigella
Crumbl Cookie Pink Sugar Cookie Copycat Recipe
An Original Recipe by Lorraine Elliott
Preparation time: 20 minutes
Cooking time: 12 minutes per tray
Makes 7 large cookies
113g/1stick butter, softened
1/2 cup/110g caster or superfine sugar
1 large egg, room temperature
1 teaspoon vanilla bean paste
225g/8ozs.-250g/8.8ozs plain all purpose flour
1 tablespoon cornflour/fine cornstarch
1 teaspoon bicarb of soda
Pinch of fine salt
For topping
50g/1.7ozs butter, softened
230g/8ozs icing or powdered sugar, sifted
25ml/1flozs milk
1/2 teaspoon almond essence
1 teaspoon vanilla bean paste (my addition, I'm not a huge fan of almond essence)
Beat butter, sugar and eggs until pale
Step 1 - Line 2 baking trays with parchment. Preheat oven to 140C/284F fan forced. In the bowl of an electric mixer beat the butter and sugar together for 5 minutes on high speed until the butter turns white. Add the egg and beat until combined well and it becomes a smooth mixture. Sift in the flour, cornstarch, bicarb and salt and beat on low speed until it becomes a cohesive cookie dough if it is too sticky add a bit more of the flour.
Step 2 -Take 80g/2.8ozs of dough and roll into a ball. Flatten to around 4-5cms (1.6-2 inches) and place these apart on the tray-these cookies will expand to 10cms/4inches so leave enough space for spreading. Bake for 12-14 minutes on the centre rack turning halfway. You don't want them to become golden brown, you want them still pale but set. Remove from the oven, cool on the tray for 3 minutes, then take a spatula and gently remove and place on a cooling rack. The cookies will continue to cook while cooling.
Step 3 - Make the buttercream. Beat the butter until smooth and then add the icing or powdered sugar and milk on low speed. Beat until the sugar is absorbed and then increase the speed adding in the almond and vanilla (if using) and then add pink colouring a drop at a time (I dip a chopstick into the colouring and add it that way). Spread 1.5 tablespoons of frosting on top of the cooled cookies and make a circular, swirl pattern. After about 30 minutes the buttercream will set firm so make sure to get the swirl straight away.
Tinting the buttercream to match the original cookie