Show Neua is a Thai street food restaurant in Thaitown with a Northern Thai menu. The atmosphere is appealingly rustic with a sizeable outdoor space and the food comes out quickly, well priced and very tasty.
"I'm in the queue," says Monica messaging me as Mr NQN and I make our way to meet her and Marco. "Hopefully by the time you get here we'll have a table." To get a table at Show Neua it is slightly confusing. Most people don't know that you have to leave your name, number of patrons and phone number on the small writing pad right at the door. And although there are about 4 parties in front of us, the fact that we want an outdoor table and the forecast is of rain (thanks La Nina) means that we nab a table pretty much straight away.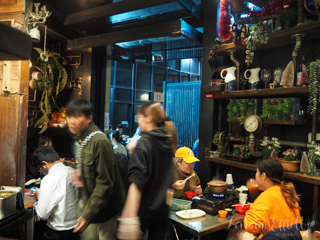 The outdoor tables are new to Show Neua and wrap around the circular shaped restaurant. On one side is the open grilled toast and roti station while the main restaurant kitchen is inside.
Thai Style Hot Pot $37.90
The menu is largeish and there are a couple of standouts. They're known for their claypot which is a small pot (I'm not sure if the lid is meant to be broken but it is) on a gas cooker. It comes with a range of meat, seafood, vegetables and noodles and you pop them into the pot and cook them and then dip them in the sauces provided. It's fun but at one stage the pot overboils - you'd think with a chef and a home cook at the table we'd know what to do but we don't and it overflows and as the table is lopsided it drips down onto Marco's side. They come out and fix it for us and let us know that if it happens again that we just add some more water from the water bottle (genius!). There is chicken, beef, pork, lover, prawns and cuttlefish, glass noodles and wombok as well as a cracked egg and a whole egg in shell. We enjoy cooking the meat and vegetables and then dipping them in the excellent spicy lemongrass sauce.
Ka Nom Jeen Nam Ngaew $16.90
We all love Ka Nom Jeen, the Northern Thai rice noodle dish with vermicelli noodles, pork bone, pork blood jelly and a spicy tomato based soup. There's such a delicious depth of flavour to this and I love the soft cooked pork bone.
Khao Soi $16.90
Every time I see khao soi on the menu I order it as it reminds me of my holiday to Chiang Mai. Khao Soi is a classic Northern Thai dish and is like the Thai cousin of Malaysian laksa. You can get it here with either chicken or beef but we choose chicken which is a soft cooked chicken drumstick. There are medium sized egg noodles and a rich, mild and creamy coconut based curry sauce. I think I ended up eating at least half of this it's so good.
Antique Pink Thai Noodle $16.90
The antique pink noodles are vermicelli, egg, pork mince, peanut, shallots and yen ta fo sauce. These noodles get their pink colour from the yen ta fo or pink tofu sauce that contains red bean paste. They're very tasty and have almost a floral sweetness to them and I really like that the vermicelli are not dry at all as sometimes fried vermicelli can be hard to get down.
Thai Pandan Custard $8.90
When we ordered the sweets they came out at the same time as the main food which necessitated a bit of juggling on the already lopsided table. There are several varieties of grilled toast. There's pandan custard, Thai milk tea custard, condensed milk, butter & sugar, Milo and condensed milk and chilli jam and shredded pork. While this doesn't look like much it's actually absolutely delicious. The toast is a small white toast log already cut up into slices and covered with a rich pandan scented custard on top. This disappeared in a second as we all enjoyed it.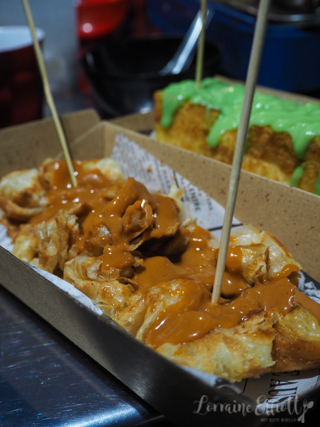 Thai Milk Tea Crispy Roti $8.90
The crispy roti is also tasty and comes with the same toppings as above (except for the chilli jam and pork floss). The Thai milk tea custard is very rich and the roti is super crispy and freshly fried. I think next time I'd just go for the pandan custard or the condensed milk version which we all love.
So tell me Dear Reader, have you tried much Northern Thai food? And do you like cooking your own food at the table?
This meal was independently paid for.
Show Neua Thai Street Food
Shop 2A/710 George St, Haymarket NSW 2000
Open 7 days 11am-12pm
Phone: (02) 8385 8064