Osteria Il Coccia is an Italian restaurant on Ettalong Beach on the Central Coast that serves up a wonderful degustation menu. Italian Chef Nico and his French wife Alex Coccia run the Italo Franco restaurant where everything on the menu is cooked over flames. This year they have now moved to a bigger location right along the beach.
The last time I went to Osteria il Coccia I was with Laura and we enjoyed our meal so much that when I heard that they had moved to a bigger location I had to come back and try it. The new location is right along the esplanade on Ettalong Beach. To make the most of the view try and book for a weekend lunch although dinner is obviously the best time to partake of their 6 course tasting menu. This menu is $137 per person and matching wines are $80 per person with an option of non alcoholic rose or sparkling for $42 a bottle. There is also a 6 course vegetarian menu.
Alex is from Lyon, France while chef Nico is from Naples, Italy. She curates the wine list and is in charge of front of house while he tends to all things cooking. He moved to Australia in 2010 and for five years he worked at restaurants like Otto, Ormeggio, and Quay. The two wrote a book called Farm to Flame that focuses on peasant food cooked over flames. Everything is well thought out from the drinks to the tableware.
Since we've been drinking this afternoon Mr NQN has a glass of wine recommended to him while I have a non alcoholic cocktail, a La Vie En Rose which is Altina's Infusion of apple, hibiscus flowers, pink rose petals, orange peel and cayenne pepper which is absolutely gorgeous. I find sometimes the non alcoholic drinks aren't very well balanced but this is perfect.
Osteria Sourdough Bread, smoked butter
We start with their house-made Osteria sourdough bread with smoked butter. The bread has a lovely dense, spongy texture with a thin, crunchy crust and the smoked butter has a pronounced smokiness.
Tigella, Mortadella, Pickled Cabbage
Tigella is a flatbread from the Emilia Romagna region. Here it is served as a sandwich filled with mortadella and pickled cabbage. The bread is thin and slightly crisp from toasting on the outside and the mortadella and pickled cabbage inside make this a scrumptious little sandwich. I take small bites of this so that it lasts longer. While Nico originally hails from Naples, he lived in Ravenna, Emilia Romagna and worked at restaurant Il Cappello and so at times this influence is present in his menus.
Beef Tartare, Oyster Emulsion, Avruga
The beef tartare is served in an oyster shell with finely diced beef seasoned with an oyster emulsion and avruga caviar. Holy heavens this one mouthful is sublime. The beef is perfectly seasoned with the creamy oyster emulsion and pops of avruga.
Trout, Finger Lime Emulsion, Fermented Lettuce, Brodetto
This course is our favourite course hands down and because the layout of the restaurant has everyone facing each other we can also see everyone else's reactions too as they get their courses around the same time. This is raw ocean trout, finger lime emulsion, fermented lettuce and brodetto (broth). The broth is a delicate cold broth and adds just the perfect amount of moisture while the trout is luscious and punctuated by the tangy and creamy finger lime emulsion. We both eat this slowly, savouring every bite and then use the bread as a scarpetta to mop up all of the flavours that remain.
Cappello de rete, Squaquerone Cheese, Fresh Peas, Onion Broth, Lavender
Mr NQN especially loves the Cappello de rete filled with squaqarone cheese. This cheese is from the Emilia Romagna region and is a soft, spreadable rindless cow's milk cheese and the little filled parcels are served with fresh peas, onion broth and lavender.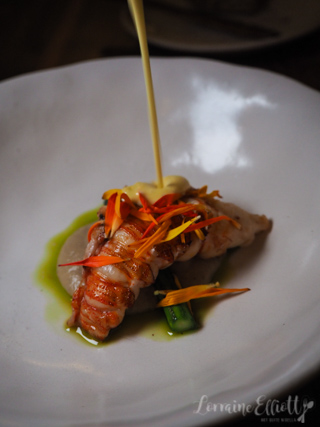 Moreton Bay Bug, Fennel, Saffron Beurre Blanc, Asparagus, Marigold
Another favourite course is the masterfully cooked Moreton Bay bug, the penultimate savoury course. This is served with fennel, asparagus and they pour over a saffron beurre blanc at the table. The seafood is cooked so gently so that it is buttery textured and we also adore the delightfully aromatic saffron beurre blanc. I also recommend ordering the 6 course menu over the 3 course as the 3 course menu doesn't have any of the amazing seafood.
Gundagia Lamb Marble 5+, Caponatina, Carrot Glaze, Ice Plant
The last savoury course is a beauty. It's Gundagai lamb who are the only lamb farmers to give their lamb a marbling score. It's served as juicy, pink slices atop caponatina (like a caponata but finely diced) with olives and capers added, carrot glaze on the lamb and ice plant. It's so luscious and melting soft and the caponatina is a powerhouse of flavour especially with the olives and capers giving it a tapenade-like quality.
Chocolate Mousse, Rosemary Caramel, Amaretto Anglaise, Meringue
Dessert is a chocolate mousse with rosemary caramel and shards of meringue with an amaretto anglaise cream served at the table with clouds of steam. The chocolate mousse is like a little round cake of chocolate mousse and I love the rosemary caramel sauce and the interplay with the meringue and creamy anglaise.
Petit Fours Cioccolatino
And to finish, a white chocolate and coconut rolled truffle!
So tell me Dear Reader, do you tend to go for 3 courses or 6 courses when you have a degustation menu? And how often do you order non alcoholic drinks?
NQN and Mr NQN were guests of Osteria il Coccia but all opinions remain her own.
Osteria Il Coccia
49 The Esplanade, Ettalong Beach 2257, NSW, Australia
Tel: +61 02 4327 8952
Thursday 5pm - 9:00pm
Friday 5pm - 9:00pm
Saturday 12pm - 2:00pm, 5pm - 9:00pm
Sunday 12pm - 2:00pm