Are you headed to the Central Coast this long weekend? The Central Coast Maker's Trail is a hand picked collective of award-winning, artisan businesses that offer special experiences for visitors. Do a self drive weekend tour visiting Mooney Mooney for a pearl farm, West Gosford for a chocolate & nougat factory, visit Wyong for a cheese factory or Holgate for a fruit winery. The experiences range from family friendly, dog friendly and couple friendly. Take in one, two or all four for a fun Central Coast weekend!
The Chocolate Factory, Gosford
"I'm cursed!" says Andrew Yiasemides owner of The Chocolate Factory. It is somewhat unlucky that the owner of the world's second biggest manufacturer of nougat is actually diabetic but it's one of the hazards of the job. The Chocolate Factory is known for it's number one product: Nougat Limar. Andrew made daily batches to arrive as this soft, chewy nougat.
Andrew's career in food started in 2002 when he realised that his favourite chocolate shop in Double Bay was going out of business. He took over the lease and soon was in charge of stores in Double Bay, QVB and Chatswood. Prior to that Andrew had a background in marketing and owned a chemical manufacturing business. In 1997 his wife became ill and he took a step back from the chemical business.
Andrew started making the nougat in his garage making up to 20 kilos a day. As the business rapidly expanded they moved the factory to Haberfield, then Revesby and then the Central Coast as their final destination. He purchased equipment from Finland, Germany and France and now the factory makes a 60 kilo (132lb) batch of nougat every 7 minutes or an astonishing 3 tonnes of nougat daily, 5 days a week . They also produce a tonne of marshmallows daily under the Sydney Marshmallow Company label. Most of the product is sold within Australia but it is also exported to Singapore, Hong Kong and Noumea (prior to COVID they exported to the United States).
Everything is made on site using real produce rather than essences (except the licorice which they import from the UK but is made to their own recipe). When you try a banana bon bon it tastes like bananas foster as they use real bananas for the filling. They use Barry Callebaut chocolate and all of their enormous range can be bought at the shop. All of their gift bags are really well priced so it's a great place to stock up on gifts.
Gingerbread Man Hot Chocolate $8.50
Visitors can also book factory tours that are held Monday to Friday. Kids classes are also popular and for $50 per child, each kid walks away with a bag of chocolate that they've made themselves. Customers can also get personalised chocolate squares using whatever toppings they like or they can eat in at the cafe.
There are a range of six hot chocolates and the pick is definitely the Gingerbread Man hot chocolate with milk chocolate, gingerbread syrup, milk, toasted coconut marshmallows and cinnamon sugar and each hot chocolate comes with a piece of fudgey brownie. On the menu there are plenty of sweets and the most Instagrammable is probably the croissant dipped in melted Belgian chocolate with a crème patisserie filling, chocolate mousse stripe and gold toasted hazelnuts.
It's not all sweet however-there's the Fries Cauldron is a sight to behold. It's a bowl of French fries, sweet potato wedges and potato wedges with half a dozen sauces. There's sour cream, sweet chilli sauce, cheese sauce, aioli, chilli sauce but also a melted chocolate sauce. Pro tip: try dipping a potato wedge in the chilli sauce and then the chocolate sauce. It's fab.
Bacon and Waffles $16.50
If you're looking for something more substantial try the Belgian waffles with plenty of crisp, streaky bacon, maple pecan butter and real maple syrup. I loved this with some of the cheese sauce from the fries. Or if you're after a tiny snack try the mini cones filled with a choice of dark, milk or caramel chocolate. When you take a bit you get some of the oozy liquid chocolate.
The Factory Nougat & Chocolate: https://centralcoastmakerstrail.com.au/makers/chocolate-factory-gosford/
Dog friendly note: the factory tour is not dog friendly but dogs are allowed at the outdoor cafe tables.
Firescreek Botanical Wines, Holgate
A few years ago Firescreek Botanical Wine's winemaker and owner Nadia O'Connell received an unexpected email. It was from Noma restaurant. They were about to open up their Sydney outpost and wanted to use her fruit wines.
"They asked, 'Do you know Noma?' and not going to lie but I didn't," says Nadia. Once she looked them up she was delighted to supply them with a range of her wines from elderflower, violet and lemon. Her only regret was not asking for a seat at a table in exchange for supplying the wines.
Firescreek Botanical Wines is one of the most photogenic spots to stop at on the coast and they specialise in award winning fruit wines. Seven years ago Nadia and her family took over the 20 year old fruit winery set on 2.5 acres. She formerly worked in conferences and events and she and her husband Francis were looking for a little organic farm to raise their children. Having not made wine before she spent a month with the former owners learning everything she could about the wine making process.
There are four experiences available at Firescreek that involve different aspects of the farm whether it be a secret garden tour, foraging and mixology workshop or an Aboriginal storytelling and wine tasting experience. We are trying the chocolate and wine tasting option that it set either under the climbing wisteria pergola or in the white gazebo right by the creek for $25 per person.
They grow 40-50 varieties of fruit on the property - Francis studied permaculture and and regenerative farming techniques after they bought the farm. The only fruit that they tend to buy in are raspberries and blueberries from Tasmania. All of the wines are vegan friendly and undergo a natural sedimentation process which means that the bottles take up to 2.5 years to make.
For the tasting there are four fruit wines matched with four locally made chocolates by Luka chocolatier in Wyong. Nadia recommends taking two sips of the wine and then trying the chocolates. There are some intriguing combinations like a coffee, blackcurrant is coffee first then the blackcurrant comes to the surface and is paired with a chocolate and hazelnut feuilletine.
The blueberry lavender wine is what Nadia describes as "Yoga in a bottle" and is paired with a peanut butter cup which works surprisingly well. I love the orange and chilli wine made with Seville oranges, Grand Marnier and birds eye chillies paired with a Grand Marnier truffle. All of the chocolates match well with the wines and there's no better place to sit on a sunny (or even rainy) day than in the lush gardens, listening to the creek run.
Firescreek Botanical Winery: https://centralcoastmakerstrail.com.au/makers/firescreek-botanical-winery/
Dog friendly note: this experience is dog friendly and dogs are permitted on leash on the property.
Little Creek Cheese, Wyong
It was 13 years ago when Sue Parsons started making cheese as a hobby. She and her partner Russell were eating a cheese plate and drinking some chardonnay when she asked the question, "How do you make cheese?". He bought a cheese making kit and every fortnight they would make a new cheese maturing the cheeses in their wine fridge. The culmination of their cheese experiments was a Christmas lunch when they served their families a range of cheeses they had made. They kept their cheesemaking skills a secret as they wanted honest feedback on the cheeses. The Christmas spread proved a hit with the family especially Sue's mother in law who threatened to go through their garbage unless they told her where they bought the brie from.
Little Creek Cheese is located at the Wyong Milk Factory. When they opened the only other business there was a gym but it has now become quite a hub with a cafe, tavern, chocolate maker and donut store. All of the cheese at Little Creek Cheese is made by hand. "As soon as you let a machine in you can't keep your keep an eye on it. We can get it perfect every time. It's the human touch," says Sue. Little Creek Cheese has 230 industry awards. "It's all down to the milk," says Sue. They source their milk from Little Big Dairy in Dubbo which is a single source Holstein dairy farm. At the moment they get one delivery of a thousand litres of milk once a week.
The range of cheeses changes regularly depending on demand. One of their popular cheeses is using a local Moore's Dry Gin that Sue describes as a "taste of the Central Coast". Customers can book a a cheese experience class where they will make their own ricotta and paneer and taste a selection of their cheeses for $110. Alternatively a taste of 10 cheeses is $20 per person.
I'm sampling 10 of the cheeses today. There is a sample of uncooked halloumi so that guests can see the difference between the uncooked and cooked. The pan fried halloumi has a wonderful melting texture to it that is quite distinct from other commercial halloumis that can crumble once cooked. The garlic goat's feta is particularly good and the cumin cheddar is a surprising hit. There are around seven club cheddars available and the blue cheese is based on a cheddar so it doesn't have the ammonia hit that blue cheeses often have.
During the tasting Sue tells stories of how the bacteria in washed rind cheese (Brevibacterium linens) is the same bacteria as that of smelly feet. The most common question she gets asked is what is the difference between brie and camembert. Brie usually comes in larger wheels but camembert is in smaller ones. The reason why is that during the French revolution a cheesemaking monk who was fleeing the province of Brie sought refuge at a woman called Marie Arel's house. In exchange for not reporting him to authorities he promised to teach Marie how to make brie. She only had smaller hoops and that combined with bacteria in the air to start the cheese making process and different milk from the cows produced a similar but different product. This was subsequently named Camembert by Napoleon III after the village in which she lived.
Little Creek Cheese: https://centralcoastmakerstrail.com.au/makers/little-creek-cheese-factory/
Dog friendly note: this experience is not dog friendly but there is a nearby cafe with outdoor seating where you can bring your dog.
Broken Bay Pearl Farm, Mooney Mooney
"Pearl shells were said to be the scales of the rainbow serpent," says our guide Steph at Broken Bay Pearl Farm. Pearls shells or painted Riji were worn by Aboriginal men in the north-west part of Australia where Broome is located. In the past oyster shells were the more precious part of the oyster and they used to burn the shells and use the ash for lime.
Painted rijis
Any shelled creature can grow pearls but the pearl's surface will reflect the surface of the shell. Pearling technicians look for a beautiful sheen inside an oyster shell (hence it's name "Mother of Pearl") that will be reflected in the pearl that it produces. Here they farm Akoya oysters which have a flat, straight base. Generally oysters that are grown for food rather than pearls taste better although pearl meat (the adductor muscle in the oyster) is becoming a sought after ingredient particularly in Asia. We take a ride on the boat where we will see the pearl farm. Unlike Sydney rock oysters which look more like a farm it looks just like floating black plastic bags. The oysters sit half a metre under the water.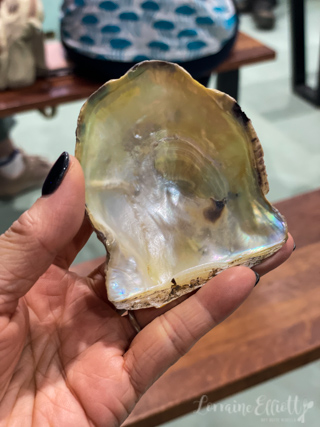 Akoya oyster shell
One in ten thousand oysters hold a gem quality pearl and it takes years to grow a pearl. The process of producing a single cultured pearl is a laborious one. It starts with a spawning process that produces thousands of baby oysters. After about 6 months begins the task of chipping debris and barnacles off each individual oyster which will happen once a month for the rest of the oyster's life. After 2 years of growth the oyster is ready for conditioning which is a process that takes 4-14 weeks where the oyster effectively goes to sleep.
It is then that the pearling technician can check on the condition of the mother of pearl and if it looks like a suitable candidate to create a lustrous, beautiful pearl. A peg keeps the oyster slightly ajar and the top 5% of oysters opened are donor oysters where they slice their white mantle tissue into 1 mm pieces that are viable for a period of 20 mins. Pearling technicians then take the host oyster and donor tissue and insert it into the hinge along with a small shell seed. After this they put the oyster back in water and leave it for a period of 18-30 months where hopefully, the mantle helps to coat the seed in nacre.
Akoya oysters need consistent salinity so most of the oysters for Broken Bay Pearl Farm are grown in Brisbane Waters. Good pearling technicians have a 95% success rate or above but it is a highly technical job with a 10 year apprenticeship under a pearling master. There are only 2 pearling technicians that work in NSW and Broken Bay Pearl Farm's owner Rose Crisp is one of them.
The pearl on the left has more lustre and is more valuable
We head into the grading room where Steph shows us a range of pearls. The most important quality for pearls are size, quality grade and lustre. A round pearl is the most sought after, then a drop pearl (like a teardop), then a button shape and then a baroque pearl. The colour does not play a part in the price of pearls at all. Pearls can be dyed but dyed pearl will last significantly less at 5-15 years versus 500 years for an undyed pearl.
From left to right: baroque, button, drop and round pearls
The largest pearl that Broken Bay Pearl Farm found was 22.24mm. An offer of $300,000 was put forward for this pearl but they declined and decided to keep it. The largest ever pearl found was in 2006 in the Philippines sea. A 34kg/75lb pearl was found in a giant clam by a Filipino fisherman who kept it under bed his bed for good luck and would rub it before going fishing as he believed it brought him good luck. It was valued at $100million USD and is called the The Pearl of Puerto.
Broken Bay Pearl Farm: https://centralcoastmakerstrail.com.au/makers/broken-bay-pearl-farm/
Dog friendly note: This experience is dog friendly and dogs can be taken on the boat (subject to the captain).
Where we stayed
For our weekend we stayed at the Master's Cottage in McMaster's Beach which is part of the Greenhouse Retreats. This is a dog-friendly, coastal chic house that is located very close to McMaster's Beach and is set among the treetops.
The main living area has an open plan living dining and kitchen area that opens up to a deck with a large modular lounge and barbecue. There is a fireplace as well as reverse cycle air conditioning to keep you warm or cool and you can bring along your subscriptions to the streaming services to watch them on the television or connect to the Sonos system to listen to music. Dogs are permitted but incur a cleaning fee of $40 and subject to prior approval.
There are 3 bedrooms (2 queen and 1 king) with a small ensuite attached to a queen bedroom. The other two bedrooms share a spacious bathroom with free standing tub and separate shower. The king bedroom is attached to a kid's room with bunk beds. In the bathroom are Ikou amenities and the beds are comfortable with low profile pillows. The bed is very comfortable and both nights I slept very well (which doesn't always happen when travelling).
There are activities like table tennis and supplies to cook with and basics like organic teas, coffee pods and almond milk supplied and fresh flowers in the kitchen and bedroom. Wifi is provided (although this seems to stop working at night). There is parking for two cars in the undercover garage adjacent to the house. And best of all, the beach is about 100 metres away!