I can't tell you enough how much I adore this salad. It came together on a Friday when the fridge was low on goodies and I had to use everything up before the following day's grocery shopping. What resulted in a salad that I have made at least a dozen times since. I crave this when I am feeling a bit poorly, as often happens when we slip into the colder seasons...
I know that perhaps calling this a red cabbage salad sounds really boring. It isn't. There's crunchy carrot, green onions, chickpeas, halved grapes (grapes are awesome in salad!) as well as a creamy, garlicky lemon dressing. This salad is vegetarian, vegan if you use a vegan mayonnaise but it doesn't lack flavour or texture and it won't have you wanting for anything more. This is a big claim but I eat it almost every day for lunch and will keep doing so until I either get sick of it or I create another salad.
Speaking of random things found in my kitchen it's time again for In My Kitchen for April. Can you believe that it's almost April? Time is such a crazy concept at the moment. I've been doing a lot of travel and eating around Australia this year so far and I've got a few things I've collected for this month's In My Kitchen round up hosted by Lizzy where I show you the new things in my kitchen.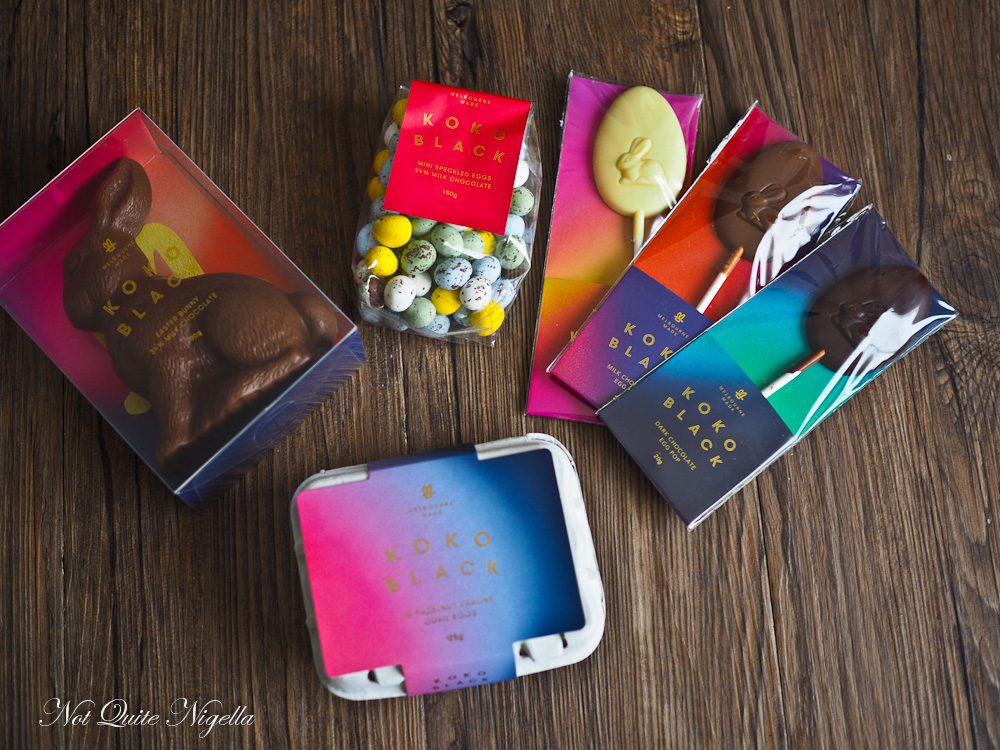 Easter is almost upon us and that means a luxurious 4 day weekend, chocolates and hot cross buns. I received these delicious chocolates from Koko Black (brb, going to bury myself under a pile of chocolate). The praline filled quail eggs look like real quail eggs but they're entirely edible shell and all! :D
Whenever I go to the markets I love seeing what they have and I saw banana flowers for the first time! I love the colours on it and I'm going to make a salad with this based on one of my favourite salads ever-banana flower salad with poached coconut chicken.
As a lover of bacon I was super excited to come across this amazing bacon while holidaying on the South Coast. Vincentia Butchery make a maple bacon that is a dream bacon - it crisps up the way bacon should. They'll also slice it fresh to order however thinly you want. I brought back some because I love food souveniers.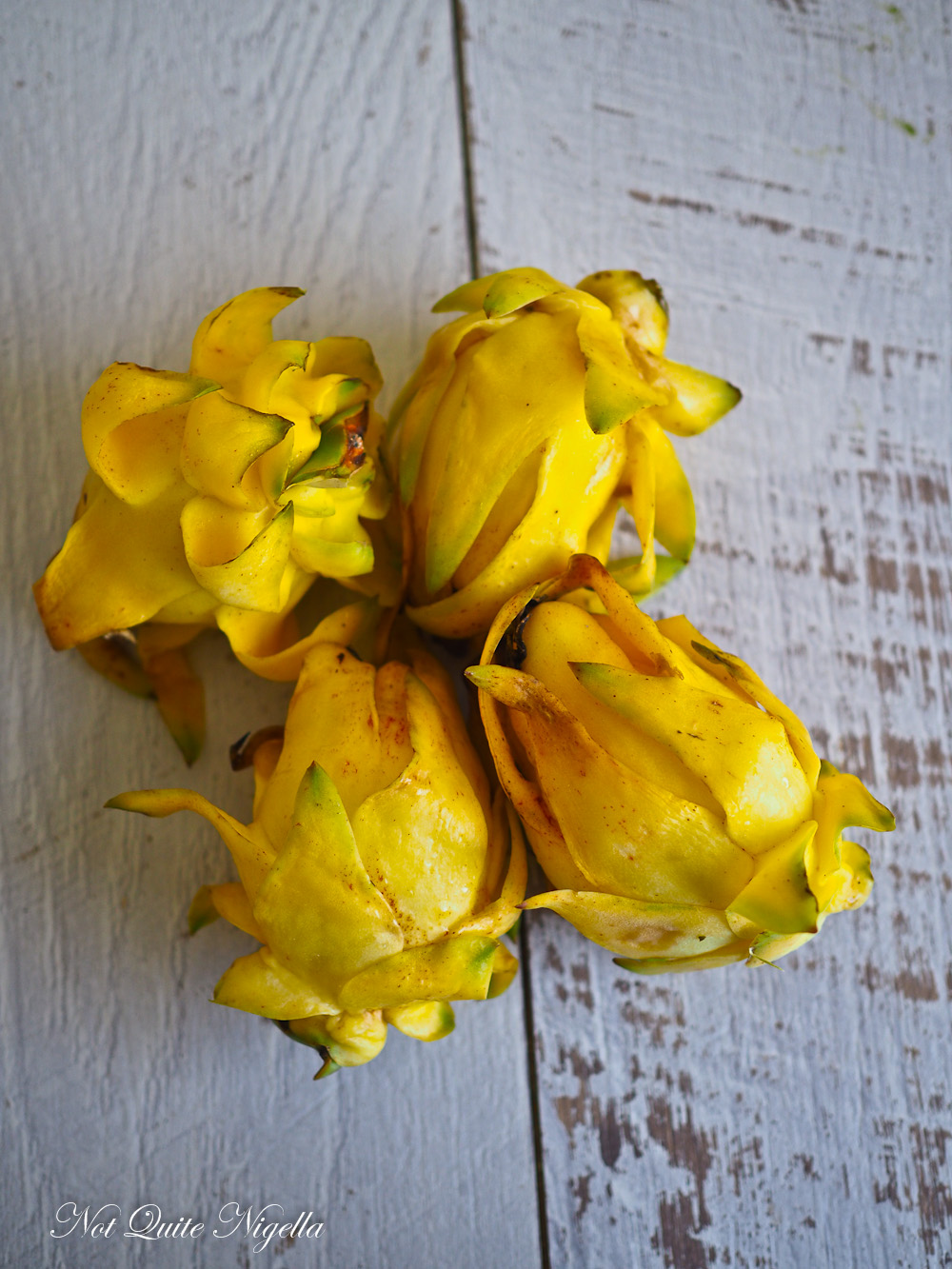 Another discovery were these yellow dragonfruit. Usually I see pink ones and hadn't really seen yellow ones before. I find dragonfruit a bit plain tasting for all of their spectacular appearance. One time I did try a dragonfruit juice in Taiwan and that was delicious and refreshing. These weren't cheap so I don't think I'll juice them up though.
I recently came back from a week wine tasting across Victoria's wineries with Ultimate Winery Experiences Australia (the first story is here). We had some fantastic experiences and at the fantastic Pizzini winery we left with a signed cookbook, chutney, Prosecco and raspberry jam, salted caramel popcorn as well a decadent rocky road made using Prosecco marshmallow and Brachetto Turkish Delight! I'm afraid that there's just the box of Rocky Road that I can show you because the rocky road disappeared in a flash into my waiting mouth! There's nothing like following this crunchy, healthy salad with rocky road ;) Promise me you'll make this salad?
So tell me Dear Reader, do you ever eat something so many times until you get sick of it? Have you ever tried dragonfruit juice? Have you ever made anything with banana flower?
DID YOU MAKE THIS RECIPE? Share your creations by tagging @notquitenigella on Instagram with the hashtag #notquitenigella
Red Cabbage, Chickpea & Dill Salad
An Original Recipe by Lorraine Elliott
Preparation time: 10 minutes
Cooking time: 0 minutes
1/4 red cabbage, thinly sliced
2 medium carrots, grated
420g/15oz. tin chickpeas, rinsed and drained
Small handful of grapes, halved
1/4 cup chopped green onions (long shallots)
20g/0.7oz. fresh dill, fronds only
5 tablespoons extra virgin olive oil
3 tablespoons lemon juice
1 finely grated garlic clove
1 teaspoon honey
3 tablespoons mayonnaise mixed with 1 tablespoon milk or buttermilk
Salt and pepper to season
Step 1 - Toss the cabbage, grated carrot, chickpeas, green onions, grapes and dill in a large bowl. Whisk the oil, lemon juice, garlic clove and honey in a small bowl with the mayonnaise and toss with the vegetables. Season with salt and pepper.
Note: This salad also keeps well for a day or two. I often make up a big batch and we eat it whenever we are feeling peckish but it also accompanies meats well too.