Peri Peri Chicken is one of Portugal and Southern Africa's most delicious dishes. Chicken is butterflied and smothered in this incredible spicy sauce and then grilled or roasted! This authentic Peri Peri recipe is made of the simplest ingredients that come together to make the most divine chicken! This is a very pushy recipe Dear Reader!
I loved this recipe so much that I wasn't sure if I was going to put it on the blog. When friends tried it they said that I should make it commercially or keep it a secret it was that good! Seriously, if you need a meal that is going to impress people this is it (hello Valentine's meal!)! It tastes like Oporto chicken but better IMHO. While Peri Peri is commonly associated with Portugal it actually hails from Southern Africa. When Portuguese explorers visited Mozambique they brought the bird's eye chilli, the one used in Peri peri sauce. The name peri peri means "pepper pepper" in Swahili. In Portugal they call it Piri Piri. A lot of countries in Southern Africa cultivate the chilli pepper and the sauce became widespread and known through brands like Nandos and Oporto.
When we visited Portugal in 2019 (which feels like soooo long ago) we made the pilgrimage to Guia, the Piri Piri chicken capital of Portugal. There are quite a few piri piri chicken stores to choose from. They most commonly serve the chicken with a simple tomato salad and hand cut chips. I wanted to recreate that peri peri chicken. I started with brining it (which I don't believe that they do) but I wanted to ensure that the breast was very juicy. This tiny little step does so much. Apart from that Peri Peri chicken is actually a very simple dish. The marinade is made with vinegar, smoked paprika, chilli, lemon, garlic and coriander. Some recipes call for capsicum or peppers which colours the chicken more red but we didn't encounter this in Portugal.
Usually hand cut long fries are served with Peri Peri chicken but I really love the round chips at Portuguese restaurants better so I served them with these round potato chips that are infinitely better (and easier!) to make. They're like a cross between fries and a potato chip/crisp.
Tips for Making Peri Peri Chicken
1 - Start with birds eye chillies, these have a spicy bite to them although I'd say that end result is a moderately spicy chicken. I make mine with 5 birds eye chillies but you can reduce the number if you don't like it too spicy.
2 - Butterflying the chicken makes it quicker to cook and having it spread out flat means that the marinated skin is tastier all round. If you don't want to butterfly the chicken you can leave it whole. It will just take a bit longer to cook, around 1 hour 20-30 minutes for a 1.5 kg/3.3lb chicken.
3 - You can grill or roast the chicken. I prefer to roast as grilling can dry out the juices and I like using the pan juices for the basting sauce.
4 - The tomato salad is the absolute best accompaniment to the chicken (along with fries). It's fresh and so simple to make and especially wonderful when tomatoes are in season.
5 - Freshly fried potato chips are always the best. However I have fried the potato chips and then reheated them in the oven just before serving (160C/320F for 5 minutes). They crisp up well in the oven (I've reheated them the day after frying them) and that way you don't have to fry anything when guests are over. Keep them in the fridge until you want to reheat them.
I've made this peri peri chicken a lot recently as I have been honing my original recipe to something that I think tastes exactly right. I served it to some friends that we had over for lunch one day and that's when Valentina was so complimentary about it. Sometimes I worry if my friends will get along. It was Valentina and Peter as well as Girl next Door who I haven't seen in a while. They had never met before and Peter can have some conservative views that I often challenge him on. But I wasn't sure if Girl Next Door who is a very outspoken left wing supporter would be enamoured of this. However they're both quite knowledgeable about a lot of topics and aren't shy about sharing that knowledge too. Would they get along or would it be like oil and water or would they be sympatico with each other?
I realised at that lunch that I have a certain topics that I love talking about and they're not always polite dinner party conversation that your parents told you to stick to. My two favourite topics are crushing the patriarchy and true crime and I invariably start talking about both or other more prurient matters. I didn't realise how weird it was until I started recounting a murder and asked Girl Next Door, "Have you heard of this one?". She looked at me wide-eyed, "I don't think we really watch or listen to the same stuff...". Valentina and Peter are probably used to my love of the gruesome but I think it was a bit of a shock to Girl Next Door. As always I was the weirdo (and it turned out that Girl Next Door and Peter got on well so I needn't have worried!).
So tell me Dear Reader, what are your favourite dinner party topics to talk about? Do you like Peri Peri chicken?
Did you make this recipe?
Share your creations by tagging @notquitenigella on Instagram with the hashtag #notquitenigella
Peri Peri Chicken
All Original Recipes by Lorraine Elliott
Preparation time: 30 minutes
Cooking time: 60 minutes
Serves: 4
For brining
1.5kg/3.3lb whole chicken
150g/5ozs. fine salt
6 cups/1.5 litres/0.4gallon water
Marinade
40g/1.4oz or 8 garlic cloves
1 whole small lemon or 1/2 a large one (around 60g/2oz)
2 tablespoons white vinegar
4-5 bird's eye chillies (depending on how hot you like it)
2 tablespoons finely chopped coriander leaves
3 teaspoons smoked paprika
3 teaspoons sugar
1 teaspoon salt
1/2 teaspoon black pepper
75ml/2.5flozs. olive oil
2 large bay leaves
For Sauce
Half of the marinade paste
Pan drippings
50g/1.7ozs. butter
1 tablespoon brandy (or chicken stock)
I used pink salt, hence the colour
Step 1 - Dissolve the salt in the water. To do this I mix around half of the total water as boiling water with the salt and then once the salt has dissolved I add the rest in cold water and throw in a few ice cubes. Submerge the chicken and cover and refrigerate overnight. Drain the chicken of the salt water and sit the chicken upside down so that any salt water drains out of it. There's no need to rinse the chicken of the brine.
Cutting down the backbone
Flattening the chicken
Step 2 -Take a sharp pair of scissors and place the chicken breast side down. Cut along the centre of backbone from the top to the bottom. Line a large baking tray with parchment and spread the chicken out on the tray.
Coating the underside of the chicken
Coating the top of the chicken
Step 3 -Peel the garlic cloves and then cut the lemon into 6 pieces making sure to remove any little hidden seeds. Add these to a food processor along with the vinegar, chillies, coriander, paprika, salt, sugar, black pepper and oil and process until it becomes a smooth-ish paste. Thermomix directions: place all ingredients in bowl and set to speed#10, 10 seconds. Scrape down sides and repeat if needed. Then using gloves (the chillies can be irritating to eyes and skin) coat both sides of the chicken with 3/4 of the paste. I do the underside of the chicken first generously and then flip it over and do the skin side. Allow to marinate in the fridge for 2 hours.
Step 4 -Preheat oven to 200C/400F and take the chicken out 30 minutes before you want to roast it. Place 2 bay leaves under the chicken and roast for 60 minutes turning the tray halfway to ensure even browning.
Making the sauce with extra marinade and pan drippings
Before the second coat of sauce
Step 5 -Remove the chicken from the oven, cover with foil and allow to rest for 15 minutes before slicing up. Add the pan drippings to a small saucepan along with the reserved marinade, butter and brandy. Bring to a simmer and allow to thicken for 5 minutes. Cut chicken in portions or in half or in smaller pieces and add more sauce on top of the chicken and return to the oven for 5 minutes. Serve with extra sauce.
Portuguese Tomato Salad
This tomato salad is classic, ludicrously simple but absolutely perfect to go with peri peri chicken! I always make this tomato salad while the chicken is roasting.
Preparation time: 5 minutes
Cooking time: 0 minutes
Serves: 4 as a side dish to chicken
4 tomatoes (around 600g/1.3lbs)
100g/3.5ozs small white onion, sliced into rings
3 tablespoons extra virgin olive oil
1.5 tablespoons red wine vinegar
1 teaspoon dried oregano
3/4 teaspoon salt
1/4 teaspoon pepper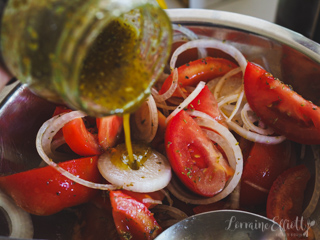 Step 1 -Cut the tomatoes into slices and mix with the white onion rings. In a small jar add the oil, red wine vinegar, oregano, salt and pepper and secure lid tightly and shake to emulsify. Pour over the tomatoes and gently toss.
Round Potato Chips
These potato chips are best made fried fresh but can be reheated
Preparation time: 10 minutes
Cooking time: 7 minutes per batch, around 35 minutes total
Serves: 4 as a side dish to chicken
800g/1.7lbs potatoes (I used 2 very large brushed Sebago potatoes)
Oil for deep frying (canola, peanut)
Salt for seasoning
Step 1 -Wash potatoes well using a scrubber but do not peel. Using a mandolin on the middle setting #2 slice potatoes into even slices. Place in a bowl of cold water and wash away the starchy white water until the water rinses clear.
Step 2 -Pat dry on paper towels - do this step well to prevent spitting. Heat oil in a large, heavy pot to 180C/350F and gently add slices to the hot oil. Cook for 5-6 minutes and then turn over and cook for an additional 1-2 minutes. Drain on a paper towel and season with salt. To reheat place in a 160C/320F oven for 8 minutes.