Self Raised Bread Shoppe is a new bakery in the southern suburb of Carlton. Opened by the team behind the popular My Mother's Cousin pizza restaurant and Nineteen 43 bakery there is a range of wonderful fresh breads, sandwiches, pies, pastries as well as excellent coffee. So what should you order while there?
"Where is it? " Mr NQN says driving down Julibee Street in Carlton in the inner south of Sydney. But as soon as he spots the crowd he adds, "That'd be it right?" Self Raised Bread Shoppe opened in early February 2023 and has already built up a keen following if the crowds inside and outside are anything to go by. The trio of Amani Rachid, brother Huss Rachid and business partner Sal Senan are hard at work at the bakery.
"Self raised has a few meanings, first of all bread is kind of "self raised" as we a natural levain for most of our breads and we (Huss, Sal & Amani) are also self taught as none of us had cooking or hospo qualifications before we started Nineteen43 just over 5 years ago," says Sal. For the trio, the idea for a bakery has been in the works for a long time. "My Mother's Cousin's space was initially going to be a bakery/deli before we decided to make it a pizzeria," says Sal.
There are some outdoor tables and seats, although they're more for your eat quickly and go sort of style. There are a couple of bigger indoor tables and displays of pickles, hot sauces and condiments as well as a fridge of soft drinks, cheeses, milk and charcuterie. If you want something quick to go then order from their display as most sandwiches on the menu are made to order and can take 15 minutes or so to arrive especially during peak times. I come armed with a list of things that I want: the schnitzel sandwich, a pistachio croissant and a kouign amann. I've made my order, $90 worth of bread and pastry that includes two sandwiches.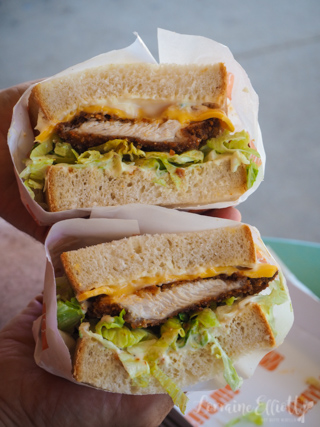 Mr NQN has grabbed a table outside and we sample the goodies that I've bought from the display while waiting for our sandwiches. They bring out the coffee and it's excellent. They use a special roast made just for them from their friend Simon from Reformatory Lab. Their blacks coffees are rotating single origin varieties.
Kafta Sausage Roll $9.50
The sausage roll with kafta or kofta is magnificent. I have all intentions to take one bite but before I know it the spiced beef sausage roll with white and black sesame seeds and a pot of spiced house-made peppered ketchup is gone.
Mille Feuille $12
The Mille Feuille is on the verge of collapsing in this late summer heat so we go in for the kill. There's a blanket of icing sugar on the top, layers of whipped cream and a crisp puff pastry layers. It's good in an old fashioned whipped cream and pastry sort of way although I think I'd go for something else next time like the apple crumble.
Croissant $6
Sadly the pistachio croissant isn't available this week and the chocolate almond one has sold out so I content myself with the plain croissant. "We use a range of different butters depending on the type of pastry and the outcome we want (some local and some international brands). We have some super talented pastry chefs, led by Sarah Ghantous (ex Flour & Stone) and I think they play a bigger role in the deliciousness of our pastries than the butter ," explains Sal.
Kouign Amann $5.50
The kouign Amann is good, solid rendition although it doesn't have that gooey caramel butter bottom that the most moreish versions have.
Lunch focaccia $12
There are a few varieties of lunch focaccia, all topped with a range of ingredients from tomato to mushroom. We try the mushroom one, with a big open crumb and a crispy base to it. On top are mushrooms with feta cheese and a herby, piquant pesto to balance the rest.
Schnitzel White Bread $17
Then it's time for sandwiches and I slide open the package of the schnitzel sandwich. There is a herb and garlic panko coated chicken schnitzel, crunchy shredded iceberg lettuce, melted American cheese and mayonnaise on the softest, pillowy white bread. I can see why this is the standout sandwich because it is all about that super white, downy bread and the crunchy, moist chicken. It's a classic done perfectly. I had forgotten that you can also get chilli sauce on it but as we couldn't finish it and took it home I added some Calabrian chilli sauce and chef kiss it was even better!
Hoagie White Sesame Ciabatta $19
There are two hoagies on the menu and this is the first one. The bakery caters for halal customers but wanted to make sure that the meats used would appeal to non-halal customers too. In the hoagie they use turkey ham, beef mortadella and beef salami as well as lettuce, roasted peppers, provolone/cheddar and green dressing. "It's our own brand (Fat Sals fine meats), we wanted to make sure we can provide an amazing product for both halal & non halal market. Although we use beef mainly, you can barely tell the difference as the quality is so high," says Sal. The meats do taste very, very similar to the pork version and they're also available for purchase in the bakery's fridge. Again the bread is excellent and superbly fresh while the toppings are a classic hoagie but done well. This isn't reinventing the wheel stuff but some stuff doesn't need to be invented, just done perfectly.
So tell me Dear Reader, what is your go-to bread or pastry in the morning? And would you go for the schnitzel sandwich or hoagie?
This meal was independently paid for.
Self Raised Bread Shoppe
45 Jubilee Ave, Carlton NSW 2218
Wednesday to Saturday: 7am - 2.30pm
Sunday: 8am - 2pm
Closed Monday & Tuesday
https://selfraised.com.au/