This luscious baked cannelloni features a wonderful spicy vodka sauce and is filled with cherry bocconcini and Italian sausage! It's fun to make and is so utterly delicious that you'll find yourself cutting off slice after slice (or is that just me?). This is a pushy recipe Dear Reader!
I love this cannelloni as it has SO much flavour. The Italian sausages are bulked out with some breadcrumbs and egg so that they end up as soft as a meatball and I love the surprise hit of melted bocconcini in the centre of each cannelloni shell. Plus this pasta sauce is incredible and so easy to make! A few of you asked for frugal recipes and while the cannelloni has a few expensive ingredients i.e. the cheese and Italian sausage, it makes around 8 serves of it so it works out around $7 a serve.
Tip for serving cannelloni: don't cut your cannelloni straight away. Take it out of the oven, cover it with foil and let it sit for an hour. It will still be warm and the juices will absorb back into the cannelloni so that it cuts easily. Or you can bake it the day before and then cut it up and then heat it up as individual slices.
This cannelloni is great for feeding a crowd as it is best made ahead of time. This cannelloni idea actually came from a Dear Reader Paula that I met while on a tour of Five Dock. I ended up buying some cannelloni to make this and a few afternoons later I made it ready for dinner that evening.
We took the boys to the park and on the way home we noticed that our car was dusty and dirty. Proud tightass Mr NQN thinks car washes are a waste of money and honestly $80 does seem a bit high. We found ourselves a self serve carwash nearby but it was very confusing. There were 4 spots to wash your car in and 4 lanes in which you could park. We parked behind one car and were waiting around 20 minutes before the woman in the car got out and told us, "We can't start our car." I looked at her thinking, "You couldn't have told us that 20 minutes ago?". We moved into another slot.
Tensions were high. Nobody understood the system of four lanes and four cars and nobody knew who was up next. Was it the car lined up in front of the washing spot or was it the car was next in queue? People were taking ages washing their car like around 20-25 minutes so it was like a slow crawl. A car in front of us pushed in. Then another woman came from the entrance and just took another spot. People were beeping her loudly and screaming at her and she claimed that she was waiting but it was obvious she was not because she just entered. I was fed up as we had been waiting for 45 minutes in this queue plus 20 minutes behind that stalled car but we were trying to be fair and letting people go that were next in line but it seemed like there were people that just DGAF and thought that queues were stupid and not for them. It was like a Seinfeld episode.
Then we were up next. "Go now! NOW!" I said to Mr NQN. Then another car emerged from another area entirely and tried to take the spot from us. He wasn't in the queue but he just thought it was his turn. He and Mr NQN hit the horns and wound down their window. "We are next!" Mr NQN said firmly.
"I've been waiting 15 minutes!" he guy said.
"We've been waiting AN HOUR!" I said yelling. I was like a Jack in the Box that had been opened. Mr NQN calls me short and feisty like Elaine from Seinfeld (it's true, I relate to her hard). There was no way that that guy who wasn't even in the queue was taking our spot after an hour wait. I must have looked crazy and the guy put up his hands. "Okay cool cool," he said. Mr NQN said, "By the way you're not in the queue, the queue is over there," he said gesturing to the 4 lanes.
We quickly washed our car there (never again, that was tension nobody needed). I looked back and saw that guy. He had successfully managed to push in and was busy washing his car in front of everyone else that had been waiting.
"NEWMAN!!" I muttered to myself quietly.
I'm just glad that we had some comfort food at home waiting for us after all of that drama!
So tell me Dear Reader, are you a patient person? Would you have let someone go in front of you or would you say something?
Did you make this recipe?
Share your creations by tagging @notquitenigella on Instagram with the hashtag #notquitenigella
Cannelloni
An Original Recipe by Lorraine Elliott
Preparation time: 40 minutes
Cooking time: 1 hour 10 minutes
Serves: 8
For Sauce
Oil for frying
2 onions, finely diced
8 cloves garlic, peeled and diced
380g/13ozs. tomato paste
800g/1.7lbs arrabiata pasta sauce (or your favourite)
200ml/7floz vodka (optional)
1 tablespoon chilli flakes (optional, but recommended if you don't use Arrabiata)
200ml/7flozs cream
For Filling
800g/1.7lbs Italian sausage, skins removed
80g/2.8ozs fresh white breadcrumbs (not dried)
80ml/2.8flozs milk
2 eggs, beaten
500g/1.1lbs cannelloni shells (2x250g boxes)
500g/1.1lbs cherry bocconcini
300g/10.6ozs mozzarella, torn or grated
Step 1 - First make the vodka sauce. Heat the oil in a large cast iron pot and sauté the onions for 5 minutes on medium heat. Then add the garlic and cook for 1 minute. Add the tomato paste, pasta sauce and vodka and cook for 5 minutes. Stir the cream through and set aside.
Step 2 -Preheat oven to 180C/350F and oil a 35x24x8cm or 14x9.4x3inch baking dish and add a third of the tomato sauce mixture on the base spreading it out. In a bowl mix the skinned sausages, breadcrumbs, milk and beaten eggs well. Then you can pop this into a piping bag (no need for a tip) or you can roll these into tiny meatballs but the piping bag is much quicker.
Step 3 -Take a cannelloni shell and pipe some meat filling into it a third of the way in. Then stuff two cherry bocconcini in the centre and then fill the end with more meat mixture. Repeat with all of the cannelloni filling up the tray with one layer. Then add another third of the pasta sauce and add another layer of filled cannelloni shells on top. Top with the remaining third of the tomato sauce. Sprinkle with mozzarella and bake for 50 minutes. If it browns too quickly add foil on top. Allow to sit for an hour before slicing up.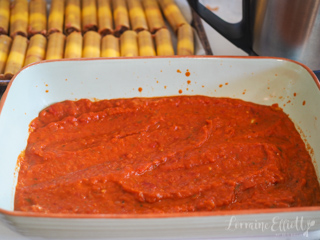 Crab Plate from In The Roundhouse