Ever since my first visit to Honolulu I have been fascinated by the The Cheesecake Factory. Every time you walk past the restaurant in Waikiki, no matter what the time of the day or night, there's a huge queue of people waiting to get in. So what is the big deal about The Cheesecake Factory? Why is it so popular? What is the food like? Is there anything apart from cheesecake? And does Penny from The Big Bang Theory work there?
I'll start with the history of The Cheesecake Factory. The founders are Evelyn and Oscar Overton who started with one product: the original cheesecake which remains unchanged and has only 5-6 ingredients. In the 1950's Evelyn and Oscar were raising two children David and Renee. Evelyn was a great home cook and started selling her original cheesecake to the top restaurants of Detroit using a recipe that she found in a newspaper. She converted their basement into a bakery because she wanted to be home when her children got home from school.
In 1972 once their children were grown the Overtons moved their business to Los Angeles and using the last of their savings opened up "The Cheesecake Factory" selling their original cheesecake. Now grown up son David then decided to open up an original restaurant in 1978 in Beverly Hills. Going with his instincts but completely lacking restaurant experience, he wanted to create an unique experience with generous portions, hundreds of menu selections all made from scratch with warm and inviting service. It was an instant hit with big queues from the day that it opened. They're now known for serving up generous portions at reasonable prices with more cheesecake than you can poke a stick at. It's approachable, family style and said to reflect a common man's palate.
The Honolulu branch opened in 2003 spanning 14,150 interior square feet or 1,314 square metres with 397 seats with 2 outdoor patios. Cheesecake is big business - their NASDAQ code is "CAKE" and in 2019 they had revenues of $2.483 billion USD. It has been a part of pop culture for decades appearing in a Drake song, on Keeping Up With The Kardashians and of course being Penny's sometime employer on The Big Bang Theory.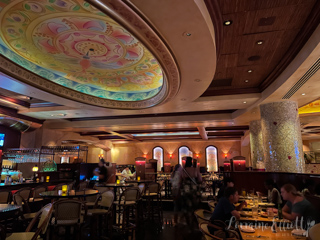 Getting a table at the Waikiki branch takes time (unless you come an hour before they close or at 2pm). Otherwise there are no online reservations and people arrive and approach the host counter and put their name down in the left handed queue. The right hand side of the host counter is for people who have been texted that their table is ready. It was either a 20-30 minute wait for an indoor table or a 30-40 minute wait for an outdoor one. We opted for the outdoor table and waited around 25 minutes.
The restaurant itself has a really unique look with Egypt meets Las Vegas with shimmery mosaic columns, frescos and Victorian dark-wood siding with art deco sunbursts. Twitter user Max Krieger described it as a "a "postmodern design hellscape" before launching into an analysis of the design. I don't know how to describe it except that it reminds me of Lax Vegas crossed wtih a fancy seafood restaurant we one ate at in San Francisco (not surprisingly David Overton spent some time in San Francisco and is said to be influenced by it).
Outside there are tiki torches but it's still dark and dare I say...romantic? Our server lays down our menu. Dear Reader, set aside about 15 minutes to flip through that baby because it is comprehensive. There are 250 menu items and 35 types of cheesecakes alone and everything is said to be made from scratch including 70 types of sauce although the cheesecakes are shipped in frozen. Most of the items have calorie counts next to them and there are "skinnylicious" selections that are around 500 calories including a cheesecake. The menu is very eclectic and based on David's "common man" tastes-he doesn't like gourmet food and his palate has proved a success.
We need a bit of time to go through the menu although I have pre-picked what we want. The menu spans the world from Italian, Jamaican, Thai and Hawaiian items like poke and ahi tuna sushi. Hamburgers are hilariously called "Glamburgers" (that's some mom energy there). Our server tells us to take our time and she comes back twice to check on us. She isn't exactly a Penny although Mr NQN notices that the servers all look quite "wholesome" as in no tattoos, nose rings etc. Our server Maddy is like a more natural looking cousin of Kylie Jenner.
While we are waiting the famous complimentary bread hits the table. There are two varieties of bread: a white baguette and the customer favourite the "brown bread". This is worth the hype and has a nice sweetness to it and a dense texture with oats on top. It reminds me of a molasses bread and is very moreish. I could easily leave the white baguette but end up eating three pieecs of the brown bread. The staff also call this chocolate bread and that's because they use cocoa in the bread.
Avocado Egg Rolls $16.50USD
The food arrives in a timely manner which is astounding given the number of items on offer (I'd love to take a peek into the kitchen). The Cheesecake Factory's avocado egg rolls reportedly take them 4 hours to make from scratch and there are three to a plate served on crispy fried noodles. These egg rolls (spring rolls) are filled with avocado, sun dried tomato, red onion and coriander or cilantro in a crispy egg roll wrapped that is deep fried and served with a tamarind cashew dipping sauce that has a sweetness similar to sweet chilli sauce. These are cut in half showing plenty of avocado inside. They're deliciously crunchy on the outside but soft and creamy on the inside. Definitely on any must order list.
Jamaican Black Pepper Shrimp $19.95USD
I had been warned about serving sizes and how it is enough usually to share one main so we shared the Jamaican Black Pepper Shrimp. The first thing I notice is that it comes out on a platter, not a plate but a platter the size of which I use for dinner parties. The shrimp are peeled and cooked in a Jamaican black pepper sauce. On the side are fried plantains, a marinated pineapple salad, steamed rice and black beans. It's quite good and tasty and the shrimp are well cooked so that they're not overcooked or rubbery. The sauce is described as "Very Spicy Jamaican Black Pepper Sauce" although I'd consider it mildly spicy.
And although I would have loved to have fit in some of the cheesecake, I have to wait until another day to fit that in! We returned another night and waited around 20 minutes for our table and sat one table down outside. Again I am addicted to the brown bread and have to stop myself from eating the second loaf (I ate the first loaf myself, no shame).
Hot Spinach and Artichoke Dip $16.95USD
We start with what is undisputedly their most popular appetiser, the spinach and artichoke dip. This is designed to serve two and comes out on a platter with a bowl of piping hot gooey, cheesy spinach dip with artichoke hearts and a mound of crunchy tortilla chips. There's also some tasty salsa and sour cream on the side. There's too many tortilla chips for the dip but it's delicious. The cheesy dip is packed with flavour and I love it with a little salsa on top too. So far my two favourite things have been the appetisers of avocado egg rolls and this spinach and artichoke dip.
Truffle Honey Chicken $21.95USD
The truffle honey chicken appears on a platter, looking very crab-like. It's two enormous boneless chicken breasts crumbed and deep fried with a massive scoop of mashed potato and six grilled asparagus spears. I actually can't taste any truffle honey at all and when we mention this to our server she offers to get some truffle honey to add onto it. This makes it much better (because I swear they must have missed the honey there was no sweetness at all) but the truffle aroma is so subtle you'd have to really be trying hard to detect it. It's a big meal and substantial but I wouldn't order this again and instead go for the two appetisers.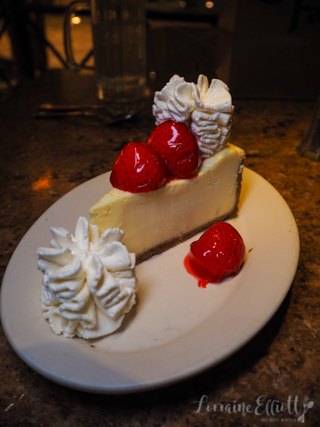 Fresh Strawberry Cheesecake $10.95USD
It's cheesecake time and while we were waiting for our mains I mulled over the almost 40 strong list of cheesecake flavours before circling back to the most popular one: the original cheesecake served with two squirts of whipped cream and 3 glazed fresh strawberries. According to David Overton "good cheesecake is just 5 ingredients, it's just how you mix them!" And with so many types of cheesecakes on offer surely there would be wastage but apparently they can predict what people will order with such accuracy that they throw out less than 5% of ingredients. I had already tried the cheesecake when Laura and I went to Costco in Sydney and bought one to share and it pretty much tastes exactly like it did then which makes sense as the cheesecakes are shipped frozen. It's very light in texture with a thin graham cracker base. It's a very nice cheesecake and adding the berries is a nice touch both visually and flavour-wise.
Oh and if you're wanting to sample the Cheesecake Factory and save, they've also got Happy Hour between 3-5pm where you can order the avocado egg rolls, spinach and artichoke dip, burger, nachos and other meals for $9.95USD!
So tell me Dear Reader, have you ever been to The Cheesecake Factory and if so, what is your favourite thing to order?
All food in this post was independently paid for. NQN was a guest of Hawaii Tourism Oceania and flew to Hawaii as a guest of Hawaiian Airlines but all opinions remain her own.
The Cheesecake Factory
2301 Kalākaua Ave, Honolulu, HI 96815, United States
Open Monday to Friday 11am-11pm
Saturday and Sunday 1am-11pm
Phone: +1 808-924-5001
Hawaiian Airlines service from Australia - www.HawaiianAirlines.com.au