The Impossible Coconut Pie is a classic recipe has been a favourite among home cooks for decades and for good reason. With just a handful of ingredients and 5 minutes prep you can create a delicious coconut pie that is perfect for any occasion. It's called "impossible" because the ingredients magically transform into a pie as it bakes and it separates into a gorgeous custardy base and a coconut cake top! This is a pushy recipe Dear Reader!
This coconut pie is called "Impossible" because it creates its own crust (of sorts) and the pie filling has a custard-like texture and coconut and a crispy, golden top. This recipe is perfect for those who love coconut and want a quick and easy dessert to make. It's literally one of the easiest pies or cakes you will EVER make!
The impossible coconut pie was first introduced to America by the Bisquick corporation who also own the Betty Crocker brand. Naturally the original recipe called for some Bisquick (a box pancake mixture) but it is easy to substitute for Bisquick as there's just a few ingredients needed to make it (coconut, flour, sugar, eggs, butter and milk). Since then Betty Crocker have released a lot of recipes for "impossible" pies in different flavours but coconut was the first and it was an instant hit. Some say that it first came from the South where crustless coconut pies are popular.
I've tried the original coconut pie and I liked it but I found it a bit too rich and wanted something to balance the sweetness. That's when I added the finely grated zest of 2 limes and half a cup of lime juice. You can make it without the citrus if you want and keep it vanilla and coconut flavoured.
This is a picture of another recipe that I tried. You can see there's no custard layer and it's drier and flatter
Not all Impossible Coconut Pies are the same! Also just a warning, there are a lot of versions of this impossible coconut pie recipe with the same ingredients but in different quantities and many of them do not result in a custard layer whereas this one does. So don't be put off if you've found impossible coconut pie a bit underwhelming. I have tried other recipes and I thought "Meh" as the cake was quite plain and dry but once I made this one, I was totally smitten! The custard base layer is SO good and what makes it worth making!
A Few Lil Baking Notes On The Impossible Coconut Pie!
1 - This cake works best with moist coconut flakes or sweetened coconut flakes.
2 - This pie (or cake) is a great way to use up any citrus you have. It works really well with lemons and limes and I think it could work with other citrus too! If you don't have citrus you can make this without any citrus.
3 - You can easily make this cake gluten free - sub the plain flour with your favourite gluten free flour mixture.
4 - Grease the pie dish well so that it doesn't stick to the dish. You don't need to line it with parchment as this can get wet and soggy as the base of the pie is quite moist/wet.
5 - I blend 3/4 of the coconut so that the cake has a more homogenous texture with just a bit of texture and keep 1/4 of the coconut shredded for texture. I find that if you don't blend the coconut finely then the cake tends to falls apart when slicing.
6 - The whole mixture can be put in a blender to mix it if you prefer but I do find that the top cracks if it is put into the blender. So I prefer to mix this by hand (and it's really so easy).
7 - This pie is best made the day prior and then cooled which makes it great for entertaining. If you eat it fresh it does tend to have a very eggy flavour and aroma but this disappears once cooled or chilled.
And that's it! This is seriously the EASIEST pie/cake ever.
I used up a lot of limes trying to get to the best coconut pie ever. Normally limes are expensive in Australia - who hasn't paid $2 for a lime in desperate moments craving a margarita only to find the lime steadfastly refusing to give out its juice? One day a couple of weekends ago Laura and I were in Strathfield having lunch and it was a sweltering hot day where temps hit 38C/110.4F. All we wanted was a refreshing, sparkling icy cold soda. Everywhere we went the sodas were really sweet and we both like "dry" drinks.
We needed to buy some groceries so we walked into a shop with a display of bright pink dragonfruit and a range of other tropical fruit. Still thirsty I picked up a chilled lime soda and we could barely wait to open it and drink it. I did miss the large words "masala" on the front which of course meant masala spices and it was not what we wanted at all and our cravings remained unsated. There was also a display of netted limes at a bargain price of $2 a kilo, an almost impossible bargain! The limes were large and I squeezed them and they felt juicy so we decided to split a kilo bag of 8 limes.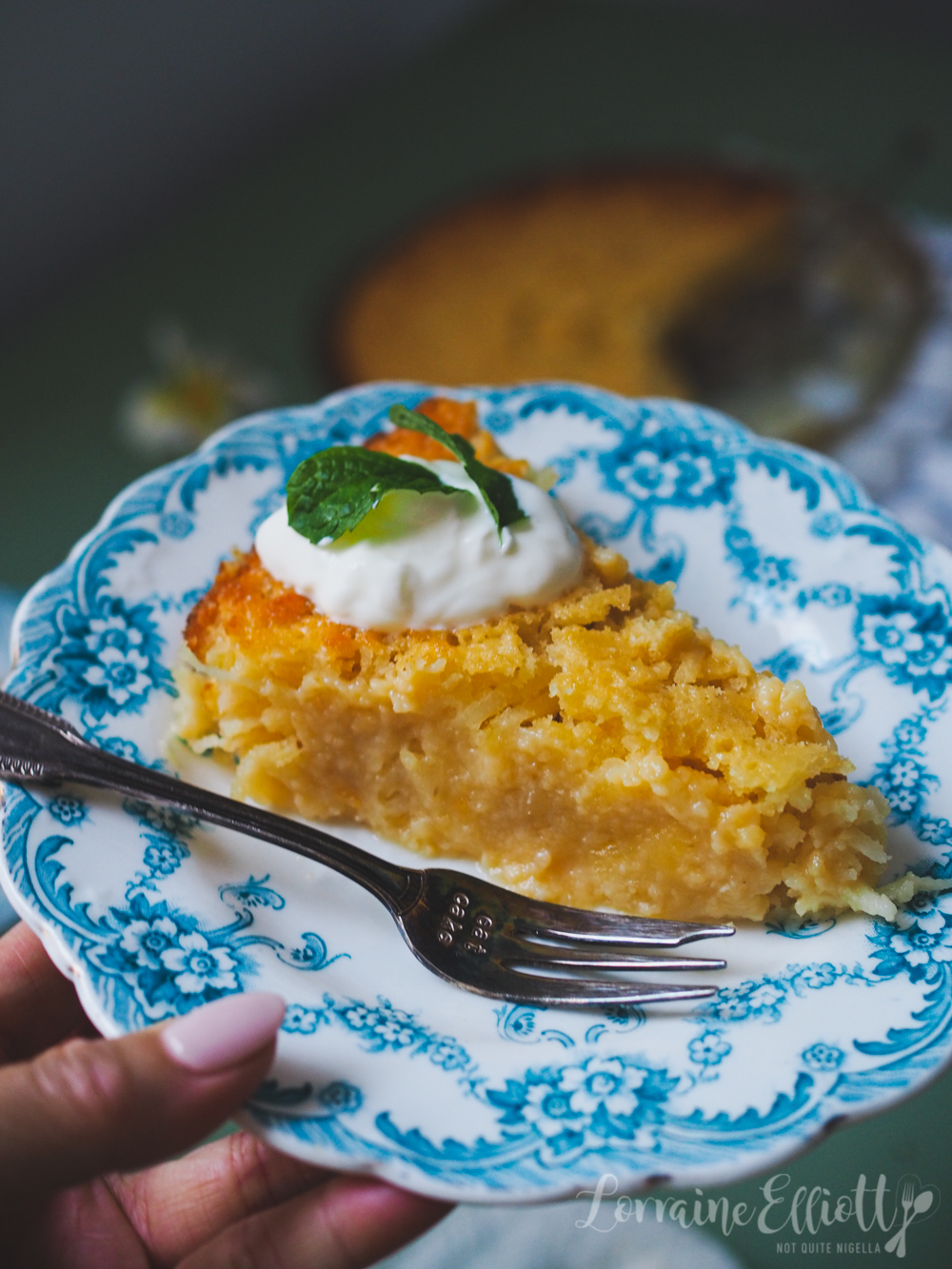 When we got home with our goodies all I could think about was drinking a tall glass of a refreshing lime soda. I turned on the air conditioning and got to work making it. It's basically 1/2 a cup of fresh lime juice mixed well with 4 tablespoons of sugar. You fill up a glass of chilled soda water on ice 3/4 of the way up and top it with this lime mixture and stir. And it was glorious. Laura, Mr NQN and I drank a glass and then everyone wanted another so I made another batch. The limes were so juicy that 2 limes made 1/2 a cup of juice. And with the rest of the limes I made this coconut impossible pie.
So tell me Dear Reader, have you ever tried this impossible coconut pie? Would you prefer it with citrus or without?
DID YOU MAKE THIS RECIPE? Share your creations by tagging @notquitenigella on Instagram with the hashtag #notquitenigella
Impossible Coconut Pie
Rated 5.0 out of 5 by 2 readers
Preparation time: 15 minutes
Cooking time: 50 minutes
Serves 10-12
225g/8ozs. moist coconut flakes or sweetened coconut flakes
3/4 cup/165g caster or superfine sugar
1/2 cup/75g/2.6ozs self-raising flour
1 1/2 cups/375ml/13flozs milk
1/2 cup /125ml/4flozs lime juice
1/4 cup/60g/2oz butter, melted and slightly cooled
3 eggs, at room temperature
Finely grated zest of 2 limes
1 teaspoon vanilla bean paste
Step 1 - Preheat oven to 170C/340F. Generously grease a 24cm/9.4 inch pie dish with oil spray or butter.
Step 2 -In a food processor place 3/4 of the moist coconut flakes, sugar, flour and salt and whizz until coconut is fine. Empty into a large bowl with the remaining 1/4 of the coconut flakes. In a large jug whisk the milk, lime juice, melted butter, eggs, lime zest and vanilla. Add to the coconut flour mixture and stir then pour into the prepared dish. It will be a very wet batter and the pie dish will be quite full so please be careful when putting it in the oven.
Step 3 -Bake for 50 minutes turning halfway through the baking time or until the coconut becomes golden brown and a knife inserted into the center comes out clean. Cool on a wire rack, cover and refrigerate. Serve with natural yogurt and mint leaves. You can also grate a little lime zest on top as well if you like. Store in the fridge in an airtight container or cover the pie plate.