This Dutch Apple Pie is the best of both worlds if you like apple pie and you love apple crumble. There's a flaky, buttery cinnamon pastry base, a thick filling full of tender apples and a gorgeous buttery streusel topping to finish it off! If you love apple pie then this is a pushy recipe Dear Reader!
What is a Dutch Apple Pie?
Dutch apple pie has a long history and goes back all the way to the Middle Ages. Traditionally you will find two varieties of apple pie: one topped with crumble (appelkruimeltaart) and one topped with lattice (appeltaart). In America Dutch apple pie is the crumb version with a buttery streusel on top. I made this version because I happen to absolutely love crumble topping and I will use any excuse to have more apple crumble as well as pastry. This Dutch apple pie is perfect for those that like to make dessert in parts or over a few days. You can make each component ahead of time whenever you have a bit of time. I made this Dutch Apple Pie two days before I was headed overseas and I was super busy.
How To Get a Crispy Bottomed Pie
Apples release juice when they are cooking and when you don't pre-bake the base that makes for a soggy and not crisp pie base. Always bake your pie base almost fully before filling with your apples.
Is It Better To Pre-Cook Apples Before Adding To Pie?
Yes, I find better results when cooking my apples beforehand! Apples release juice and sometimes a lot of it. I lightly simmer the apples beforehand and then measure the amount of juice so I can control the amount of juice that I add to my pie. Also this way you can also make the apple filling ahead of time and keep it in the fridge ready to use.
How Do I Thicken Apple Pie Filling?
We add flour into the mixture to thicken the apple pie filling.
How Do I Peel and Core Apples Quickly?
Honestly peeling and coring apples is boring work and is my least favourite part of this. I sometimes leave the peel on if I am feeling lazy. But you can also use a melon baller to core apples. Cut the apple in half and use the melon baller to scoop out the core and then use it to take out the tops and bottoms too!
Can I Just Make Apple Crumble?
YES! I understand that making the pastry is a bit of a pain (if only we could buy really good quality ready-made pie bases). Without the pie base, this makes a wonderful apple crumble recipe! I actually find the pie base the most troublesome and time consuming so I often make this as a crumble.
Every year for Mr NQN's birthday I make him an apple pie or cake of some form. He loves fruit and apples are the most prevalent fruit during winter and we tend to get a lot of them in our vegetable box delivery so they always need using up. This year was this Dutch apple pie which makes an appearance once or twice a year during winter (usually as a crumble without the pie pastry). He looked very excited when I showed him the pie with the candle in it.
This year we went overseas for his birthday in August. BC (Before COVID) we used to do it every year but during 2020-2022 we stayed closer to home. But this year we were happy to fly off to warmer climates. I was going to be in Thailand for a media trip and once that was over Mr NQN would fly in to meet me and then we would have our own holiday in Hua Hin south of Bangkok.
It was around 8pm when I finished the media trip and I said goodbye to my new friends. I was very excited to see Mr NQN and was looking forward to sleeping in and relaxing by the pool and beach. The drive from Bangkok to Hua Hin varies and takes between 2.5-4 hours depending on traffic and time of day. My driver was great, he let me take over the bluetooth and encouraged me to turn up the music if I wanted. He provided chilled water, had a spotlessly clean car and put up with my bizarre playlist of heavy metal, Bonnie Tyler songs and songs from musicals.
I arrived in Hua Hin around 10:35pm, earlier than anticipated and Mr NQN came outside to meet me and gave me a big hug and kiss. "Welcome Pickles," he said (Pickles is my nickname). We went to the room, the first night was at a less fancy but still nice and clean hotel because I expected to arrive at midnight and Mr NQN doesn't really care where he stays.
"What is that?" he said pointing to a bulging big bag of murky liquid and bones that I was carrying. The soup was in a double plastic bag and the bones were slightly visible through the bag. I have to admit that it did look a bit odd, like a medical specimen.
"Oh my god you HAVE to try these! They're the specialty of the street food market. They're called Volcano bones and the line is huge to get in and they're just basically boiled pork bones but you put on gloves and eat them..." I said excitedly barely pausing for breath. He looked at me amused and slightly horrified as I offered him the bag of bones. "Maybe later," he said.
After stashing the bag of bones and soup in the fridge I spread out all my things and settled in. I told him all about my trip and everyone that I had met and then had a shower, did a naked crab dance and put on my favourite tv show. I then glanced over at Mr NQN who up until I had arrived had been enjoying the quiet.
"Hurricane Pickles has arrived..." he said dryly.
So tell me Dear Reader, what is your dream birthday cake? Are you the hurricane or a calm ocean in your relationship or friendships? Have you ever made Dutch Apple Pie?
Did you make this recipe?
Share your creations by tagging @notquitenigella on Instagram with the hashtag #notquitenigella
Dutch Apple Pie
An Original Recipe by Lorraine Elliott
Preparation time: 1 hour
Cooking time: 1.5 hours
Serves: 8-10 people
For Pastry
150g/5ozs plain all purpose flour
25g/1oz caster or superfine sugar
1/2 teaspoon ground cinnamon
Pinch salt
150g/5ozs cold butter, cubed (plus extra for greasing the dish)
60ml/2flozs chilled ice water
For Filling
1.5kgs/3.3lbs apples (mix of Pink Lady and Granny Smith)
Juice of 1 lemon
2 tablespoons/40g/1.4ozs butter
2/3 cup/150g/5ozs white sugar
2 tablespoons flour or cornflour
1 teaspoon finely grated lemon zest
1 teaspoon ground cinnamon
1 teaspoon vanilla bean paste
Pinch salt
For Crumble
120g/4ozs plain all purpose flour
100g/3.5ozs brown sugar
40g/1.4ozs slivered almonds or chopped pecans
20g/0.7ozs shredded coconut
1 teaspoon baking powder
1 teaspoon ground cinnamon
130g/4.6ozs butter, softened
1 teaspoon vanilla bean paste
Pinch of salt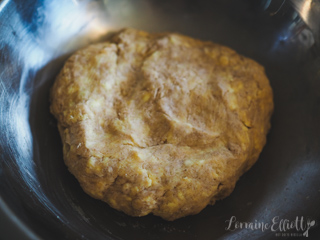 Leaving little lumps of butter makes a flakier pastry
Step 1 - Make the pastry. Place the flour, sugar, cinnamon and salt in a food processor and pulse until combined. Add the butter and pulse until you get a fine, sandy texture - tiny little lumps of butter are fine (see above), they make for a beautifully flakey pastry. Add the water, don't add it all at once, start with 3/4 of the water and keep adding until it starts to come together. It should be clumpy but cling together when kneaded. Take out of the food processor, knead it into a ball (if it still won't come together add some drops of water). Then cover with cling film and rest in the fridge for 1 hour.
Step 2 - Butter a large pie dish very well on the base and sides. Roll out the dough between two sheets of parchment rolling it out large enough to reach out up and above the sides of the dish. Fold the rolled pastry in half lightly and gently lift the pastry onto the pie dish and then unfold to spread out. Press down so that it gets into the corners of the pie dish, trim the sides and then crimp the edges. Cover with cling film and place back in the fridge for 1 hour. Preheat oven to 200C/400F and spray a sheet of foil with oil and place it on top of the pastry oiled side down. Add pie weights and bake for 15 minutes with the weights. Remove from the oven and bake without weights for 10 minutes. The pastry should be set and almost fully cooked.
Step 3 - While the pastry is resting and cooling you can get started on the apples. Peel and core all of the apples and place them in a large pot of lemon water to prevent discolouration. Slice each apple into even slices (the thickest setting on the mandolin is best) and place in the lemon water. Drain the water and add butter to a large cast iron pot. Add the apple slices, sugar, lemon zest, cinnamon, vanilla, salt and simmer gently for around 10-15 minutes until the apples can bend but are not completely soft (and definitely not mushy). Add the flour in and allow to thicken the juice. At this stage you can cool these apples completely and refrigerate them in an airtight container and use them within the next 1-2 days.
Step 4 - Place the apples in the pie base. I like to lay the slices flat so that it cuts better and looks nice and neat. Just smooth them out if they curl up and make well packed layers of apples with the sauce.
Step 5 - To make the crumble topping mix the flour and brown sugar together in a medium sized bowl breaking up any sugar lumps. Stir in the nuts, coconut, baking powder, cinnamon and salt. Melt the butter and add to the vanilla and then pour this over the rest of the mixture and stir to combine. It should be clumpy and moist. You can also make this crumble topping 1-2 days ahead of time and store it in the fridge. Spread out on top of the apples and bake for 30-35 minutes or until golden.