Do you have a birthday, anniversary, Mother's Day or special occasion coming up? If you're looking for somewhere special to celebrate a special occasion then try a trip to or staycation in Sydney. Stay at The Darling, have dinner at Ele and then breakfast at Sokyo for an amazing weekend to remember!
"You really like staying at hotels don't you," says Mr NQN dryly observing my excited chatter about our upcoming stay at The Darling. "Of course!" I say to him. But to Mr NQN, staying in hotels is fraught with anxiety. Everything is new and unknown and I look at my husband wondering if I have captured myself an alien. Or maybe I am the alien?
The Darling hotel is The Star casino's well, darling and the service is deferential from the moment you get out of your car. It has been 11 years since I last stayed at The Darling and the hotel has aged well. We check in downstairs and head to our room #1082. It is a huge Jewel Suite, the same room type as we stayed in before. While previously the colours were royal purple, the colour palette is more contemporary with jades, brushed brass and orange. Likewise the lobby colours have also changed to more contemporary jewel tones of amethyst and jade.
There are enormous floor to ceiling windows with city views in both the lounge and bedroom areas. In the lounge rooom there is a large curved lounge and side table. There is a television in this room as well as on the other side facing the bedroom. There's also a drinks trolley with ready to drink cocktails in the sensor mini bar.
The king bed has a good selection of pillows although the sheets could be softer (soft sheets are a big thing of mine and can keep me up at night, why am I like this? Arrgh). Next to the bed there's also a work desk. Internet is fast and free for unlimited devices but you do have to leave your email address and name for it.
"Where are you going?" calls Mr NQN from the lounge room as he sees me rounding the corner hastily with my suitcase. The suite is huge and next to the bedroom is the bathroom. There's an enormous tub and a separate shower and toilet. There are two sinks stocked with Balmain toiletries including basics as well as tooth brushes and a shaving kit and bottles of Fiji water. Last time I was here I remember commenting that the bathroom was too dark and bereft of natural light to do makeup in. I'm sure I'm not the only person to notice this and I see that there's a makeup mirror on the desk in front of the windows.
The walk in wardrobe is also enormous with robes, slippers and plenty of storage space. The room electronics are clearly labelled and control everything from the blinds to the lighting system. The phone system is also easy to use.
There is also a gym and pool on the fifth floor but as the rain falls outside we just peer down below. "We don't have to leave the hotel at all!" I say excitedly to Mr NQN. I can't think of anywhere else I'd rather be ensconced.
A bath like that simply must be bathed in so I call downstairs for some bath salts. I accidentally press the wrong button, hang up and then the valet calls back to see if I need anything. I tell him about the misdial but before hanging up he offers a recommendation for breakfast from Sokyo-the crab omelette.
After a bath we get dressed for dinner. Dinner this evening is at ELE (pronounced elle). The concept by chefs Federico Zanellato and Karl Firla is inspired by elements of fire, water, earth and air and involves a progressive degustation across three spaces within the restaurant: the bar, dining room and the chef's open table. ELE first opened in April 2022 and is located where Momofuku sat for many years. The degustation is $225 a person with a matching atmospheric drinks pairing for $170 and they've newly introduced a bar snack and small plate a la carte menu this month too.
While Momofuku's door was like finding a secret panel in the wall, the door for ELE has been painted a warm coppery gold and an illumination on the floor tells you where you are. We walk into the bar area and take a seat. The staff introduce us to the concept telling us that welcome cocktails and snacks are at the bar, entrees and mains are in the dining room and dessert is at the open chef's table. We are offered a choice of a glass of wine or a cocktail. Mr NQN is happy that it is just a couple of minutes walk from The Darling so he doesn't need to drive home.
Wax On, Wax Off and Glass Garden (right)
Mr NQN like his choice of the Wax On, Wax Off with Hendricks gin, Geraldton wax, rhubarb, strawberry gum and salted verjuice. However I absolutely love my Glass Garden with Brookies gin, fennel pollen, salted apple, riesling and a light dusting of peppermint gum powder on the outside of the glass. It has pitch perfect sweetness and fragrant fennel pollen.
The snacks come out with the cocktails and there's a crisp, lacy cup filled with golden beetroot cream on bottom and a creamy sorrel emulsion which we have the option to top with caviar. We look at each other and say "Why not?" and the added caviar just adds to the wonderful textural contrast to the creamy and crisp. There's also a caviar and raw scampi tartlet with the thinnest crust that threatens to collapse if it weren't made à la minute and ferried quickly to the table by the chefs.
Another snack appears and it's a Wagyu beef tartate Maruya station with ponzu compressed grapes with chives on a sourdough round. It's the most delicious mouthful and the sourdough round is soft and downy while the grapes don't seem out of place.
We then move into the second room. In Momofuku this was the neverland part of the restaurant where you weren't watching the chefs behind the counter do their work. Here they've closed it off with curtains and projected visuals of the different elements of nature that change every few minutes.
The next dish is the black lip abalone gently cooked and served on salted oyster cream with paper thin curls of compressed apple with parsley oil. This is tasty although you do have to dig under to get the abalone otherwise you end up eating just a lot of compressed apple for the first mouthful or two. It's served with a Wines of Merrit Chenin Blanc 2020 from WA.
They bring out pieces of the house baked sourdough boule with whipped butter and salt. It's warm, delicious with a crisp crust and a soft centre.
The next course is described as a savoury souffle. It's a corn soufflé with parmesan custard brown butter in the centre. My first impression is how sweet it is but you do have to dig in to get the parmesan brown butter to get a balanced spoonful. The wine pairing is judicious as the the wine takes the sweetness away.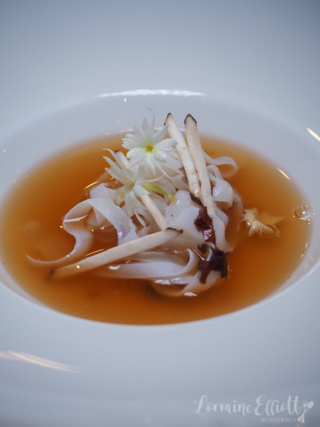 There's a large, very jolly table celebrating a birthday near us in the small dining room so staff thoughtfully whisk us (and other guests) off earlier to complete our meal at the chef's table where we watch chef Karl Firla and his team at work. They bring out a sake, a slight departure from the European and Australian wines as the next course has an Asian flavour to it. The sake is a milder one that is paired with calamari poached in butter kosho with fresh shiitake mushrooms and a pork broth poured at the table. The calamari is silky as noodles and tender with the slightest texture to it and the pork broth is warm and rich.
We're building up to our final courses (and at this stage we've lost count which course we are on) and the penultimate savoury course is fish paired with a Northern Rhone wine that has the aroma of honey. The fish is a dry aged Coral trout with baby carrots, olive gremolata and a mussel and koji foam. The trout has a wonderful texture to it, bouncy and luscious and this is a subtly mild but delicious dish.
Our final course is a beauty and it's a Wagyu 9+ fillet served with cipollini onions and its own jus. This is my favourite course (apart from the snacks and coral trout) because the beef is so tender and luscious. I cut my steak into small pieces just to extend this course and when I look over Mr NQN has finished his in just a few bites. It is paired with a glass of Polperro Pinot Noir from the Mornington Peninsula.
We are segueing into dessert with a pre-dessert. It's a sorbet with apple sorbet, apple skin sherbet, elderflower granita, shiso jelly and sauternes custard. By now I'm too full to finish this off completely and it is quite sizeable.
For the final drink there's a choice. Our waiter World asks us if we are a sweet tooth or a savoury tooth. Mr NQN is a sweet tooth so he gets of a glass of Rutherglen Muscat aged for 12 years. As a savoury tooth I get a cocktail made with lemonade fruit cello, sage whisky, apricot brandy and citric acid with a top layer of lemon oil which I really adore. It's still sweet enough but balanced with tangyness from the lemon oil and citric acid.
The final dessert is a raspberry parfait with fresh peaches, raspberry meringue sticks, a scoop of peach raspberry sorbet and to finish a dollop of brandy sabayon. It's light, creamy and perfectly portioned to end an epic meal. They leave the rest of the brandy sabayon at the table should we wish to finish it off. When we go back to our room turndown has been performed. The curtains are drawn to a close, chocolates are on the bed and slippers are laid out.
The next morning we head downstairs for breakfast. There is a choice of the Harvest buffet which finishes at 11am on weekends or the Sokyo breakfast that finishes at 10am. We head to Sokyo for our Japanese repast just before they finish at 9.45am. When we checked in they told us that it finished at 11am so I am glad that we checked or we would have missed it.
Breakfast is $48 per person and includes a fruit and pastries as well as a hot selection and hot drinks. Cocktails, some teas and juices are extra. I adore Japanese style breakfasts and while there is a full English breakfast available as well as avocado toast, the majority of their selection are made up of Japanese offerings. The pastries and fruit come out with two pieces of melon with strawberry sauce, two dainty and soft milk buns with strawberry jam, edamame and a delicious black sesame choux pastry. Service is delightful and sweet from our waitress.
Chilli Crab Omelette
The chilli crab omelette is a bed of seaweed rice, sambal butter and spanner crab. It's rich and delicious and I'm glad that our waitress has recommended getting extra shichimi togarashi seasoning on the side to upp the chilli factor.
Onigiri with Chicken Yakitori
My choice is the onigiri with three pieces of chicken yakitori on yuzu kosho. The onigiri has fluffy, seasoned hot spanner crab omelette on one side and is wrapped in nori. This is absolutely delicious especially with the extra shichimi togarashi seasoning.
So tell me Dear Reader, how do you feel about staying in hotels? Do you get excited or nervous about everything being new? Have you ever been to ELE and if so what did you think of it?
NQN and Mr NQN were guests of The Star but all opinions remain her own.
The Darling
The Star, 80 Pyrmont Street, Sydney, New South Wales 2009
https://www.star.com.au/sydney/hotels-and-spa/the-darling
ELE by Federico & Karl
Edward St Entrance The Star, Level G/80 Pyrmont St, Pyrmont NSW 2009
https://www.elesydney.com.au/
Sokyo
Located at The Darling, see above
https://www.sokyodining.com.au/
Phone: 1800 700 700