A friend once asked me why on earth I loved staying in hotels so much, and why I loved staying in hotels in my own city.
My simple answer was "Because I'm a complete and utter hotel freak. Plus, when I stay in one in Sydney, I get to see another side of Sydney. And plus, you know me, I get lost anywhere. At least I figure that when I get lost in Sydney, I can at least find my way home."
She responded with a withering glance.
One rainy Winter's day I was on my way to The Darling. Part of The Star complex, The Darling has played host to many much more auspicious guests. A certain Mr Clooney has stayed there along with recent visitors Leonardo Di Caprio, Seal and Joel Madden. Service is "on" from the minute the driver pulls up right near our apartment ensuring that I don't get wet. The porter whisks away our bags. As Mr NQN is joining me, they've upgraded us to a Jewel suite to give us more space and the room isn't quite ready yet. We amuse ourselves with a tour of the buildings including a look into the split level serviced Astral apartment that Leonardo Di Caprio stayed in for 5 weeks.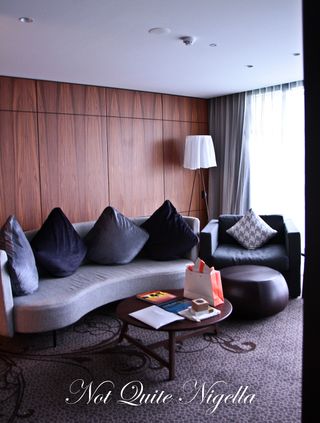 Once we check in, I go up to room 980. As I walk into the room the curtains part as if by magic and reveal the view of the swimming pool and the water. Although there is no balcony, it is all view with floor to ceiling windows. There are very easy to use switches that tell you what you are switching on and off. Blinds open and close with the press of a button although as they are automated, you can't open them partially.
The suite is a spacious 70 square metres. There is a separate living room area and bedroom partitioned off by two televisions-not just one television that swivels but two enormous ones (45 and 55 inches). There is a choice for alarms and one of them is a rather interesting one that is set through the television. You can schedule a time for the curtains to open and for the television to switch on at a lower volume and then increase to a higher volume slowly over a period of 20 minutes.
The Darling bed is tempting for a quick snooze and each bed has a hand-crafted 1,000 spring mattress made in Australia. There are two types of pillows, a grey goose down pillow and a feather and down mix pillow. If neither of these will do, there is also a pillow menu from which you can order from a range of seven pillows. They sell the beds as well as their popular linens which range from 400 thread count to 1,000 depending on the room type. The trademarked signature colour, "Darling Plum" is a repeated colour theme. A sound dock sits on one bedside table and there's a large work desk with a potted Phalaenopsis orchid.  There is complimentary Tea Drop tea and a Nespresso coffee machine.
After all of that, there are some points that are worth considering. The wireless internet is $25 a day which isn't inexpensive, especially when you take into account the room tariff. The minibar fridge  is also locked and I call downstairs to have it unlocked remotely. Items inside are good quality, however prices are too with an eyebrow raising packet of Chipman chips for $10 and Della Mano biscuits for $16. A 200ml bottle of Fever Tree sparkling mineral water is $6.50. There's even an intimacy kit for $25 and a deluxe version for $35. All items are recorded via remote but you have 30 seconds to consider each item before it is charged so hopefully you'll excuse me for not taking a peek into what exactly makes up an intimacy kit!  ;)
In the marble bathroom, there are his and hers sinks with an excellent range of Molton Brown toiletries. This includes a shampoo, conditioner, dental and shaving kits, body lotion and a sleep cedra body oil. Even though I rarely take the toiletries with me in hotels, the scent called Plum-Kadu is heavenly - I even went looking for some more to buy! A large bathtub offers a little canister of Molton Brown powder soak to soothe away aches. There is a separate toilet and shower with a large 30x30cm monsoon showerhead and regular massage showerhead. There is shampoo, conditioner, soap, loofah and a face washer in the shower. Minuses are that the bathroom is quite dark which makes it difficult to put make up on in front of the vanity mirror. There is a small shaving mirror in the walk in robe but this angles upwards which is more for shaving than makeup.
Two robes and slippers sit in the walk in closet which is sizeable enough to accommodate Carrie Bradshaw's shoe collection. And the kicker? I had no idea that the walk in closet existed until I looked for a full length mirror when dresssing and discovered it behind the dark glass. It was like discovering a hidden room!
You may have noticed that every now and then, when I come across a picture that I like, I add a bit more information about how it was taken as a few people have emailed me about this.
Enough fussing around for now (although the hotel fiend in me just wants to explore the room more) but a progressive dinner is calling. We're dining at three of The Star's signature restaurants and starting at Sokyo where we have a range of sashimis. There are four and they are best eaten from bottom left clockwise. They start with 'Tuna Umami' which is tuna sashimi, choya umeshu, garlic soy umami; seared salmon sashimi, ssamjang dressing; miso kingfish and scallop with honey. They're all lovely and fresh but the tuna remains a favourite and is said to be one of their signature dishes.
Chef Chase Kojima is in the kitchen and he waves us goodbye as we head to our next location, Black by Ezard. We pick a main from the list and take the  recommendation for a steak from the grill. I order the flat iron wagyu steak - this one's a beauty at 9+ marbling and it is from a David Blackmore full blood wagyu.
Even though the flatiron and the rump cap below are both from the same type of cattle, the two steaks are entirely different. The flat iron is all about tender, melting fat and shows off wagyu's marbling beautifully. Indeed it's too lusciously fatty for some with its marrow like consistency. Picking the marrow and shallot sauce takes this a little over the top admittedly!
The rump cap is a gorgeous cut too and served with the herby fresh Argentinian chimichurri to help cut through the fattiness of the wagyu.
The steaks come as they are so we order a plethora of sides. The favourite is the four cheese sauce macaroni and cheese with elbow macaroni. It's topped with baked crispy breadcrumbs and the top has a lovely crunchiness while the bottom stays rich and creamy. The pasta is also nicely cooked and not soggy at all.
The crispy potato is sliced and served as a cake slice. It is made with creme fraiche, smoked bacon and aged cheddar and is rich and moreish.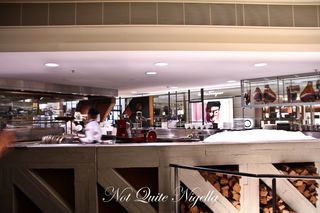 Our third course, dessert, is at Balla, the Stefano Manfredi restaurant. The charming Italian waitstaff and chef come over and cause half the gaggle of female journos to swoon while telling us the specials. We dither over desserts before deciding to share some.
The star of the desserts was the nougat and honey white truffle with hazelnut sauce. It is a crunchy ice cream ball flavoured with honey with a lovely hazelnut sauce. It's the kind of dessert that always goes back to the kitchen with the plate licked clean.
The choux pastries were filled with pistachio gelato and vanilla and chocolate cream. They weren't bad although I wasn't particularly wowed by then.
The chestnut pancakes come as a bit of a surprise. They arrive as two cornets of chestnut flour crepe filled with ricotta and have a distinctly savoury taste to them that we didn't really go for. I think a few of us thought that it might have chestnut puree in them (alas, my Italian doesn't stretch very far).
The special of the day was a chocolate crunch which had a chocolate feuilletine base to give it a delicate crunch.
The next morning the curtains part and the television switches on as my alarm. A knock at the door signals the arrival of breakfast. After all of that food last night, I went for the healthy breakfast. It is divine, the mushrooms full of flavour and dotted with Persian feta. The toast comes with Pepe Saya butter and an assorted of three Beerenberg jams and honey. And a nice touch on the menu was an option to get your coffee in a "to go" cup so that you can take it away with you. I did wish that the fridge wasn't one of those auto detector ones because I couldn't finish my juice and wanted to save it for later that day.
Oh and I almost forgot to mention the spa didn't I? Located on level 2, the first challenge is how to open the door (or is that just me? ;) ). Service is soothing and calm as befits a spa and the decor is dark. Dark enough for them to give you a little light to fill in your consultation form which interestingly asks you whether you like conversation with your treatment which is an interesting idea.
I'm led to the changeroom where I change into a pair of rubber slippers and a robe and then I go to the pre treatment waiting room. They're running a bit late today but I have company in the room along with a cup of honey and lemon tea. There are 16 treatment rooms in total with one couples room.
My therapist Shauna comes in to collect me and I'm scheduled for a condensed version of the Darling Facial which normally goes for 60 minutes ($190). They use retail La Prairie products in their facials here and Shauna does a consultation and tells me about the products that she will be using.
Because it was a 30 minutes condensed version of the facial I wasn't sure if I would get completely relaxed but by the time the cranial and facial massage came around I was. She ended it off with an intriguing ear massage which was the first I had experienced and I was lulled into thinking that I was submerged peacefully underwater and didn't want to get up.
So tell me Dear Reader, what's your favourite hotel in your city? And do you ever eat things from the mini bar?
The Darling
The Star, 80 Pyrmont Street, Sydney, New South Wales 2009
+61 1800 800 830