Uncle Roy Gibson
How does the saying go? Rewards will come to those that wait? In the case of community leader Uncle Roy Gibson, his dream was having his ancestor's land in Mossman George used as a space to create employment for indigenous people. It was an idea he first thought of twenty years ago and in 2008 the ILC (Indigenous Land Corporation) bought the eight hectare sugar farm where Roy once worked for $20 million. An additional $20 million was invested into the site to create a destination for people to connect with the indigenous people who would offer guided tours through this ancient rainforest.
Officially opened in August 2012, the fertile and flourishing tropical north Queensland climate has meant that seedlings planted now grow proud and tall dwarfing any humans. Designed by a local Cairns architect, it is environmentally sensitive to the environment as well as being as self sustaining as possible. Electric buses drive visitors from the main building to the walking tracks.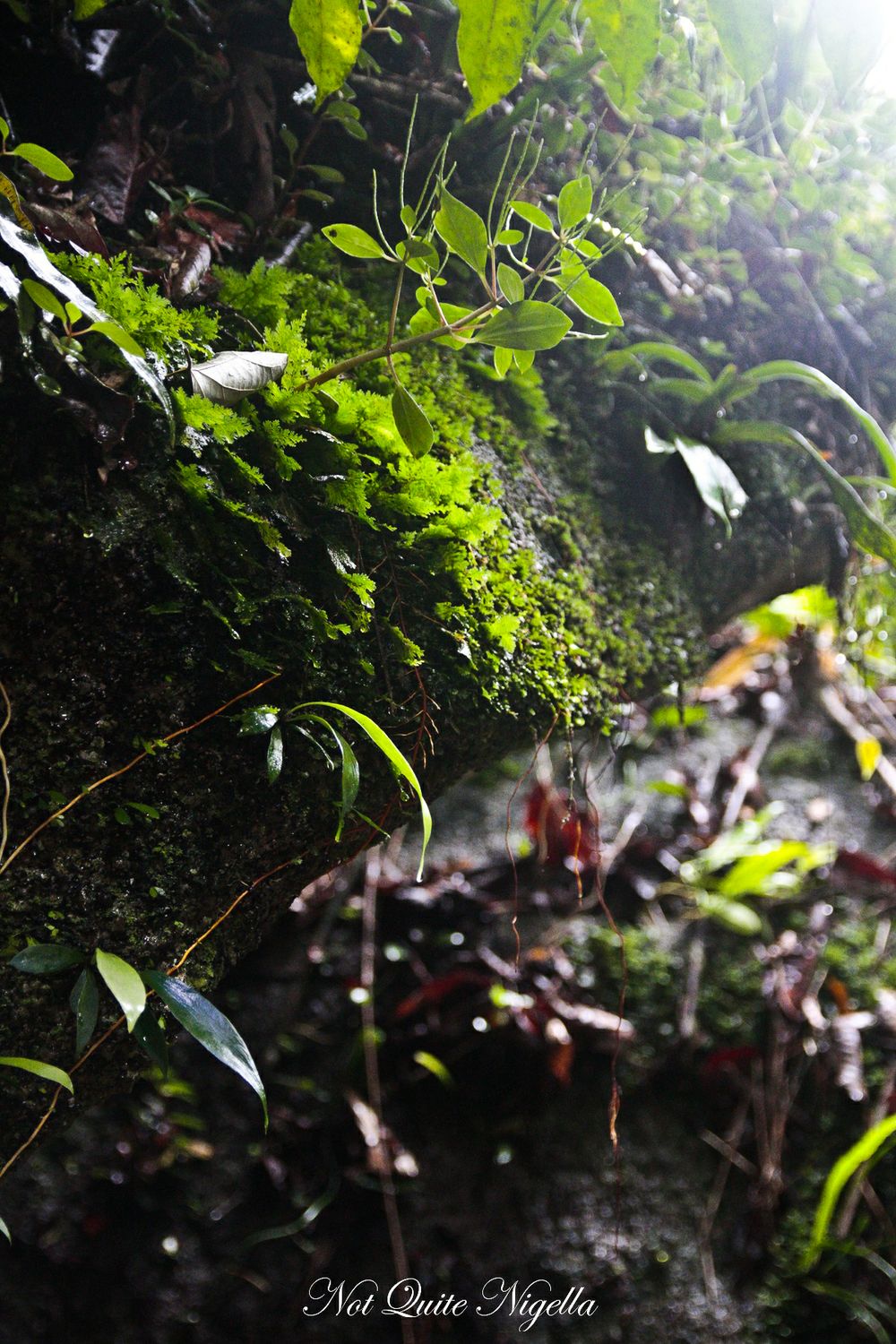 Fittingly, there's a patter of rain followed by stronger downpours. There is a self guided walking track that is available to the public but the best way to connect with this beautiful rainforest is through the eyes of an indigenous guide. How many indigenous Australians do you meet in your everyday life? Chances are that in the city, you meet few. Yet so many of us want to make a connection with the original people that lived in Australia before white settlement. To get to know and understand them benefits everyone. Almost sixty out of the sixty six staff are indigenous and much of the construction was done by indigenous workers. And today, we're lucky enough to have Roy himself as our guide.
Today's walk is the two and a half hour Dreamtime Legend Walk and there is also a Dreamtime Gorge Walk that takes one and a half hours. Our walk starts with a smoking ceremony which is a cleansing ceremony. The idea of this ceremony is to respect the people that own the land and to make the visitor part of the land and have them come back at a later date.
Roy takes a walking stick and guides us through the rainforest track that he first walked as a nine year old boy. He shows us a pencil cedar tree which is a tree in which they often find withcetty grubs. When they see sawdust in a fallen tree, they know that there is witchetty grub activity and the grubs also act as a mass tool for hollowing out the log so that when it is split, there is a ready made canoe.
Another tree is one that in September will become laden with fruit like pears. He tells us that when the pigeons come they know that the fruit is ripe and all they need to do is shake the tree where the fruit will rain down on them. He also shows us lawyer cane vine which is an excellent water source-the fatter the vine the more water is held within and there is often enough to fill a water bottle. The useful cane is also used for making bridges, huts and climbing tall trees.
He shows us yellow walnuts which are split and fed to schools of fish to knock them out for easy catching.  To test the edibility of food, they offer it to either fish or an animal like a scrub turkey. If a scrub turkey rejects it, they know that it's not for human consumption, likewise a food that fish eat it, the food like the yellow walnuts are also not for human consumption.
Can you spot Roy's son "Boy" in the picture?
"Boy! Where's boy?" Roy calls and he stops and points at a lizard well camouflaged in a tree. He then stops at a large tree with a section cut out of its buttress root. They removed this part from the weakest point to make a shield and boomerangs so useful for trading but generally not needed in the rainforest. He demonstrates how they can communicate using the roots by hitting the root with a rock to signal if someone is lost or hurt (which is also done in the Amazon rainforest). He tells us that losing your voice in the rainforest is common as many of these plants contain small particles that you can breathe in or ingest without knowing.
Hitting the roots
He touches the milky sap that leaks from another tree's trunk-this is used as a glue in place of stitches. We try some and it dries remarkably quickly and is very sticky. And we stop by a broken branch where he says was broken deliberately and is pointing in the direction of the way out of the rainforest-as you can imagine it all starts to look quite similar.
Peppervine whose leaves are crushed into pepper
We stop at a clearing which is set up as an area to hear stories. Here, we are asked to close our eyes and listen to a story told by local storyteller. Closing our eyes allows us to hear all of the rainforest noises around us more acutely than if we hadn't.
We reach the creek where you can usually have a swim although the water is too high today to do so. Roy picks up a branch of sassafras and peels off half a dozen leaves. He dips these in the fresh, cold water and then rubs the leaves together so that they disintegrate and foam up-this is their version of a salve for sores and also soap. The leaves smell fresh while the roots smell of sarsparilla. We head towards the exit to have our damper and jam.
"This is my place, this is where I was born, this is where my heart is" Roy says.
Salt water barramundi $20
Lunch is taken at the Mayi Cafe (Mayi meaning bush tucker). The food is excellent and we go for the recommendation, the whole Daintree saltwater barramundi. It's enormous and it's fantastic, the barramundi served with a lemon myrtle butter, fresh lemon and dressed salad. It is cooked perfectly without any dryness.
Sweet potato chips with bush tomato sauce $7
The sweet potato chips, all crispy edged with a soft inner are also worth trying. They come with a bush tomato sauce which tastes not unlike regular tomato sauce.
For dessert, Karena buys some Daintree Estates chocolates. These are the first chocolates made in Australia made using Australian cacao beans and the plantation is location in Mossman. They're good, the 70% dark taking on a fruity tone while there are also truffles filled with mango cream and other tantalising fillings.
About an hour's drive away along what the locals call their version of the Great Ocean Road, our home for this evening is the Pullman Cairns International, one of two Pullman hotels in the area (indeed the other one lies diagnonally opposite this). This is really more of a conference business hotel although the outer and lobby of the building are really lovely with a British Colonial architecture style. There are enormous white lanterns suspended from the ceiling and it is going through the renovation and refurbishment process.
I check into my room, number 1420 on the second highest floor and the main feature of these rooms are the harbour views which also shows the mountains in the background. The look of the lobby doesn't really carry through to the rooms which are decorated with darker woods and teal greens and blues.
View from the balcony
The room itself was very large and the balcony outside lent itself to much view gazing. And I was shivering as soon as I entered the room as the air conditioning was set on 15C/59F (there is a switch to turn it off that is separate to the air conditioner and this is by the bed).
There is a very comfortable king sized bed, a reasonable sized desk and a closet that held wooden hangers, robes and slippers. The mini bar was fully stocked but I didn't really have time to check it out properly.
The marble bathroom is also spacious with a good supply of toiletries by Roger & Gallett in the orange blossom fragrance. There is shampoo, shower gel, conditioner, body lotion and soap as well as a sewing kit, shower cap, sanitary bag, cotton tips and wipes, shoe shine cloth, loofah and comb. The bathroom has a bath shower combo.
I go downstairs to the spa where I have a thirty minute massage booked. I fill in the form and go into the changeroom to change into a robe and slippers. The actual treatment rooms are quite bright and even pulling down the curtains doesn't darken them very much. There is also an outdoor shower should you need it.
The 30 minute massage is good although given the truncated time, there is only time to work on the upper body. It finishes with a cup of vanilla tea and a scoop of mango sorbet which is good, if a little impractical to eat served on a ceramic spoon.
The hotel's only restaurant is Coco's which serves buffet and a la carte and they are said to be known for their seafood buffet which has prawns, crabs and Tasmanian oysters. I did like the oysters with the vinaigrette and they were my pick. It's a simple ending to a relaxing, spiritual weekend.
So tell me Dear Reader, which is the place that you call home? Either literally or spiritually?
NQN travelled to Cairns as a guest of Voyages Resorts and Tiger Airways. Tiger now operates direct flights to Cairns starting at $69.99 one way.
Mossman Gorge Centre
Mossman Gorge Road, Queensland 4873, Australia
Tel: +61 (07)40997000
http://www.mossmangorge.com.au/
Pullman Cairns International
17 Abbott Street, Cairns, Queensland 4870, Australia
Tel: +61 (07) 4031 1300
http://www.pullmanhotels.com/
Tiger Airways
http://www.tigerairways.com/au/en/index.php