It was the quickest of trips. I would be barely more than 24 hours on the Sunshine Coast where I was booked to speaking for half an hour. The rest of the time would be spent in transit or doing work and catching up with friends.
The view from the deck and the painting by Elizabeth Corfe that reflects this
And yet the view kept drawing my eyes like a hand had pulled my chin towards it. The view that I mean is the lush, green view of the hinterland and the views to Mount Coolum and Old Woman Island or Mudjimba. I was to speak at the at the Gourmet Garden International Food Bloggers Cook Off (Gourmet Garden's factories are located on the Sunshine Coast and the farms in Biloela) and my home for the 24 hours was Escape House an enormous three bedroom house with views as far as the eye can see.
I step through the wooden double doors and the property's caretaker David greets me and shows me around. The kitchen on the left is a feature with induction stove and European appliances. The owner of Escapes is Brisbane's dessert king Martin Duncan from Freestyle Tout. It is photo shoot ready with Caesarstone benchtop, an island, hidden double freezer and fridge. The music system plays throughout the whole house and can be adjusted for volume in each room, reverse cycle air conditioning and light dimmers to help set the mood.
The lounge room has a comfortable modular lounge, a colourful throw artfully tossed across the end and the whole building has a luxe, natural lodge feel to it from the  hide rug to the neutral cloth textures of the lounge and bean bags to the lamps made with branches or tree trunk pillars. The telescope is set up for maximum viewing and floor to ceiling windows open out onto a sizable wooden deck with barbecue.
Taken on a Sigma 17-50mm F2.8 EX DC OS lens, focal length 28 mm, ISO 100, 1/100s
The main bedroom is all view too and has a king sized bed (which is ridiculously comfortable-I slept like a baby). There is also a large bean bag and behind the bed is an enormous closet where a sarong hangs as well as bathrobes and yoga mats. Art work features prominently in the house and David proudly shows me his wife's painting in the lounge room which is of the view from the house.
The bathroom, always the room that I am a little obsessed with, has a large egg shaped bath with a very handy wooden paddle across it to rest things on and there are also his and hers sinks. Toiletries are really soap, shampoo and towels, you will need to bring lotion, tissues and conditioner. Mirrored on the other side of the sinks are twin shower heads. Bath salts are kept in the cupboard behind the mirror and I make a mental date with the bath after dinner.
Third bedroom
The house keeps going and from the main bedroom and the third bedroom, is access to the plunge pool and pool lounges and there are also laundry facilities. I'd love to go for a little dip but work calls and I just look longingly at the water instead. The second bedroom is a mirror image of the main bedroom on the other side of the house which makes it ideal for three couples. I make myself a cup of tea-the pantry is helpfully stocked in the way that only a chef would with provisions of goose fat, jersey milk and eggs from their garden and a proper coffee machine. You can also pre order any supplies to be stocked in the fridge for your stay.
I do some work and before I know it, night falls and the image in the painting is mirrored by the lights below. There's a knock at the door and the lovely Martin arrives and settles in and puts on the log fire and then shortly after my friend the delightful Maureen from Orgasmic Chef and her darling husband John arrive. I feel like I know her already because we've read each other's blogs for years and even though we hadn't met before, we settle in and chat like old friends.
After some wine we set off for dinner at Wild Rocket at Misty's in Montville, a modern Australian restaurant set in Montville's oldest commercial building built in 1910, formerly a "fancy goods and lolly shop." U.K. born chef Peter Brettell and his wife Belinda run the restaurant. Maureen tells us that everything is made in house from the sausages to the jams and we're seated inside although there is a nice outdoor terrace area too. Maureen's friend Rani is also joining us.
Steamed Pork & Prawn Wontons Spicy Green Paw Paw Salad $16
The menu has quite a few choices so selecting something is hard. But luckily I'm dining among food lovers that are happy to share so we choose a good range of dishes. My steamed wontons were tasty and filled generously. They were served with a spicy green mango salad-I could use more spiciness but that's a bit of a personal preference.
Gympie Goats Cheese Salad, red and green apple, Fennel,  Honey Mustard truffle Dressing $15.50
I tried a little of John's goat's cheese salad and I really liked the balance of richness of the goat's cheese and the sweetness of the honey in this entree which was also quite sizeable.
_ Organic Chicken Pate, Toasted Brioche, Red onion Marmalade $13.50_
This was a lovely, very mild tasting pate with a buttery smooth texture to it which I really liked. It was served with toasted brioche bread with a small pot of sweet red onion marmalade.
Thai Spanner Crab cakes $17
Rani's crab cakes came three to a serve and were freshly fried and piping hot. The amount of crab was generous in the cakes and they were served with pickled vegetables, fresh salad and saffron aioli.
Organic pork cheek, pumpkin puree, potato straws and red wine jus $16.50
I tried a little of Maureen's pork cheek dish which was slow cooked until melting soft and served as discs of pork with a sweet, smooth pumpkin puree, matchstick potato straws and a rich red wine jus.
Crispy Free-Range Duck Breast Caramelized Pear, Duck Spring Roll, Star Anise & Vanilla Sauce $39.00
The prices for the mains aren't inexpensive but then again the meal sizes are substantial and the duck breast dish is one of the favourites here that chef Pete and Belinda can't take off the menu. The duck breast is tender and cooked medium and served with one and a half large fat fantastic duck spring rolls, two large slices of tender caramelised pear and a star anise and vanilla sauce that is not overwhelming or too sweet.
Crackled Organic Pork Belly, Seared Scallops, Drunken Potatoes, Green Bean Salad, Chilli Caramel $38.50
The pork belly was my dish and it was also generously portioned with four slices of crispy skinned pork belly, a large square of drunken scalloped potatoes and a really lovely green bean, caper and tomato salad. The pork belly was finished with a spicy, sweet chilli caramel and although it was sizeable, I finished every bite.
Moules Mariniere gf Black Mussels, Garlic, White Wine Cream Sauce $34
Steak of the Day
The rib steak is cooked medium rare as requested and the beef is said to be sourced from farmer Mieke Fortune at Fortune Sprout Fed Beef in North Arm (near Eumundi). They buy in the whole beast and it is aged in house for a minimum of 28 days to concentrate the flavour.
Bel's Birthday Cake, Layers of Crème Brulee, Biscuit & Chocolate Mouse, Salted Caramel, Candied Peanuts $15.50
Although I was already quite full, I was curious to see what Bel's birthday cake was like and I had a hankering for chocolate that just wouldn't abate. It's a slender piece of creme brulee and dark chocolate mousse sitting in a pool of salted caramel, topped with candied peanuts and raspberries on top. I really like the richness of the cake and the salty contrast of the salted caramel but the only element I didn't really go for was the candied peanuts which weren't quite as crunchy as I would have liked.
Honey and vanilla bean pannacotta, red wine spiced poached pear, sesame tuile $14
I tried a little of Rani's pannacotta and it was appealingly wobbly and strong in vanilla bean. It came with a gorgeous dark red wine poached pear and a sesame tuile biscuit.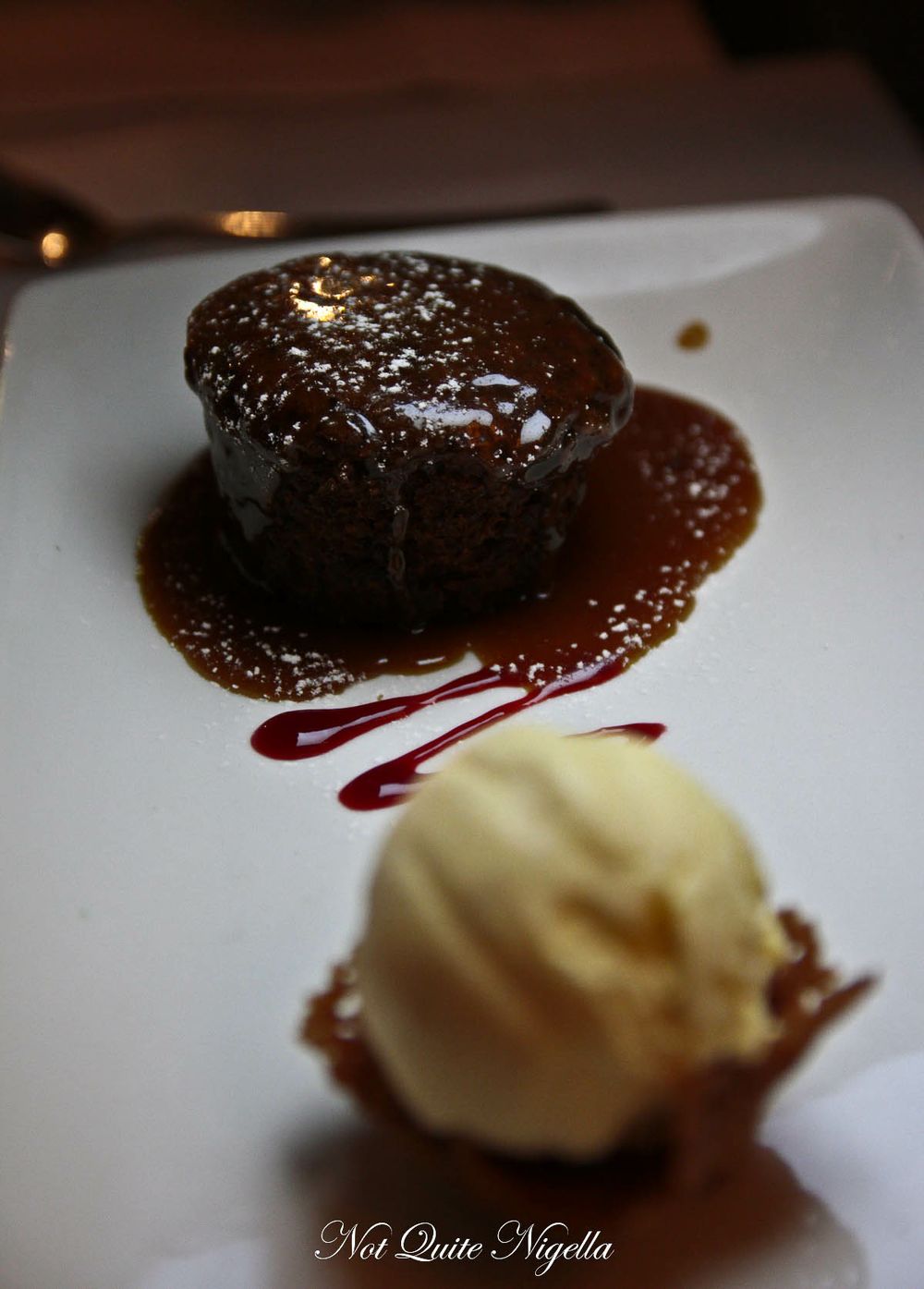 Sticky date pudding $13
Always a crowd pleaser, the sticky date pudding is rich, warming and comforting and the perfect end to a slightly chilly evening on the hinterland!
So tell me Dear Reader, has winter settled in for those of you in Australia and the Southern Hemisphere? And those of you in spring, is it lovely and warm yet?
Freestyle Escape House
http://www.freestyleescape.com.au/accommodation/luxuryholidaysunshinecoast/
Wild Rocket @ Misty's
142 Main Street, Montville, QLD
Tel: +61 07 5478 5560
http://wildrocketfood.wix.com/html_number1