I miss him already. Mr NQN that is. We're driving through the warm weather of Cairns through the tall sugar cane which butts against the multicultural canopy of the verdant rainforest when Karena brings up the lyrics of the Paul Kelly song To her Door. "He was riding through the cane in the pouring rain." It's his favourite song. A trip back here with him with have to wait.
We pull up to the wooden sign that reads Silky Oaks Lodge. About an hour away from Cairns airport, Silky Oaks Lodge is a treehouse lodge set right on the Daintree Rainforest downstream from Mossman Gorge. It's an idyllic setting, destined for honeymooners and couples.
The rooms are all free standing luxury treehouses and I'm in the number 2, a Riverhouse named after the native mammal "Melomy", which is right near the main building. Oh how the gods are looking after me, there is no way I'm going to get lost getting to dinner and a little warning, some treehouses are a bit of a walk away. There are three levels of treehouse starting from the 32 deluxe treehouse to the middle tier a riverhouse (11 suites) and the top tier, the two Billabong suites. As I walk in a BOSE sound dock plays a fitting forest soundtrack.
The riverhouses are large and private-there's no indication of busy Port Douglas's nearby location and as if to demonstrate this, a bush turkey walks by with an almost indignant gait, chest pushing back and forth, as if I've disturbed his tranquillity.
The bed is a large king sized bed which faces the Mossman river view (and to answer the most common question - there are no crocodiles). A hammock straddles the balcony invitingly and I slide open the tall glass doors to breathe in the perfume of the rainforest. A day bed and an arm chair and foot rest provide other options for relaxing. I take the cue and make myself a cup of tea and help myself to the selection of home made biscuits. The mini bar has two complimentary bottles of water and there are provisions to make tea, instant coffee and sachets of hot chocolate.
The bathroom is large and features a large spa bath also facing the view as well as a long sink with Appelles Apothecary products including shampoo, conditioner, body lotion, shower gel, soaps, shower cap and vanity kit. There is also a separate shower with a monsoon shower head. The cupboard houses robes and slippers and the bathroom is full of a surfeit of huge, soft, fluffy white towels. Wifi is available in the main lobby area but not in the treehouses unless you bring your own connection.
The Healing Waters spa is a standout, an experience spa if ever there was one. Here they use Sodashi products from Western Australia and my therapist takes myself and Anne, another journalist into the couples room which is decorated in soothing shades of green with a large sunken travertine bath facing the view. I close my eyes and she applies a rose scented eye mask.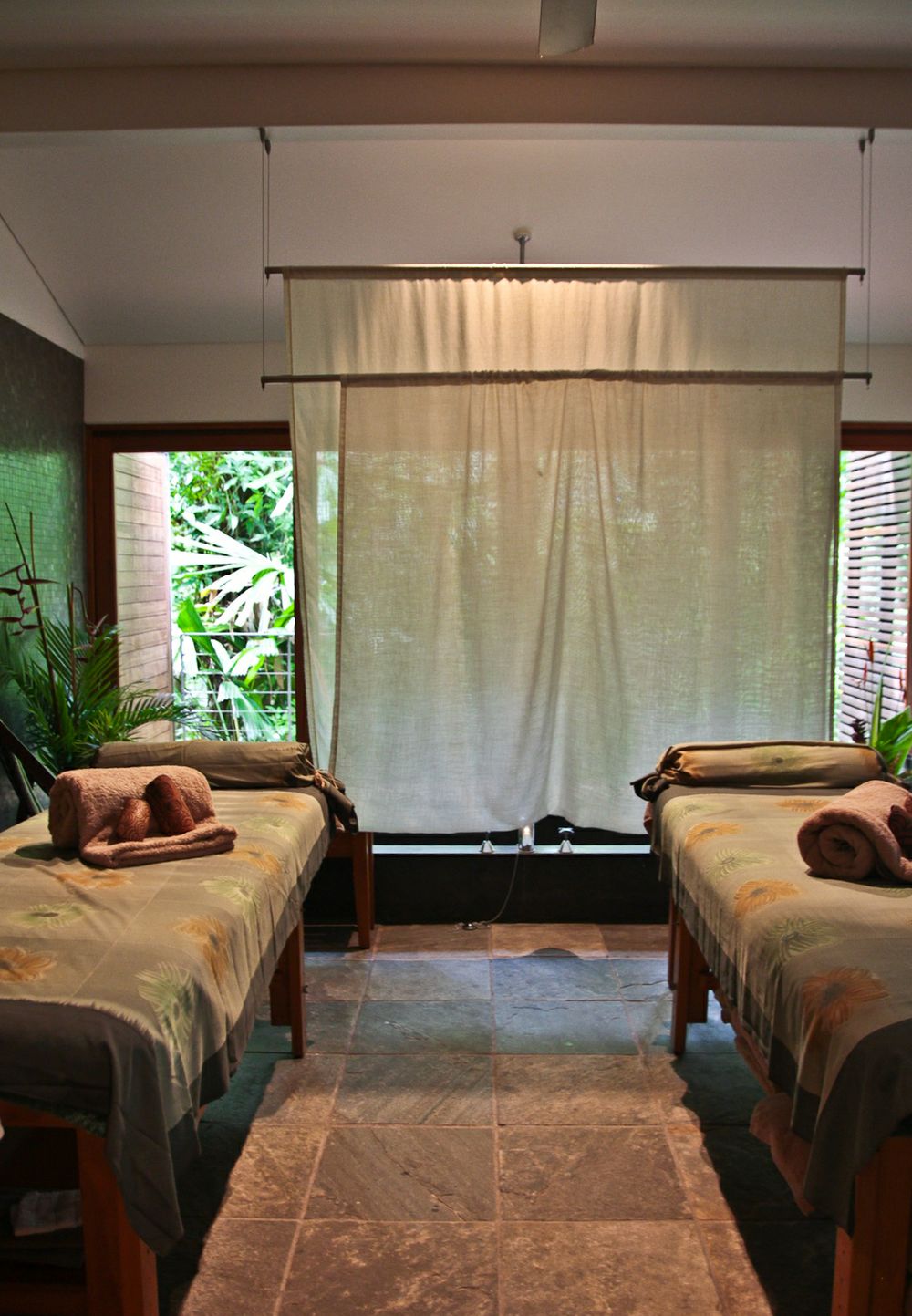 I'm booked in for a 60 minute "Pure Radiance" facial and my therapist Maya explains that it will be a "sensual journey." It's slightly different from other facials that I've had in that there is, fortuitously, a lot of massage involved from smooth movements to light pressure points followed by several warm compresses to the face. The tell tale sign of a good massage is of course the sound of light snoring and we both find ourselves dozing off. We finish the treatment with a glass of chilled raspberry and lime tea in the waiting lounge.
I return to my treehouse and open the doors and breathe deeply. The air of the ancient rainforest fills my lungs and it's easy to relax while staring hypnotically at the variegated foliage and gently running river below. The sun falls and brings with it darkness and new sounds of animals that chorus. With this is a blanket of rain that lasts for a few hours. I make my way to the Treehouse Restaurant in the main building, thank whomever is looking out for me for giving me a room so close to the main building and take a seat at the table.
View from the Treehouse restaurant during the day
I had read enough reviews of Silky Oaks to know that the food is one of the standout features of the lodge followed by the service. Originally built by ocean liner company P&O, the lodge was bought by a Melbourne based Dutch family the van Mins who now run it with a can-do attitude. Nothing is ever too much trouble and the most challenging guest may find themselves placated by the staff's willingness to help. They tell us that the most popular accommodation package is the Silky Oaks Indulgence package with five nights stay at $5,000 per couple but this includes canapes and Moet on arrival, breakfast and dinner daily, a 2.5 hour spa treatment, helicopter tour full day safari tour, tropical picnic hamper as well as transfers to and from Cairns.
There are seven chefs that work here and the menu is a mix of modern Australian cuisine with an Asian bent to it with some pastas also added. Everything is made from scratch here from the bread to the jams to the ice creams and cakes. Prices are on the high end with mains around the $40 mark, bread at $15 and entrees at $28.
House baked bread $15
Bread comes out first and it is served with a sweet, creamy carrot dip. This has a soft interior and a nice thick brittle crust and while this is great bread and serves two people, the price is quite high.
Half a dozen Tasmanian oysters three ways $28
We start with oysters done three ways: a shotglass shooter with chilli, ginger and mirin; arborio crusted on olive salsa and fresh with citrus foam, chives and caviar. The shooter is a refreshing mix of flavours and my pick followed closely by the fresh with citrus foam. I'm not such a huge fan of cooked oysters so the third crumbed in arancini crumbs served on olives is good but the olives are quite strong and serve to make the oyster flavour stronger.
Crocodile and tarragon cheesecake, smoked barramundi, pickled papaya and chutney and herb salad $28
Admittedly, I really tried this more for the curiosity value but it ends up being a big hit all round. It's their signature dish and one that they just cannot take off the menu. Don't be put off the idea of crocodile-it really has the flavour of chicken but the texture of cooked tuna and in this it tastes more salmony than anything else. The cheesecake is really like a cheese souffle with crunchy crumbs on top.
Salmon on soba noodles
Peppered beef carpaccio $28
Grilled prawns and crispy skinned nannygai on spiced greens, squash, citrus and a spicy coriander dressing $45
The serving size for mains, particularly this one is very generous and this was a dish that was ordered mainly because the local nannygai not an easy fish to find outside of the area. The nannygai is a mild tasting firm fleshed white fish that is cooked through but still moist. It sits on three enormous peeled  prawns with their heads and tails still intact which are fresh and perfectly cooked specimens. The vegetable component is made up of stir fried broccolini and Chinese cabbage with slices of potatoes with a coriander dressing.
Crispy skinned barramundi, pearl barley risotto, crab ravioli, bisque reduction and herb oil $42
We also ordered another local dish, the barramundi and this comes with a citrus beurre blanc sauce, bisque reduction with a crab dumpling on a bed of pearl barley risotto. And if you twisted my arm I'd say that I liked this even more than the dish above.
Dessert tasting plate
Even though we were full, there was no way that a group of gals would ever let a dessert plate get away. We sampled a tasting plate of several of the desserts. The lemon sorbet is good as is the mango ice cream filled profiterole, the pastry crisp and fresh outside and the mango and cream ice cream with just a touch of mango among the cream is a silken texture.
Creme brulee
The creme brulee had a delicately thin toffee crust and a smooth, creamy vanilla custard underneath. And it's only a few skips until I'm back in my room which has been lit with candles for my arrival back. It's good to be home.
The next morning brings more showers and I make the quick dash to breakfast. There's a generous spread of continental breakfast options from fresh fruit salad bowls to pots of dried and stewed fruit and yogurts. There are cereal, pastries and bread and several juices as well as home made jams and honey. I start with a croissant with their home made tropical jam and berry jam.
On each table is an a la carte hot breakfast menu with lots of options like pancakes, filled croissants, eggs Benedict  omelettes, galette and brioche. I choose the brioche which comes out quickly. Service is gentle and friendly and when I start to panic about getting leeches in the upcoming rainforest walk in Mossman Gorge, the waitress puts together a little salt pack for me and offers me a box of matches along with handy hints on how to deal with getting "leeched"!
Grilled rosemary brioche served with avocado salsa, prosciutto and soft boiled egg
The brioche comes out as a thick slice of rosemary studded bread lightly toasted and buttered and topped with an avocado and tomato salsa, a slice of prosciutto and two poached eggs with runny centres. I think if anything could prepare me for a leeching, it's this!
So tell me Dear Reader, what bug or creature terrifies you the most? And have you ever stayed in a rainforest?
NQN travelled to Cairns as a guest of Voyages Resorts and Tiger Airways. Tiger Airways now operates direct flights to Cairns starting at $69.99 one way.
Silky Oaks Lodge
Finlayvale Road, Mossman, Queensland 4873, Australia
www.silkyoakslodge.com.au/
Tiger Airways
http://www.tigerairways.com/au/en/index.php