Aerial shot of Whitsundays from helicopter. Taken on a Sigma 17-50mm F2.8 EX DC OS lens, focal length 40 mm, ISO 250, 1/5000s.
There are two types of people when it comes to eating crab. Those who will pick up a saucy leg and eat it with gusto, sucking on the shell to extract every piece out savouring the flavour of the sauce and the rich crab. And then there are the others who are so repulsed by the idea of eating with their hands that they simply miss out. I have a friend who ate crab for the first time a few years ago. Philip is a nice man but among our friends he is known for his conservative taste. The first time we told him that he had to use his hands to eat crab he paled to ghostly and then spent the next 10 minutes delicately extracting a little flesh from the pincer before giving up and eating other easier to eat foods.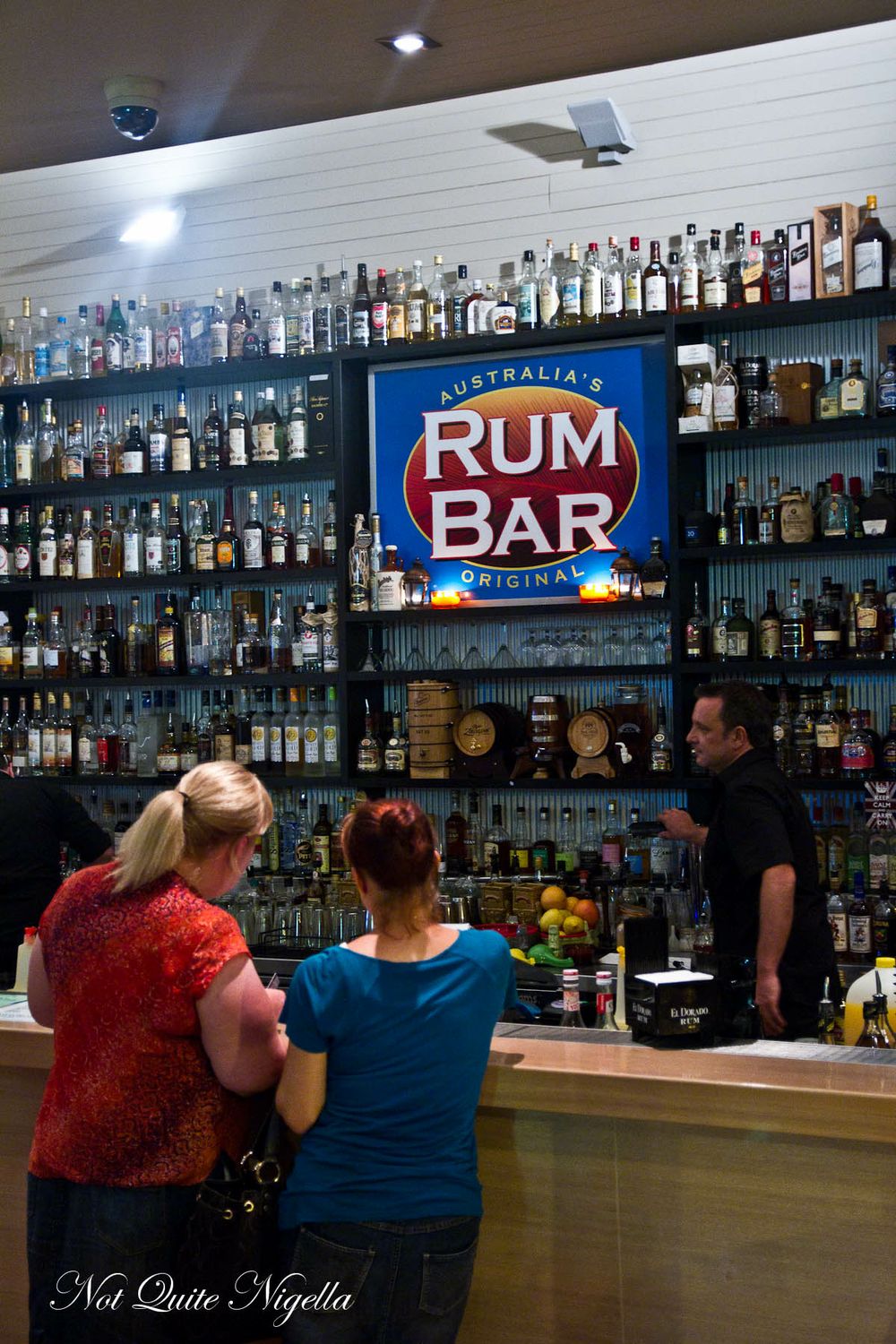 And the greedy crab eater (i.e. me) will hope to eat with him because of course that means more crab for the greedy crab eater! But tonight, I'm among crab enthusiasts aka my fellow Remarkables from The Remarkables Group this evening at Fish D'Vine in the Whitsundays Airlie Beach for a work conference. Open for ten years and owned by chefs Kevin Collins and Rebecca Clark, it is known for two things: rum (and mojitos) as well as their seafood, the fresh local chilli mud crab being their signature dish. One thing that they completely understand is hospitality. As soon as we all sat down, mojitos were furnished and the food came out swiftly afterwards. We're eating from the $40 set menu tonight.
Mojito
Said to have one of the world's best mojitos, their version is pretty darn fabulous and perfectly balanced and just the ticket for the warm, tropical weather.
Chilli mud crab
The chilli mud crab comes in several different sizes according to weight and they warn us that things can get messy here. It's a beauty and the meat is perfectly cooked and sweet. The sweet, very lightly spicy curry sauce is unusual and unlike any other curry sauce I've had. I was so curious that I asked Kev what was in it and he reels off a list of ingredients including garlic, ginger, lemongrass, coriander, galangal, kaffir lime leaves, onion, rojan josh paste, turmeric, dark palm sugar, coconut cream, fish sauce and sweet chilli sauce so it's a melange of styles and flavours but one that works perfectly. "It's my own recipe, that's my baby" Kev says. The crab and rice soaks  up the sauce beautifully and every scrap of crab is gnawed at, cracked or sucked with relish and I'll admit that after finishing my crab and seeing the sauce covered shell I pinched that and licked every drop of sauce off that too. This dish makes the restaurant a very popular destination for overseas visitors, particularly the Chinese  market. The only thing I would have liked is something to clean my hands with as the napkins were plentiful but sticky. And next time I'm ordering one of these as well as their new black pepper crab dish!
Beer battered prawn cutlet
The beer battered prawns are fluffy, crunchy with a light tempura style batter and full of flavour too. I ate them head and all!
Baked coral trout
Another treat was the whole baked coral trout with herbs where the well cooked flesh came off the bone easily. It was flavoured with coriander and lemon. All of the fish varieties on the menu detail where the fish comes from whether it be Queensland, Northern Territory or New Zealand.
Calamari rings in bread crumbs & parmesan $15.90
Also freshly cooked, the breaded calamari rings were crunchy and golden and came with a tartare sauce.
Salad
OK I'll admit I gave up the salad space in my tummy for the crab. I know, I know but I really do eat lots of veggies.
Ice cream $4.90
The ice cream was the dessert offered as everything was pre ordered. I would have preferred their signature dessert, the rum baba or the retro banana fritters. As it was there was chocolate mud ice cream and caramel ice cream but I preferred to leave the last taste as the crab which I can still taste, even today!
I leave you with another picture of the glorious Whitehaven beach. Not a bad place for a conference right? ;)
So tell me Dear Reader, do you dislike eating seafood with your hands? Are you more a knife and fork sort of person?
NQN dined as a guest of Tourism Queensland and Tourism Whitsundays
Fish D'vine
303 Shute Harbour Rd, Airlie Beach QLD 4802
Tel: +61 (07) 4948 0088
http://fishdvine.com.au/