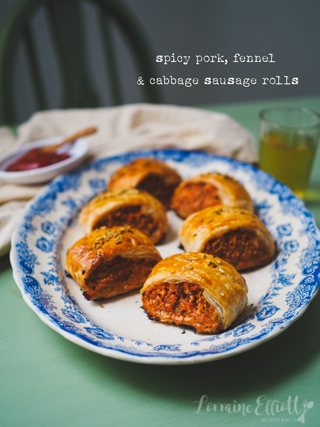 Guys, guys! You know I'm obsessed with sausage rolls (seriously, OBSESSED) and these pork and fennel sausage rolls have a bit of a twist in them. They're a spicy pork and fennel with spicy cabbage in them too. And these are SERIOUSLY good. This is a pushy recipe Dear Reader!
These pork and fennel sausage rolls were inspired by my deconstructed cabbage roll recipe. I had a cabbage in my vege box and I was all set to make them but then I wanted also to make something for Mr NQN's lunch. I like adding lots of vegetables to dishes to make one pot dishes and this is one way to use an entire wombok cabbage in your sausage rolls without even tasting it. Not that Mr NQN or I dislike vegetables, much the opposite really. These sausage rolls have cabbage, mince, tomato and cheese but I added some Sriracha in them for a bit more flavour.
Also while I love pork not everyone does so feel free to use your favourite mince-obviously pork and fennel go really well together but beef also works. Chicken would also work with this flavour combination too! If you have a favourite plant based mince I think that would also work well too.
Mr NQN adored these sausage rolls for his lunch. After a hiatus of around two years Mr NQN's work lunches are back. Mr NQN has a new job and has moved from the world of fashion to the world of NFTs. He is in the office a couple of days a week and I sometimes pack his lunch for him. I don't really like it when he has to go into the office. It's obviously so much nicer with him around and the house feels big and empty without him there. When I made these for him I was also looking after Teddy's friend Teddy Roo and had two dogs in the house and even then it felt like something was missing.
I took the boys out for a walk in the late afternoon before the sun went down and returned just as it was setting. I walked in and noticed that the downstairs bathroom door was wide open. We usually make sure to close all of the doors just to keep the house as warm as possible and the sight of that wide open door sent a chill down my spine. Then I noticed that one of the back doors was unlocked. I started to panic. Did I leave it unlocked? As a voracious consumer of true crime podcasts and videos I usually make sure to lock everything up tight even when I'm home. I looked around and couldn't see anything else amiss but there was the bedroom upstairs that hadn't been checked.
I decided to go upstairs to investigate. I grabbed a weapon and made my way up the stairs. I made sure to check the walk in robes just in case because they can hide in those. I slid each door carefully open pointing my weapon just in case. "Got you!!!!" I yelled. False alarm - the only thing I could see was my clothes. I checked that my gum boots didn't have any legs in them and then satisfied that there was nobody else in the house I finally relaxed. When Mr NQN returned home that evening I told him all about it.
"Did you take the dogs upstairs with you?" he asked.
"No I didn't want them to get hurt," I said. "I had my weapon anyway," I added.
"What weapon?" he asked.
"I brought the fizzer fizzer with me," I said and he laughed. I hadn't brought much of a weapon. It was one of those stove lighters but it wasn't even one with a flame, it was actually a USB rechargable one so it sparks and it probably hurts a bit like a little burn or electric shock but when I panic I don't think very clearly! And clearly my confidence was bigger than my logic in this case!
So tell me Dear Reader, do you investigate sounds in your house carrying a weapon? And what is in your lunchbox nowadays?
Spicy Pork, Fennel & Cabbage Sausage Rolls