With more and more people turning vegan chances are if you aren't one yourself then you'll have a friend or a relative that is vegan. But rather than it be a struggle to find a place that satisfies both of you take a peek at this list of four great vegan restaurants that will satisfy even the most voracious meat lover!
I have to be upfront, this list has been in the process of being researched for over a year. While there are some very decent vegan places I wanted to find places where a serious carnivore would be satisfied and possibly even change their mind about vegan food. And it was with these people in mind that I curated this list!
Gigi's Pizzeria, Newtown
Around July 2015, Gigi's Pizzeria in Newtown changed from a regular Neapolitan style pizzeria to one that was exclusively vegan. Not that you'd necessarily know it from the menu. The absence of meat or dairy is barely mentioned, the items simply aren't there in the topping list. The only key is the dairy free blue cheese that graces some of the pizzas. But apart from that, everything looks and smells like a regular Neapolitan style pizza restaurant.
Owner Marco Matino is a vegan and so are his staff. He explains that originally pizzas used to be topped with tomato, garlic and oregano and that all of today's toppings are a modern adaption. The fresh fig, radicchio, dairy free blue cheese and pistachio pizza is artfully thin on the base and superb-the blue cheese is eerily similar to the real thing.
There isn't a dairy free mozzarella simply because they haven't found one that makes the grade. But you don't even miss it when biting into a lusciously filled calzone.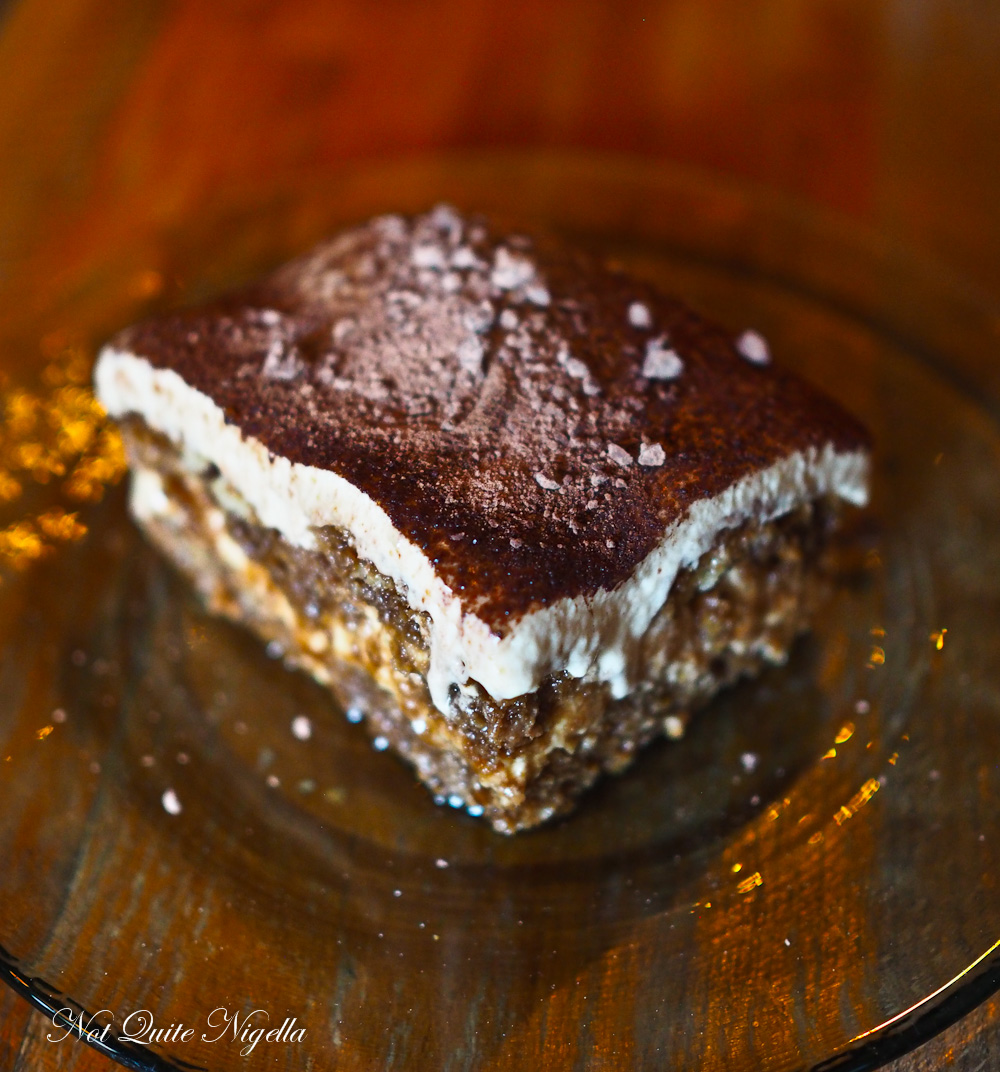 Desserts are also vegan (well everything is) and we are curious to try the tiramisu and the mille feuille, both usually rich in dairy. The tiramisu is a doppelganger with a base of cashew cheese but this wasn't the hardest to crac-it is the savioardi made with eggs which took longer. The mille feuille is crispy and creamy and would put many a non vegan version to shame.
Oh and it gets busy. If you don't want to queue on a Saturday night, get there when it opens at 6pm!
Soul Burger, Randwick
The point at which you know if a place is good enough for a carnivore is when you eat something and then do a double take and flag a member of staff to check whether it's vegan. That's what happened when I tried the garlic ranch mayonnaise sauce with the fries.
It's busy when we sit down at Soul Burger on Perouse Street in Randwick. Mr NQN regards a sign calling to "Flexetarians". "What's a flexitarian?" he asks. "I think it's someone that sometimes eats vegetarian or vegan. Either that or you may or may not get meat in your burger and you're flexible," I answer. Probably the former...
Battered "Fish" Burger $13.75
Apart from being busy burgers do take a while to come out and shakes even longer. But they're worth it. When Chelsey said that she found one of the burgers too meat-like I have to confess that was my cue to try it for this story. The cheeseburger has a plant based "beef" patty that tastes like a mushroom based patty. All together it tastes well kind of really like a cheeseburger.
I'm not such a huge fan of the bun, I prefer a milk bun and that one is a bit dry and thick with a flour dusted top. But the "battered fish" burger is pretty much just like battered fish even with a slightly fishy taste to it. We have less success with the spicy sausage burger mainly because the sausage itself is a bit of a let down. The shake is enormous and very rich, I'm not sure if I would go for them again as they are quite calorific being coconut based and the man behind the counter tells us that the coconut shakes are made using flavourings rather than real fruit.
Classic Cheese Burger $14.30
Two Chaps, Marrickville
"Where are we going?" I ask JY as I drive down a quiet side street of Marrickville. She assures me that we are on the right track and that Two Chaps is house in a nondescript garage with the words "Two Chaps" hastily scrawled into the concrete.
If there was such a thing as a speakeasy for food, Two Chaps would be it. Open during the day as a vegetarian cafe, it is also open on Thursdays and Fridays for pasta nights. This is where you can eat a la carte or a very reasonably priced set menu for $55 a person. And it wasn't until her third visit here that JY noticed that it was actually all vegetarian because she didn't miss the meat at all.
If you're a smaller group you'll probably have to climb up on the metal bar stools and eat at the bar. Larger groups have regular tables. The menu features both vegan and vegetarian dishes. The highlights are the pastas and breads but everything is very tasty. It usually starts with an antipasti plate, a dip of the day and then the pastas and salads come out. Everything is served as a share portion.
Vegan Gigli pasta with roasted cauliflower alfredo, parsley and pangratatto
There is always a raviolo-two enormous orbs of filled pasta. This evening it's a pumpkin and buffalo ricotta stuffed ravioli with walnut aillade and sage burnt butter (not vegan but vegetarian). There's also a house made rye rigatoni with charred Brussels sprouts, walnuts, brown butter and taleggio cheese. The vegan pasta selection is a gigli pasta shape with roasted cauliflower alfredo, parsley and pangratatto. My favourite is the raviolo but the vegan pasta is pretty good too.
Raviolo
There are two desserts: usually an ice cream sandwich and this evening it's a vegan coconut and cashew ice cream spiked with chai on ginger cookies. But my heart is firmly set on the passionfruit curd tart with a rye crumb base and torched meringue.
Yellow, Potts Point
Celeriac, Sesame & Shark Fin Melon $24
Earlier this year Bentley Bar and Monopole chef Brent Savage turned the menu at Yellow vegetarian in response to customer interest. If crowds this evening are anything to go by, it's a move that has been well received. JY, Cheryl and I start with the seaweed crisp with a moreish dusting of mushroom powder. Immediately, we order a second bowl as soon as the first bowl was finished. This is looking very promising indeed.
Spaghetti squash, persimmon and pepitas $27
The celeriac, sesame & shark fin melon has strands of melon, a sesame sauce and celeriac. While it looks pale, the flavours are robust. The kohlrabi, enoki mushroom and vegetable broth is as pretty as it is delicious with the enoki mushrooms full of flavour. The spaghetti squash, persimmon and pepitas are bound together with a creamy emulsion and this too sings with flavour. They are all skillfully executed and well balanced vegan dishes that are surprisingly satisfying. "I'm so full," said JY and me groaning, clutching our stomachs. And if you're vegetarian, the Jerusalem artichoke, pressed curd and laver is another favourite dish with a rectangle of milky curd topped with roasted Jerusalem artichokes.
Kohlrabi, Enoki Mushroom and Vegetable Broth $25
Desserts are vegetarian and vegan and include whipped coconut and carrot sorbet or raspberry sorbet, strawberry and hazelnut. We accidentally opted for the vegetarian versions which were good but quite similar in look and flavour. Nevertheless they are refreshing and with just the right amount of sweetness.
So tell me Dear Reader, do you eat vegan or vegetarian? Are you a flexitarian (a person that eats a msotly plant based diet with meat occasionally)? Do you have many friends that are? Which place appealed to you the most?
These meals were all independently paid for.
Gigi's Pizzeria
379 King St, Newtown NSW 2042
Phone:(02) 9557 2224
http://www.gigipizzeria.com.au/menu.html
Soul Burger
49 Perouse Rd, Sydney NSW 2031
Phone:(02) 9398 7496
http://www.soulburger.com.au/
Two Chaps
22 Chapel St, Marrickville NSW 2204
Phone:(02) 9572 8858
http://twochaps.com.au/
Yellow
57 Macleay St, Potts Point NSW 2011, Australia
Phone:+61 2 9332 2344
http://www.yellowsydney.com.au/