The humble cabbage is a winter favourite and it is such a versatile vegetable! It can be made into delicious stuffed cabbage rolls, an amazing quick kimchi that you have to try at least once or divine pork, fennel & cabbage sausage rolls. It can also be made into a cult favourite salad or a roasted, warm winter salad!
Did you make this recipe?
Share your creations by tagging @notquitenigella on Instagram with the hashtag #notquitenigella
I LOVE stuffed cabbage rolls and I share my secrets for making the best, tenderest cabbage rolls in this recipe! This uses up a whole cabbage and stuffs them with a delicious spiced pork and veal stuffing!
I was lucky enough to get this kimchi recipe from Chef Kenny Takayama at Cafe Oratnek . I asked for it because I loved their kim chi and great news Dear Reader, it is a quick and easy kim chi that he calls his "Impatient Kimuchi"!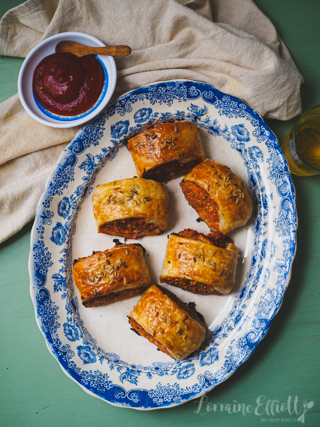 I love sausage rolls and use any chance to add more vegetables to them when possible. These are some of my favourite sausage rolls made with pork, fennel and cabbage with a spicy edge to them!
This cabbage salad was famous when it appeared on the menu at a restaurant called Buzo. It has a combination of crunchy from the cabbage, sweet from the raisins, savoury from the pecorino and creamy from the dressing. I promise that if you make this once you'll want to make it again!
If the idea of a cold salad sends shivers up your spine (literally) then this warm roasted vegetable salad is for you. It uses a whole red cabbage, 3 capsicums and 2 onions and caramelises them until sweet.
So tell me Dear Reader, what is your favourite way to cook cabbage?