Birdies is a brand new champagne and fried chicken restaurant in Bangkok, Thailand. Birdies is foodie Jennifer Evans's first restaurant and serves up fried chicken and a modern Australian menu paired with glasses of French champagne, low intervention wines or cocktails. See what the former MKR alum's new restaurant is like!
"It's there!" I say to Mr NQN and the taxi driver who has just spent the last 20 minutes slowly crawling up busy Sukhumvit Road exacting merging maneuvers that make us cheer him on from the back seat. We are on our way to my friend Jennifer Evans's new fried chicken and champagne restaurant Birdies that opened up just weeks ago at the end of July 2023. Fans of My Kitchen Rules will recognise her as the the 2012 winner of the cooking competition show.
Birdies is a concept conceived by Jennifer and her boyfriend Ratish Sachathamakul. "When I met Ratish we really had a lot of common ground with food, drink and the industry. And with Ratish's background in the business (partner/investor in Tropic City, AESOPS and founder/partner in Cholos BKK) and my love for food, we thought 'Why not create something together?'," says Jen. They chose chicken for its universal appeal. "We wanted to highlight that quality dining doesn't always have to be stiff, but can be 'nostalgic', 'comfortable' and 'fun' and most importantly, something warming to the soul," says Jen who adds, "I told Ratish that my favorite combo in the whole wide world is (really really good) champagne with fried chicken!".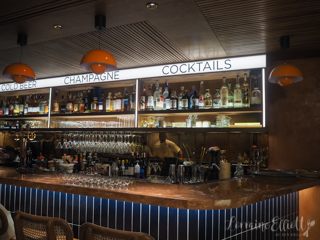 Birdies is on the 3rd floor of a building that also houses Siam Green Cannabis Co, a weed shop (cannabis is legal in Thailand). There's the occasional waft of cannabis as you walk upstairs. Those in the know have flocked to Birdies even on its first two days although the upper floor location makes it feel a bit of a secret.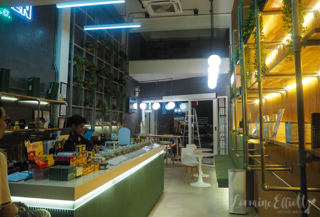 Jennifer is Australian Thai and this has influenced the menu that she designed; there's fried chicken (of course) as well as dishes like burrata, taramasalata, muharmarra and other items that would be at home on a Modern Australian menu. There is no pork or beef on the menu because Ratish doesn't eat them - they've come up with clever ways around it using smoked duck instead of bacon in their home-made XO and collard greens dish. Jen was keen to use Australian produce like Fremantle octopus, Pepe Saya butter, Manjimup truffles and Alto olive oil. Even Vegemite gets a look in. With her background in the wine industry Jen curated the small wine list that reflects her love of sparkling wine and Champagne and its versatility with food matching.
Birdies seats 38 people and the dining room is coloured in shades of terracotta and maroon but the exact shade of the logo was inspired by a Nike sneaker. It's cosy, warm and inviting with bar seating as well as table seating. The clientele on the night that we visited was international with Russian, Indian and Italian customers. The playlist is eclectic and spans decades from Fly Me To The Moon by Frank Sinatra to 3 AM by Matchbox Twenty and staff wear tees emblazoned with "Not from Nashville Ma'am" to "Kiss the Chook". "Our branding lady is a tattoo artist," says Jen proudly.
If Arnold Palmer did MMA 390THB/$17.16AUD Dopamine 420THB/$18.48AUD
As soon as I arrive and say hi to Jen in the upstairs kitchen, she asks, "Have you got a drink?". Their bartender and mixologist Ryan Osnowski worked as the bar manager at the Fat Duck in Bray and created the cocktails. I order an "If Arnold Palmer did MMA", a cocktail that they have on tap that is deliciously drinkable. In it there's Peddlers salted plum gin, Cocchi Americano, oolong tea and house-made lemonade. Mr NQN's cocktail is a Dopamine made with Strangers & Sons, dash, samphire and shiso which is a mildly flavoured cocktail especially compared to mine. Every month they feature tap takeovers and next month will be Martin Hudak from Maybe Sammy.
Non alcoholic drinkers have a range to choose from including the Numb Numb juice which is a 3 way citrus, elderflower and grapefruit soda . The three citrus used are oranges, limes and lemons. All of the fruit is used from the zest, juice and husk to create a sweet, slightly bitter concoction with floral notes from the elderflower.
Everything Parker House Rolls 280THB/$12.32AUD
On one side of the food menu are the Small Plates aka 10 non fried chicken offerings. Whatever you do, order the Everything Parker House Rolls with chicken butter. The bread rolls are made using Jen's 36 year old sourdough starter Frankie that was given to her 20 years ago. "I must have baked these around 60 times to get them right," she says. The effort has paid off, the Parker rolls are dusted with an "Everything but the bagel" seasoning mix and salt and are downy soft and soak up the chicken butter perfectly. "The chicken butter was inspired by "Schmaltz" with our own touches and served with garlic ash which we burned in house (which came from the garlic peels, a product that would usually go into the bin), as we try to waste as little as possible," explains Jen.
Scallops 560THB for 2 pieces/$24.65AUD
You know that this isn't your usual fried chicken joint when they bring out the Hokkaido scallops in a scallop shell on a scalloped white plate. The raw scallops are served with a sweet lemonade juice with caper leaf on top. Lemonade is in season in Thailand at the moment (it's a small green skinned citrus that tastes pretty much like lemonade and is different to lemonade fruit we get in Australia). And while the juice is tangy and sweet, it fits the raw scallops perfectly and makes me wonder if they would be good on oysters too as an alternative to mignonette dressing.
Taramasalata, Ikura, Chips 420THB/$18.48AUD
One customer recently loved the taramasalata so much that they cleaned the kitchen out of their supply and once you drag a house made potato chip through it you'll see why. It has a remarkably light texture, like a soufflé or fluffy toum. It is generously topped with plenty of ikura or salmon roe and powdered prawn shells that would otherwise be discarded and the whole dish is all about lush textures. It's a cavernous bowl and ideal for sharing for 2-3 people and if you run out of chips they'll bring more.
Morels 580THB/$25.53AUD
The morels are split down the side and stuffed with a chicken tsukune meatball filling and served with a barely set smoked egg yolk and shichimi togarashi. The filling is delectably savoury sweet and the filling plumps out the spongey morels nicely.
Cabbage, Vegemite, Tahini 380THB/$16.72AUD
I had to try the cabbage with Vegemite and tahini. The cabbage wedge is charred until wilted and blistered and then served with a tahini sauce that has an almost curry satay flavour to it with an edge of sesame from the tahini. It's more complex than I expect and the sauce leaves you guessing (it's a tahini Vegemite garum with agave).
Chicken Tenders 390THB/$17.16AUD
They clear the table readying us for the fried chicken main. Everything comes out at once and necessitates the joining of two tables. There are four options: tenders, legs, wings as well as eggplant for vegetarians all served "Nashville hot chicken" style on a slice of white bread. We are trying the tenders and wings. The chicken is brined in house grown koji and pickle brine to tenderise it and nowhere is that more apparent than with the tenders. There's a light crunch on the outside while the inside is succulent and juicy while the wings provide even more crunch. We tried the "spicy" tenders and the "hot honey" wings and while both were great the hot honey wins because sweet and hot is the best life and flavour combination. It's hard to stop dipping them in the sauces.
Chicken Wings 390THB/$17.16AUD
Oh yes there are also five types of sauces: a White Alabama spicy, tangy mayonnaise, a Comeback sauce ketchupy mayonnaise strong in garlic, a Carolina Gold mustardy BBQ sauce, a toum and fermented chilli inspired by El Jannah and my favourite, their herby green ranch that really pops with flavour. Or if you're feeling flush add 5g of Manjimup winter truffle for 580THB or 30g or 1 ounce of Prunier "Baeri" caviar for 2900THB.
Mash and Duck Heart Gravy 285THB/$12.54AUD
To go with these we try a variety of their sides. The mash and duck heart gravy has tiny pieces of duck heart in a smooth gravy atop a creamy mashed potato. Don't let the duck hearts alarm you, it's excellent giving the gravy a wonderful depth of flavour.
Crusty Cornbread and Maple Butter 220THB/$9.68AUD
Even if you get the Parker rolls I'd suggest sharing a mini loaf of their delicious cornbread that comes warm from the oven with a quenelle of maple butter and a tiny pot of real maple syrup.
Smoked Duck and Collard Greens 190THB/$8.36AUD
Jen tells me that a customer once asked, "Who is your chef? She must be black," when they tried the collard greens. In fact Birdies' head chef is Sornkarnya Jumrien (Amm) and she is Thai. Collard greens are hard to procure outside of America so they use gai larn to create a wonderfully intense and rich side with smoked duck in place of pork with a delectable sauce.
Roasted Carrots, almonds and yogurt 240THB/$10.56AUD
The roasted carrots are less from Nashville or the South than the other sides but it's good to have a healthy side dish. The carrots are sous vided for 6 hours so that they're tender but meaty and they are served with a thick, creamy tangy natural yogurt, sumac, barberries and almonds.
Hot Chips 170THB/$7.48AUD
The hot chips are crisp, petite crinkle cut chips freshly fried and dusted with paprika salt.
Proper Tzatziki 210THB/$9.24AUD
They also bring out their tzatziki a chunky, creamy yogurt and cucumber dip which is designed to cool the palate if thing ever get too heated from the chicken.
Flan, Bay, Banana 370THB/$16.28AUD
There are three desserts on the menu. The first is the flan flavoured with bay leaf and served with banana cream. The caramel is taken dark so that it has a hit of bitterness that is balanced with the sweet banana cream but you do have to like your syrup on the bitter side for this. Jen laments the height of the tower of cream which she wants to see reach greater heights (like the one at Pellegrino 2000).
"Old Fashioned" panna cotta, lychee and raspberry 380THB/$16.72AUD
The second dessert is my favourite and made the old fashioned way, before gelatine was used to set it. They bake the panna cotta here to set it and it's creamy and served in a bowl and topped with lychee, raspberry and Moroccan rosewater. Jen proudly shows us the rosewater bottle with the well worn label. It smells superb, much more complex than the strong hits of rosewater of other brands.
So tell me Dear Reader, what do you think of the menu here? Do you prefer wings or tenders when ordering fried chicken?
NQN and Mr NQN were guests of Jen's but all opinions remain her own.
Birdies
3rd Floor, 663 Sukhumvit Road, Khlong Tan Nuea, Watthana, Bangkok 10110, Thailand
Hours: Wednesday to Monday 5 pm–1 am
Tuesday closed
Phone: +66 61 281 6969
https://www.instagram.com/birdiesbkk/