If you're a foodie and either live in Sydney or are visiting Sydney, I've got a delicious food-focused itinerary for you. This 48 hour Sydney itinerary will have you eating some of the best that the harbour city has to offer. And it may even surprise you to see what we have on our doorstep!
From a hotel in the middle of restaurant-central Surry Hills, some of this year's most anticipated restaurant openings, our internationally recognised best bars, an elegant brunch, a market visit, to a cooking class and an Indigenous bushfoods tour we eat it all!
Day 1
3pm Stay At the Paramount House Hotel in Surry Hills
The Paramount House Hotel in Surry Hills is the former headquarters of Paramount Picture Studios (where there's still a working theatre). This is a great spot to base yourself if you're a foodie as is located right near some of Sydney's most popular restaurants - Chin Chin is opposite while Poly is downstairs, Nomad is 2 minutes walk away and there's the Paramount Coffee Project in the lobby.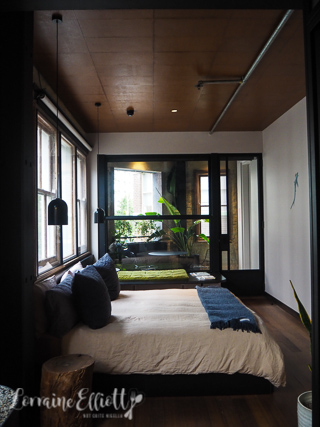 The vibe is Palm Springs and LA meets Surry Hills. It's cool but not so cool that it's austere or packing in thought. In fact the hotel has plenty of clever touches and fantastic service.
Rooms are outfitted with French linen sheets, Aesop toiletries and a minibar par excellence (yes there's a cheese platter from Formaggio Ocello in the mini bar). Room service is from Chin Chin and Shwarmama and staff drop off complimentary bottles of sparkling water in the evening.
A vending machine dispenses fancy Kit Kats, Jean Michel Basquiat versions of Uno and rubber face masks. Ask for a Sunny Room (my room was #101). This has its own open terrace where you can hear the bustling sounds of Surry Hills below.
Life hack: Uber in, the car park is not on premises and is about 10 minutes walk away at World Square. There is no in room coffee, only tea, so order your coffee and breakfast from PCP downstairs (10% surcharge to have it delivered to your room). On Saturdays there is a small market on the rooftop of the hotel.
Paramount House Hotel 80 Commonwealth St, Surry Hills T: (02) 9211 1222 https://paramounthousehotel.com/
6:30pm Dinner at Restaurant Leo, Sydney CBD
The modern Italian restaurant located in Angel Place opened during COVID-19 and has gathered steam ever since. With indoor and outdoor seating and a simple dining room the food on the plate is what shines thanks to chefs Federico Zanellato and Karl Firla of Lumi Dining and Oscillate Wildly respectively.
Start with half a dozen oysters with a white balsamic mignonette dressing or get straight into it with a slice of lightly toasted brioche topped with olives, capers and chopped scallop crudo with layers of silky pancetta on top.
Scallop crudo with pancetta
Then segue into their pastas like perfectly al dente maccheroni with a generous amount of tender lobster. Meat mains shine - a must order is the veal saltimbocca which sits on a butter laden marsala sauce (perfect for dipping the rosemary potatoes in). Or the pork loin puttanesca pairs a luscious Kurobuta pork loin with an Italian classic Puttanesca sauce with tomatoes, olives and capers.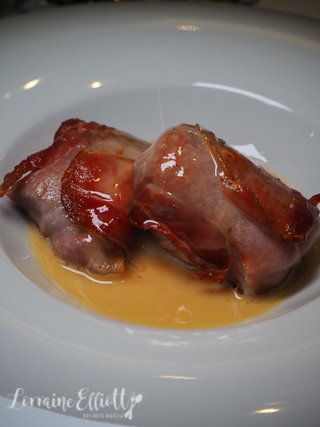 Veal Saltimbocca
Desserts wise there's a parmesan custard with a replete supply of crisp pane carasau for those that prefer to end on a cheese course. Or a simple dessert selection includes a lovely panna cotta topped with seasonal blackberries.
Parmesan custard
Life hack: Cocktails are excellent. Meat dishes win over the vegetarian or vegan.
Restaurant Leo 1/2-12 Angel Place, Sydney T: (02) 9235 3383 https://restaurantleo.com.au/
9:30pm Nightcap at PS40
6 minutes walk away (yep we counted) is PS40, one of the World's 50 best bars. Located up a laneway with subtle but clear enough signage the bar is a chameleon changing their cocktails regularly.
There are two drinks that always stay on the menu while the remaining rotate. The first is an Africola, billed as an "upside down Irish coffee" although this makes it sound more pedestrian than it is. On the base it's a cold nitro Mr Black coffee liqueur mixed with their own PS40 wattle cola. And on top is warm coconut foam. It's hot and cold (enter that Katy Perry song). The idea is to get a sip of the top and bottom in one. It's so good you'll probably want another straight away.
Salted Pina Colada $22 and Africola $16
The second drink is the Salted Pina Colada, at the most simple described as a salted Pina Colada slushie best suited to a warm, sultry summer's night.
Life Hack: Africola all the way! The salted Pina Colada is frozen so save that for a warm day.
PS40 Skittle Ln, Sydney https://ps40bar.com/
Day 2
9am: Saturday Visit To Carriageworks Markets
Wake up early for a visit to the weekly Carriageworks markets at at Eveleigh. Start with a coffee and then pick up breakfast eg juices from Parkers Organics (the pineapple and mint is delish) and some sourdough crumpets from Crumpets by Merna.
These crumpets comes in flavours like blueberry, original, coconut (vegan), chocolate and for Christmas there are Christmas tree shaped crumpets served with fruit mince and brandy butter. The blueberry with Pepe Saya butter and maple syrup are absolutely delicious. Get a pack to take home with you-they freeze beautifully. If you're looking for something more substantial there are pies from Broomfields or enormous hot dogs from LP Quality Meats.
Life Hack: Bring a cooler bag. This is also the place to pick up interesting produce, meats, cheeses and artisan goods.
Carriageworks Farmers Markets 245 Wilson St, Eveleigh https://carriageworks.com.au/events/carriageworks-farmers-market/
12noon: Picnic With A View
Sydney is a city all about the view and if you are blessed with a sunny day then having a picnic is a real treat. But if you're travelling the problem with picnics is preparing the food and bringing everything to a location. But Bistro St Jacques will deliver a picnic and wine to any picnic location within 5kms of their Redfern restaurant. All on a retro style bike!
The Ooh La La picnic hamper features half a dozen oysters with mignonette dressing, a delicious tomato and fennel salad, freshly baked baguettes, butter, duck liver pate and charcuterie. Try somewhere like Observatory Hill; the view of the Harbour Bridge is sublime and there are huge trees that offer shade.
Life hack: Observatory Hill in The Rocks gives you a beautiful spot with a view of the harbour. Meet your driver near the rotunda. BYO plates, glasses and napkins.
Bistro by Bike – by Bistro St Jacques Location: Observatory Hill https://www.bistrostjacques.com.au/events
3pm: Learn How to Spice Rum at Brix Distillers
At Brix Distillery on Bourke Street in Surry Hills, you can learn how to spice your own rum as well as walk away with 2x 300ml bottles of rum spiced to your taste. The class starts with a tour explaining how rum is made and introducing guests to the copper still Molly. To be considered rum it must be aged for a period of 2 years. For the spiced rum Brix use a 70% white rum which they infuse for 3 months.
After the tour we adjourn upstairs where we have a range of spices and fruit flavours. They suggest that we test combinations on our hands with single drop measures and once we come up with a combination that we like, we make it in the beakers. I want to make a Christmas spiced rum so I add in some nutmeg, cinnamon, vanilla, clove and grapefruit. Prizes are given for the best flavour and best name (I end up winning a prize for best flavour). Test, sniff, stir and sip a drink while nibbling on a antipasti platter (alcoholic drinks are extra).
Life Hack: Cleverest name we heard that day? Rum Jeremy! The Pina Colada here is a favourite.
Rum Spicing Class @ Brix Distillers 350 Bourke St, Surry Hills T: (02) 9360 5441 https://www.brixdistillers.com/
6pm: Pre dinner drink at Maybe Sammy in The Rocks
Dunes Cocktail
Head over to The Rocks to try another of Sydney's top bars, Maybe Sammy listed at #11 in the World's 50 Bars. Maybe Sammy is hard to define, it's a bit Art Deco, Miami with baby pink and emerald green velvet booths yet it all works perfectly.
The Sands $23 (left) Dunes $23
Make sure to try the Dunes, their signature cocktail, a veritable bubble kiss with Roku Gin, Fino Sherry, watermelon agave finished with a rosemary bubble. Bubbles will be popping all around you-it's that popular. The Sands with Ketel One Vodka, Maraschino, Ferrand Curaçao and Mandarin Foam with chilli powder on top is also divine.
Truffle Cheese Toastie $16
Service is sublime and the food is also worth sampling from truffle cheese toasties with sauerkraut, spicy sardines on toast or oysters with Tabasco and lemon.
Spicy Sardines $17
Oysters $2 each during Happy Hour
Life Hack: Visit between 4:30 – 5:30PM any day where all mini cocktails are $5.50. Visit on Saturdays for all day Oyster Happy Hour where oysters are $2 each.
Maybe Sammy 115 Harrington Street, The Rocks NSW 2000 T: (02) 9241 4970 https://www.maybesammy.com/
8pm: Dinner at NOMAD
The Surry Hills restaurant has endured much of late with a fire and a venue change but it is back with chef Jacqui Challinor. And everyone is talking about Nomad 2.0.
Smoked mussels, piment d'espelette, toum, hash brown $18
The wood fired bread with za'atar sounds simple but it's a must order (make sure to keep some to mop up the sauces with). The Wood roasted mushroom, bone marrow & shiitake XO empanada is divinely luscious. And the smoked mussels, piment d'espelette, toum, hash brown is fantastic.
Date glazed wagyu tongue, baharat, tahini $22
The date glazed wagyu tongue comes skewered with baharat spices and tahini. I love the texture of the thinly sliced tongue with the caramelised edges on the outside and light smokiness.
North QLD king prawns, sugar loaf cabbage, roast prawn butter $49
While the prawns are stuffed with cabbage and served with a delectable roast prawn butter (again you'll need some of the flatbread for that sauce!).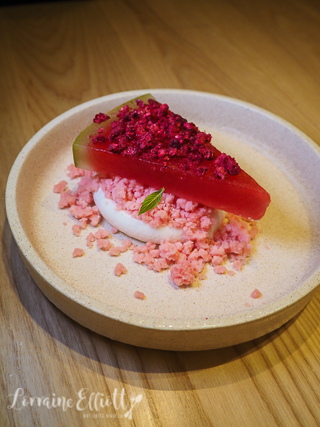 Watermelon, raspberry, rose, yoghurt sorbet $19
Leave room for the dessert. The Watermelon, raspberry, rose, yoghurt sorbet is refreshing and perfect for a hot summer night. My heart was absolutely stolen by the Olive oil ice cream sandwich with halva, pistachio and honey. I can usually stop after a few mouthfuls of dessert but not this one.
Olive oil ice cream sandwich, halva, pistachio, honey $16
Life hack: To watch the action sit at the bar. Oh and did I mention get the bread?
Nomad 16 Foster St, Surry Hills T: (02) 9280 3395 https://nomadwine.com.au/
Day 3
9:30am Indigenous Bush Tucker Tour in The Royal Botanical Gardens
Todd Phillips
The best kinds of tours are the ones where time just flies and you're sad when they're finished. That's the case with the Indigenous bush tucker tour. Our tour is led by Todd Phillips, an academic lecturer and advisor on Indigenous issues who hails from the Bundjalung and Gumbainggir land in Northern NSW.
His private tours can be tailored to your interest too - whether it be bird watching or trees. Ours is all about the bush food and he starts by showing us the Grass Tree that features on our $2 coin. It is only through learning from the elders that they know that over 70 uses for this native tree from weaving baskets, bags, resin for weapon making, making fires or as an energy drink.
He shows us Dianella grass, "If you get lost look for Dianella grass". One reason is that snakes don't go anywhere near it because of the grass's serrated edges but then he picks up a blade and then blows in it where it emits a high pitched sound.
Native mint
All around us are native plants that are used to make food. Chew on the white part of Lamandra grass for hydration but eat the green and it will have a laxative effect. Use the grains to make bread. The Cycad tree is not treated properly will cause death but otherwise the trunk can feed a whole village.
Native raspberry
We smell native mint, taste finger limes and look at native raspberries, the latter said to have as many nutrients as 4-5 blueberries. Warrigal greens grow profusely and we crush lemon myrtle leaves and inhale the fragrance. A tree stump houses a colony of stingless native bee. These tiny bees that resemble flies produce a small amount of honey and are used for weather forecasting.
Finger lime
We end off in the education centre where we feast on freshly baked damper and Lily Pilly jam. Todd explains how to tell a real boomerang vs a fake one and the various types of boomerangs used like a hunting boomerang and emu boomerang.
Native bees
Life Hack: This is an amazing tour. JUST DO IT!
Aboriginal Heritage Tour Meet at Garden Shop, Royal Botanical Gardens (see map below) T: (02) 9231 8111
11:30am Brunch At Nour, Surry Hills
We head back to Surry Hills to Nour to try their Middle Eastern brunch. Chef Paul Farag is relatively new to Nour and he has left his mark on the menu.
Start with cocktails-there is a tantalising range of cocktails on offer. Then segue into the sourdough manooshe bread baked until blistered. Vegetarians will love the labnah and zaatar manooshe while I adored the spiced sujuk and stretched curds manooshe.
Falafel crumpet $14
The falafel crumpet is topped with tahini, pickled onion, soft boiled egg, parsley and is delicious and moreish. If you're feeling more meaty then the "Duck Bits" shawarma sandwich is like a fancy duck McMuffin. The duck bits are actually duck breast and it's intense and richly gorgeous on a soft potato bun.
Baalbek Fried Eggs $25
The most eye catching dish are the Baalbek fried eggs in a puffy round of flatbread with lamb shawarma, tahini yogurt and an almond crumb. We love this with a bit of extra chilli.
Woodfired Coconut Basbousa $20
If you have room (or just leave room) make sure to try the wood fired coconut basbousa. Basbousa is usually a semolina cake but this version is made with semolina and coconut and has a fenugreek custard on top and is rich but divine. Try and stop at one mouthful!
Life Hack: You can get bottomless cocktails with a set menu for $49 a person (90 minutes)
Nour 3/490 Crown St, Surry Hills T: (02) 9331 3413 https://noursydney.com/
2pm: Learn How to Make Gnocchi At Salt, Meats Cheese, Circular Quay
Did you know that you can either bake or boil potatoes to make gnocchi? Baking the potatoes means less flour used and is said to make for lighter, fluffier gnocchi. Learn all of this along with which potatoes to use and how to roll perfect gnocchi at Salt Meats Cheese's Knockout Gnocchi class.
The class goes for 2-2.5 hours and includes a welcome drink, a hands-on gnocchi making class as well as an antipasto platter. Teacher Sarah explains the process and demonstrates it and then you'll go to your respective tables and make your own gnocchi. Once made, they will cook everyone's gnocchi together and then serve it up with 3 different types of sauces: lamb ragu, tomato and basil and a four cheese sauce.
Life Hack: This class is great value at $79 per person. If you can't eat it all, they'll happily give you containers to take it home with you as there may be a lot left over!
Knockout Gnocchi Making Class at Salt Meats Cheese, Circular Quay Level 2, Gateway Building T: (02) 8964 1622 https://saltmeatscheese.com/classes
So tell me Dear Reader, which activity did you like the sound of the best? Have you ever done a staycation in your own city?
NQN was a guest of Destination NSW but all opinions remain her own.