It's country club time and by that we mean the Cyprus Community Club in Stanmore for my Cypriot friend Valentina's birthday. Take a look inside this Sydney institution and see what happens on a Saturday night at the club!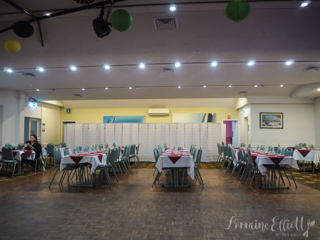 The Cyprus Community Club has sat on busy Stanmore Road in Stanmore for decades. It has been part of Valentina's life from childhood to adulthood and was the location for many family dinners and christening celebrations for her kids Katie and Will and it is where they also learned to do Greek dancing. The actual club was founded in 1929 but only moved to Stanmore on the 12th of March 1989. This year it is where Valentina wants to celebrate her birthday this year which delights me immeasurably because I've always wondered what it is like inside. The week before, Valentina had tried calling them and there was no answer but someone finally picked up a couple of days before saying they were having issues with their phone system.
Valentina, Peter, Katie and Will are already waiting at a table when Mr NQN and I arrive. There's a stage where a sign promises Greek 90's music and the club is made up of two rooms with lots of tables lined with maroon and white tablecloths and people busy eating and talking. Initially when booking they said that we had to go with the set menu for $58 a person but tonight they tell us that we can also order a la carte (which spoiler: works out better for us). I just have two requests: pita bread and tarama but am happy for Valentina and Katie to order the rest. Service is super lovely and friendly and when I am not sure what to do with Valentina's birthday cake someone sees me straight away and offers to put it in the kitchen ready for dessert.
Pita Bread $6.50 and Tarama $12
We start with the pita bread with tarama. It's a generous amount of bread served warm with the creamy, rich tarama dip. I could almost have a whole bowl of this tarama dip on my own I love it so much.
Greek Salad with Horiatiko Psomi $18
The Greek salad is fresh and crunchy with an oil and vinegar dressing and plenty of oregano. There's tomato, cucumber, green capsicum and a slice of feta cheese. It's supposed to come with Horiatiko Psomi a Greek village bread but we didn't receive any of this.
Fried Zucchini $15
The fried zucchini comes with a bowl of tzatziki and comes piping hot and battered. These are delicious and perfect when dipped in the cold tzatziki.
Sheftalies $16
The two sausages come out next. The sheftalies are short, fat Cypriot pork sausages that are wonderfully juicy and are wrapped in caul fat rather than a sausage casing. The caul fat melts away once cooked and hot leaving the sausages in the shape. These are very moreish.
Loukanika $16
The flavour of Loukanika sausages are totally different although they too are made from pork. Loukanika are made with red wine, fennel and orange peel which gives them an amazing flavour. They're served thinly sliced and pan fried so that they are crispy edged.
Gemista $32
We all love Gemista or stuffed vegetables and they're the perfect food for a cold Winter's night. On the gemista platter is a whole capsicum and tomato stuffed with seasoned rice with large half lemon potatoes surrounding it. These are really tasty once I add a bit of seasoning.
Moussaka With Salad $32
The moussaka comes out with a caramelised cheese top, a layer of thick bechamel sauce, eggplant and then mince. Moussaka, tarama and pita are my favourite Greek foods so I went back for more and more of this, especially that cheesy bechamel topping and eggplant.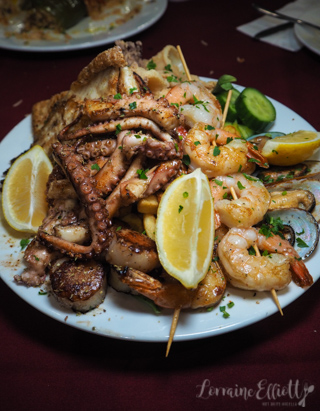 Seafood Platter $80 ($40 per person)
Perhaps the picture doesn't quite convey how large this seafood platter was. The seafood platter has a minimum of two people so we ordered it for two as we had a range of other mains. There is so much food piled high onto the plate. It starts with a bed of chips, cucumber salad, then two skewers of four large prawns, fried squid, fried fish, 5 or 6 enormous pan fried scallops and octopus tentacles. I love the prawns, scallops and squid especially dipped in a little tarama with a squeeze of lemon juice.
Meat Platter $70 ($35 per person)
The meat platter is also enormous, even just this serve for two. It has a few things that we had already ordered like the sheftalies and the loukanika but there's also some steak, some juicy chicken souvlaki and some amazingly juicy pork fillets that I go back for seconds (yes even after all of this food!). And then they bring out a small plate with kleftiko or slow-roasted lamb and potatoes cooked in parchment that is marvellously fall-apart soft and tender.
Come 8pm the band will start playing music (it's not 90's music played by a Greek band like I thought haha, but Greek 90s music). I don't see any dessert on the menu but we have Valentina's Sacher torte for dessert. We sing Happy Birthday to the birthday girl and then the band strikes up a version of a gorgeous song called Valentina to celebrate her birthday. Then it's a round of Greek dancing!
So tell me Dear Reader, have you ever been to the Cyprus Community Club? Is there a country club that you frequent? And would you get up and Greek dance?
This meal was independently paid for.
Cyprus Community Club of NSW
58/76 Stanmore Rd, Stanmore NSW 2048
Phone: (02) 9557 1256
Monday 12am-12pm
Tuesday: 9:30 am–5:30 pm
Wednesday: closed
Thursday and Friday: 9:30 am–5:30 pm
Saturday: 9:30 am–1:30am
Sunday: 9:30pm-12am