Former Perama and Xanthi chef David Tsirekas is the Inner West's go to guy for Greek food and while he bides his time waiting for his new restaurant concept to open in March, he is popping up at Plunge No. 46 in Summer Hill from Wednesday to Saturday evenings when the cafe would ordinarily be closed. Sydney seems to be in love with the concept of pop ups - it probably speaks to our love for new and our penchant for fickleness (guilty as charged Your Honour). And for chefs, it's a great idea to test out the popularity of a concept quickly and easily.
Located on Lackey Street, the rainy evening hasn't deterred diners at all. The menu features a range of classic Perama dishes plus some new as well as beer, wine, cider and ouzo. The restaurant is filled with a good number of Perama devotees who have followed him from restaurant to restaurant.
Chef David Tsirekas
"The popups have been great because they've allowed me to continue to practice and evolve my cooking. In all the places I've worked and filled in for temporarily before 1821 (his new venture) had come along, I couldn't continue to develop my creativeness in Greek cooking," explains David. I was lucky enough to have David cooking at my book launch a few years ago so I'm eager to see the menu. Tonight it's me, Mr NQN, Belinda and her boyfriend Ringo.
Eggplant dip $8
The menu is made up of a seris of small plates or meze designed to share. We start with the dips. David explains that he is trying something new. Instead of the Greek pita, he has created a new bread for the dips. "It's like a filo crossed with a roti" he explains. And it's buttery delicious, especially the thin, flakey pieces that scoop up the creamy, smoky eggplant dip.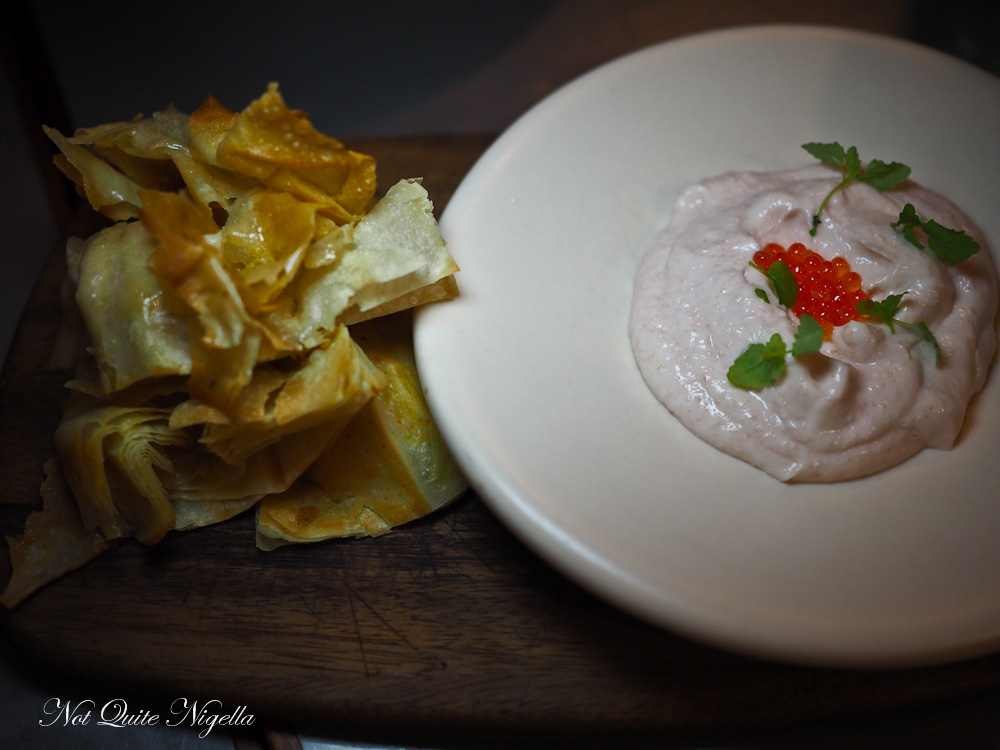 Taramasalata dip $8
Taramasalata dip is my crack-well I haven't ever taken crack but I think I'll stick to this delicious and less socially destructive item. The taramasalata is perfectly creamy, salty and rich with a centre of roe.
Summer Peasant's Salad $8
The salad is made up of crisp cos leaves, mint, dill and an extra virgin olive oil dressing with slivers of preserved lemon. The strips of preserved lemon are a tad too strong and unless you cut them up into small pieces, the give the salad a very salty, tangy kick.
Sauteed chickpeas with spiced green peppers and fresh ricotta $11
This is one of my favourite dishes of the night. It's unassuming but done so well. The chickpeas are sauteed with the green chillies, smoky paprika and olive oil and then served with the softest, milkiest fresh ricotta and chillies. Pure comfort food.
Stuffed baby bell peppers with orzo, parsley, lemon and grated kasseri $15
Belinda likes the tiny stuffed green baby bell peppers filled with orzo pasta with parsley, lemon and fried, grated kasseri cheese on top to give them crunch. They sit in a bed of lentils and yogurt.
Filo pie $15
The filo pie changes every week and the serve is generous, particularly for the price. It is generously filled with spanakorizo, a traditional dish made up of herby, spiced rice usually served on its own. Here is it combined with lamb and served inside a buttery filo pastry. All it needs is a squeeze of lemon on the side and it's eagerly gobbled up by Ringo and Mr NQN.
Skate wings $18
Skate wings seem to be on a lot of menus nowadays. It's a firm, meaty fish that you need a knife to cut into. It doesn't mean that it is tough eating though. This is well cooked and rests on a bed of lemon skordalia with red onion, parsley and mint.
Lamb shoulder $18
Can you have a Greek meal without lamb? I think not. Lamb shoulder is my favourite cut of lamb as it is so juicy and flavoursome and made for slow braising. It the classic lamb skaras from Perama that is slow roasted for 6 hours and then finished on a ironbark bbq that David has improvised in the kitchen that gives it a gorgeous char.
Great grandma's chips $10
Lamb and potatoes...is there a better combo? These crunchy French fries are served with grated air dried ricotta which gives it an appealing saltiness. There's also a piece of roasted capsicum and an egg on top. You can dip the chips into the yolk for sauce.
Beef short ribs $18
Okay this was my request. I absolutely love beef short ribs and although we had eaten so much I still wanted to try these. "The beef ribs are a take on the traditional stifatho which is a stew like dish which its main elements are onions, red wine, cinnamon, clove, honey and tomato. I braised the short ribs in these and then with the cooking liquid I reduced it into a jus," David explains. The pieces are then rolled in besan flour and deep fried to crisp and are then served in the jus. They're slightly sweet and soft and eating them off the bone always means a bit of food porn action with sucking the sweet meat straight from the bone. Embrace your inner Nigella ;)
Figs $10
There are two desserts on tonight so we share one of each among the four of us. David calls this his version of an Eton Mess. The first is made with fresh figs, ricotta, honeycomb and crumbled melomakarono honey biscuits (made by his mum Jenny).
Bougatsa $10
Seriously, I won't queue for many things but I will for pastry (never stand between me and buttery puff or filo pastry, you may get hurt ;) ). And David really knows his way around pastry and as suspected the bougatsa is a beauty. Inspired by the bougatsa shops of Thessaloniki this is the perfect way to end a meal. Rich, buttery filo pastry is filled with creamy semolina custard and is served warm. On top are sour cherries, usually Greek style spoon sweets. "They are normally served with coffee and biscuits if you go visiting relos and they are hosting you in their special living room," David explains, laughing. Even though I'm full to bursting, I finish my piece greedily trying to get that perfect mouthful of earth shattering pastry, soft pastry and oozy custard.
And the bill? It's just $45 per person!
So tell me Dear Reader, do you follow chefs from restaurant to restaurant and if so, which chefs do you do this for? And do you eat ribs using your hands or with a knife and fork? Is there a food that makes you go all food porny?
This meal was independently paid for.
Perama at Plunge No.46
46 Lackey St. Summer Hill NSW 2130
Tel: +61 (02) 9799 9666
http://plunge46.com.au/