If you're looking for a fun place to go that is cost-of-living-crisis friendly, try Youndabang in Strathfield (or Haymarket). This tasty Korean restaurant serves big bowls of extra long ttebokki that are a fun and slippery treat to eat. There's also rice dishes, kimbap or Korean sushi, delicious seaweed rolls, corn and dumplings. And the prices are a very pleasant surprise too!
A Dabang is a classic Korean café specialising in coffee, tea and various non-alcoholic drinks. like a coffeehouse or coffee shop. Youngdabang is a modern interpretation of this except it is more about ttebokki, those wonderful stretchy chewy cakes or tubes made of short grain rice. I was tossing up whether to go to the Haymarket or Strathfield branch of Youngdabang as we are equidistant from both but a quick search shows that the Strathfield branch has better rating so we go with that.
Young Dabang in Strathfield is centrally located on Albert Street. It's a smallish restaurant with a large group eating and friendly service. We take a seat at a table in the corner where there's a portable gas cooker and a range of cooking tools (tongs, scissors, ladle and spoons). The slide-out drawers hold the napkins and chopsticks.
Ordering is done via a QR code and there are a few more things available in store than I had seen on the delivery app. The main selection is for TBK or ttebookki bowls, designed to feed 2-3 people. They're $38 each and come in 10 varieties from pork belly, king calamari, beef rose, malaizing to the most popular the Smokey Beef. There's also a New Gen one and when I ask what this is she says it's a Gen Z one with prawns but I'm honestly not quite sure what that means and it's hard to get any more info about it. I end up ordering some snacks along with a TBK which pushes our bill up to just over $70 but you can conceivably just share one of the TBK bowls and have an inexpensive meal.
I absolutely LOVE seaweed rolls and these come out piping hot and freshly fried. Seaweed rolls have got such a delicious spongey texture from the sweet potato vermicelli filling and crisp tempura nori outer. Later on, I end up dipping these in the soup and adding some beef too.
I have a strong love for kimbap, the Korean version of sushi because of the ratio of filling to rice (which is why I also love giant Japanese futomaki). There are two types with little description for what is in them so we went for the Youngdabang one with pickled daikon, cooked carrot, fish cake and egg in a sesame oil flavoured rice. It's delicious, fresh and so moreish and I really love the sesame oil flavoured rice.
Then the TBK bowl comes out. They bring it to us and tell us that it is already cooked so we can just enjoy it as it is. We specified that we wanted it spicy but it's not overly hot at all. This one comes with fish cakes, fried dumplings, noodles, spring onion, quail eggs and a generous amount of thin beef strips. You can also add on extras like more beef, calamari, pork belly, fried chicken, noodles, quail eggs or mashed potato but we order it as it is. The long ttebokki is glorious albeit perilous to eat (I wore black on purpose which I still had to wash when I got home haha).
Picking it up with chopsticks is a challenge, only surpassed by trying to deliver it to your mouth and eat it. Even Mr NQN who claims to be co-ordinated ends up splashing scarlet drips all over the table. If anything I would have loved more ttebokki because it has such a delicious, chewy, fat texture and we could have happily had double the amount of ttebokki.
Since we ordered a couple of other dishes we still had a lot of the TBK bowl left over so we add a rice bowl to our order. There is plain rice, wasabi rice, butter rice and flying fish roe rice which is what we chose to soak up the last of the soup and toppings. They ladle out most of the soup leaving around half a cup's worth in the bowl.
Then they tip the rice with nori, mayonnaise and flying fish roe on top into the bowl and turn on the heat. The rice absorbs the soup and it takes around 5 minutes to soak it all up by which time you end up with some crispy, browned bits at the bottom and a flavoursome rice that is both filling and tasty!
So tell me Dear Reader, do you have a favourite place you like to visit when you're counting pennies? Do you think you'd fare well picking up the ttebokki?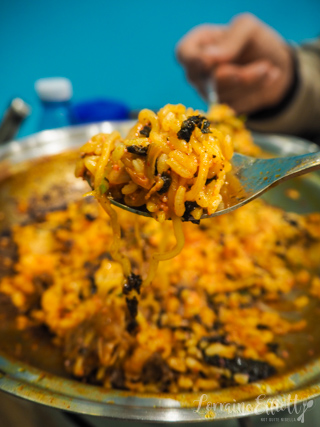 Youngdabang
Shop255, 20-34 Albert Rd, Strathfield NSW 2135
11:00 AM – 10:00 PM
Tel: +61 0493 557 651