Love sashimi and sushi? Then head to Bondi Beach to Get Sashimi to try out Bondi's newest sashimi bar. You'll find a range of sashimi there beyond just salmon, tuna and kingfish. Along with sashimi there a selection of sushi priced per piece as well as oysters, salads and poke bowls. Take your purchase to eat on the beach across the road or take a seat at the 18 seater sushi train. So what is a must order at Get Sashimi?
The owner of Get Sashimi is Antonio Muollo who is the next generation of the De Costi seafood business. He has been working at his father's fish shop since 9 years of age. At age 19 he started Get Fish in 2018, an online shop that delivers fresh fish that was one of the fastest growing businesses over COVID. The company's revenue grew to $19.4 million in 2020-2021, an increase of 726% since its start in 2018 .
We actually ordered from Get Fish during COVID and basically bought a lot of sashimi from them because we love sashimi and it was hard to get food, let alone Ora King sashimi salmon. Antonio conceptualised Get Sashimi 9 months ago and although it is a week old at the time of our visit, he's very excited about the business showing pictures of the crowds this past weekend 10 people deep into the counter. It's reminiscent of the seafood markets at Christmas.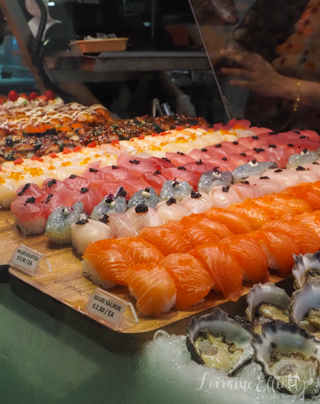 Most customers head towards the sushi counter where there's a range of hand rolls, nigiri, poke bowls, side salads and individual sushi priced per piece. Most of the sushi selection is what you can get at a lot of sushi places but there are a few unusual items. I'm surprised at how much I enjoy the blueberry and strawberry topped gunkan that are wrapped in cooked salmon. There are also Paradise Prawn from New Caledonia or raw prawn nigiri available as well as the usual tuna, snapper, salmon and kingfish.
There are two types of oysters available, natural Sydney rocks at $2.50 each or Sydney rocks with ikura and black caviar for $3 each. I am also a sucker for spicy cooked tuna gunkan. I'm not usually a hand roll sort of person as I find they have too much rice but these has the right ratio of raw tuna to rice and mayonnaise with some tobiko just to finish it off. And while ginger, soy sauce and wasabi are help yourself and free for customers I also recommend ordering a tub of their ponzu style soy sauce wasabi citrus sauce for $1.
Nigiri wise there are also classic grilled eel, egg omelette and crab stick and stuffed inari sushi (sweet tofu skin) but we didn't try these. I also really enjoyed the raw scallop with tobiko and a lightly torched scallop gunkan with cooked salmon wrapped around the rice.
However what we are really here for is the sashimi because outside the fish market it can be a challenge finding a range of sashimi beyond tuna, salmon and kingfish. The front display of the store is all their sashimi. The number 1 best seller is the toro or tuna belly. The Toro tuna belly is from Japan and comes in a creamy, mottled texture not unlike a fine marbled steak at $25.99 for 100g. This is so luscious that it melts in the mouth.
If you love luscious, fatty textured sashimi there's also the Ora King salmon and if you're looking for other interesting sashimi try the toothfish, Hokkaido scallops, Paradise prawns, abalone, Hokkigai or Arctic surf clam and bonito. There's also regular tuna, salmon, kingfish and snapper sashimi available.
There are also a range of salads from seaweed, octopus, scallop and jellyfish salad for $5 a box although we didn't try any of these.
The service from the couple of people that I encountered was a bit stressed perhaps due to recent opening and crowds. And as I'm 5 feet tall I found it hard to shout up at them past the counter. There are tables on the sidewalk under a covered canopy but I'd recommend taking these to the beach to eat.
So tell me Dear Reader, are you a fan of sashimi? Do you have a favourite type of sashimi?
Get Sashimi
180 Campbell Parade, Bondi Beach NSW 2026
Open 11am-9pm, 7 days a week
https://www.getsashimi.com.au/