Macleay Street Bistro is one of Sydney's oldest running restaurants. Open for over 40 years this year the menu has virtually stayed the same with crowd pleasing French classics from twice baked cheese soufflé, chicken liver parfait, chateaubriand and crème brûlée. So what is the secret to its longevity?
I could be in France I think to myself as Mr NQN and I take a seat outside with Teddy and Milo. The sun is shining, there are autumnal leaves falling, there are two tables of French people near us and a steady parade of small dogs walking past the old buildings on Macleay Street. Oh and our waiter is French too. On this warm Anzac Day the restaurant is heaving. Not a table is empty inside and when we arrive for our late lunch at 2pm it shows no signs of slowing down.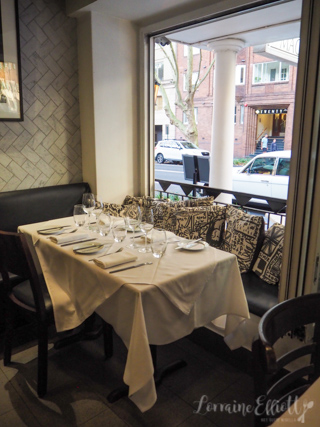 While we are waiting a retro Rolls Royce parks outside and Pete the waiter observes that it is a model from the 80s which makes it around the same vintage as the restaurant. Macleay Street Bistro first opened in the 1980's and was owned by Mark Armstrong and Daniel Gantiez. In July 2013 it was purchased by new owners Mark Campbell and business partner Phillip Fikkers. The chef is now Cal Brewin. Some say that the secret to its longevity is that it is much loved by locals. Some of the staff have been with the restaurant for 15 years and the menu has hardly changed at all. They have also added a weekend roast and BYO with no corkage on Sundays.
We start with half a dozen oysters from Merimbula. They're perfect specimens - plump and refreshing with just lemon or the mignonette sauce.
They bring out the salmon tartare under a glass cloche. When they remove it the aroma of cherrywood smoke fills the air. The salmon is paired with finely diced apple, lime caviar and dill which gives the salmon an appealing freshness.
A dish that gets a bit of table service is the steak tartare where they mix it at the table for you (or you can do it yourself). They use an organic, grass fed rib eye for this and mix it with shallot and cornichons as well as Tabasco, Worcestershire sauce and olive oil. It's fresh and delicious served with the mini baguette toast although I think I'd use less Worcestershire sauce next time or perhaps mix it myself.
My favourite cold entree is the chicken liver parfait. It's so beautifully light and smooth in texture and comes as a generous scoop with fig jam, onion jam, cornichons, soft baguette slices and watercress. I could eat this all day every day.
We're onto hot entrees now and the twice-baked French onion soufflé is an absolute beauty. Served puffy and proud this is very moreish. It's rich yes but also light so that you don't feel too heavy or weighed down. This and the garlic prawns below are my favourite hot entrees.
They come in a small cast iron cocotte with two enormous shelled king prawns in the most divine prawn and chilli cream bisque soup. The flavour from the prawn shells gives this a wonderful depth of flavour and I can't help but keep dipping in the baguette slices into it to soak up that soup.
The French onion soup has a fat, square crouton topped with melted cheese and plenty of soft onions in a rich soup. This version is more liquid than I've had it and perhaps needs a touch more seasoning. However Mr NQN adores it and polishes most of this off.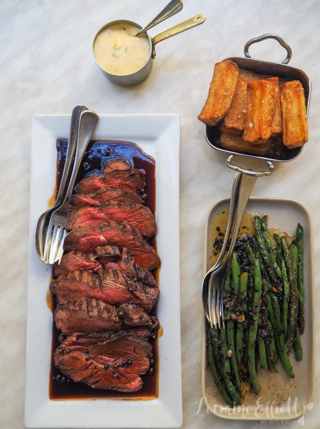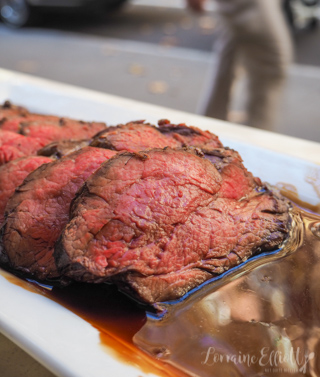 Then comes the main event, a gorgeous chateaubriand for two. A large platter of beef comes out with shallot butter green beans, chunky potato batons and a béarnaise sauce. The sides are all wonderful but the beef is the real star here as the organic, grass fed fillet is perfectly cooked so pink inside and buttery tender. It's a generous serve and could serve more than two especially if you had an entrée.
It's time for dessert. The crepes suzette sauce is more liquid than I've ever had it. Usually there's a rich buttery orange glazed sauce but here it's almost like a soup. Igniting the Grand Marnier produces a small flame.
I don't often order crème brûlée for myself but Mr NQN loves it so we order it and it's the pick of the two desserts. Wonderfully creamy, generously portioned with a satisfying to crack toffee layer on top it's ideal for sharing after a rich meal or as Mr NQN would have it, a dessert made entirely for one person.
So tell me Dear Reader, do you have a restaurant that is a favourite local for you? What makes it a favourite? Do you like it when restaurants don't change their menus?
Macleay Street Bistro
73A Macleay St, Potts Point NSW 2011
Lunch : 6 days from 12:30pm (closed for lunch on Wednesdays) Dinner: 7 days from 5:30pm
Phone: 02 9358 4891