It was a miserable rainy spring day in Sydney and I couldn't think of anything better to do than make a Louisiana Bread and Butter pudding. Its the kind of thing that provides some aromatherapy whilst cooking and with all of the windows and doors shut to keep the howling wind and rain out, the only choice.
I originally found a recipe for this without the banana in a Keith Floyd book on American Cooking called "American Pie" but the book has since disappeared from shelves. I loved it and found some variations on the internet for it and so I adapted them from what I could remember from Floyd's recipe to make this final recipe. It is an understatement to say that the smell of baking cinnamon, nutmeg and bread is heavenly. I think I enjoyed the smell of it baking almost as much as the eating!
DID YOU MAKE THIS RECIPE? Share your creations by tagging @notquitenigella on Instagram with the hashtag #notquitenigella
Louisiana Bread and Butter Pudding with banana
Makes 12 servings.
INGREDIENTS:
7 slices stale bread buttered on both sides and cut in diagonal halves
2 Tablespoons vanilla extract
1 Tablespoon ground cinnamon
1 Tablespoon freshly ground nutmeg
1/2 cup packed dark brown sugar
50g unsalted butter, cut into cubes
For the Bourbon Sauce:
1 cup confectioners' sugar
PREPARATION:
Step 1 - Place the buttered bread in a buttered 33x24 baking dish in the pattern shown and carefully pour the milk over it. Allow to soak for 1 hour (or less if bread is not stale).
Step 2 - Put the raisins in a smaller bowl and pour the Cointreau over them. Allow to soak for at least one hour.
Preheat the oven to 160C.
Step 3 - Whisk together the eggs, sugar and vanilla and then stir in coconut.
Step 4 - Drain the raisins and add them to the soaked bread. Add the slices of banana between the bread layers. Pour the egg/sugar/coconut mixture onto the bread carefully.
Step 5 - Sprinkle with the cinnamon, nutmeg, and the dark brown sugar. Dot with the butter cubes.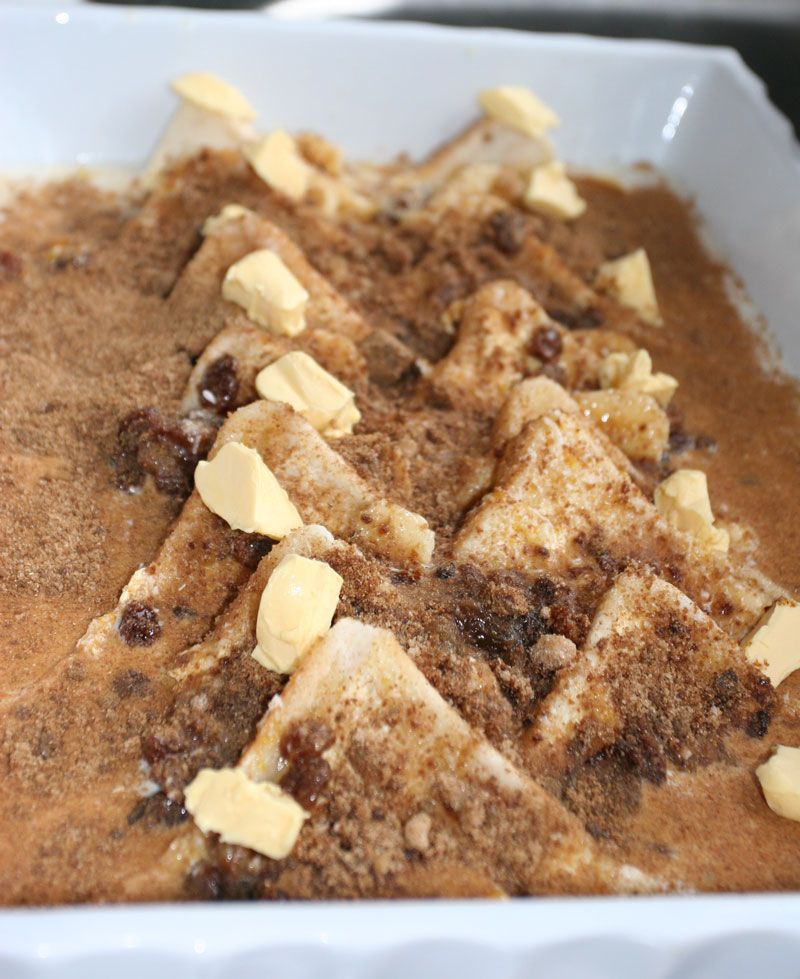 Step 6 - Cover with foil and place in preheated oven and bake about 45 minutes. Then remove foil and allow to brown for another 30 minutes or until golden and crispy. Allow to cool at least 30 minutes before cutting.
For the sauce:
Step 1 - Melt the butter over low heat. When it is hot, but not colored, add the confectioners' sugar and whisk constantly until thick.
Step 2 - When it is very thick and hot, remove it from the heat and whisk in the beaten egg until emulsified, about 2 mintues.
Step 3 - Whisk in the bourbon and serve warm.
To serve:
Cut the pudding into 12 slices and serve with the warm Bourbon sauce for adults, maple syrup for children. Any leftover bread pudding may be reheated in the microwave. Add some cream or ice cream, this is sinfully good with both.
P.S. I prefer my B&B pudding to have that crispy buttery sweet crust on it so that's why I prefer to lay the bread out like this on a large dish rather than a deeper dish with lots of layers of bread. You still do get the soft gooeyness of the banana laden pudding this way but you also get the crust. If you prefer more soft gooeyness you can put it in a deeper dish where there will be less surface area.