*NEWSFLASH * Due to generosity of the Australian Macadamias, I have won two tickets to the the Iron Chef dinner plus $1000 spending money! Words cannot express how deliriously happy I am at the moment. It must be fate, I was only today cracking open some roasted and salted macadamias! I cannot thank Australian Macadamias enough! :)
I cannot wait to blog about this! happy dance
To read all about my magical Iron Chef experience, please see my story here.
Its time for the Iron Chef's Sydney visit again! I don't often have a spare $1000 lying around to attend these events so my sister and I improvised and went to Tokyo on Frequent Flyer points to visit the Iron Chef restaurants La Rochelle and Kaishoku Michiba earlier this year. It doesn't stop me getting excited that they are coming here though and I got this in my inbox the other day. I'd love to hear from anyone who has been to any of these events. I've had the degustation at the Observatory before but never the Iron Chef dinner! Its actually a lifelong dream of mine to be on the Iron Chef judging panel-one that I know probably won't eventuate but a girl can dream can't they? And this is the next best thing really!
From the website:
The culinary genius of two of televisions Iron Chef's Hiroyuki Sakai and Chen Kenichi together with chef Haru Inukai will be showcased in this unique dining event.
Over three nights in November, Galileo's guests will be treated to an insider's view of the kitchen. Cameras will capture every moment as Sakai, Kenichi and Inukai create dishes reflecting their passion for Japanese and Schechuan cuisine as well as traditional French cooking techniques.
Date: 6.30pm on Tuesday the 6th, Wednesday the 7th and Thursday the 8th November 2007 and Galileo restaurant and Globe bar.
Venue: The Observatory hotel 89-113 Kent St Sydney
Cost: $495 per person including welcome cocktails, seven course dinner and sommelier Christian Baeppler's selection of matching wines
http://www.orient-express.com/osyd/ironchef2007.html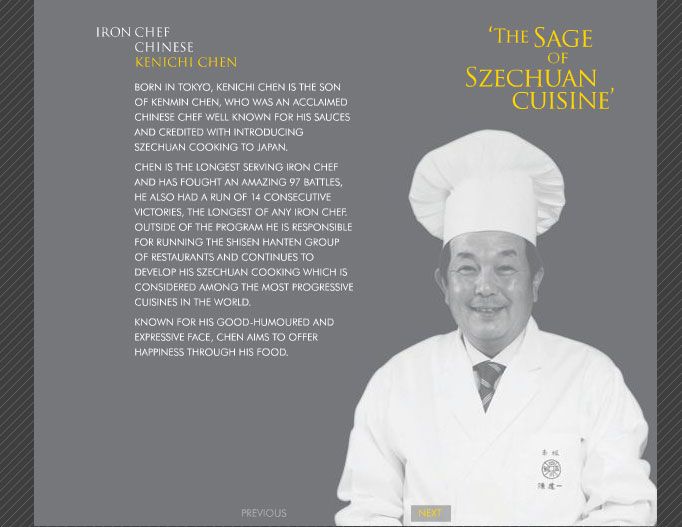 ](https://images.notquitenigella.com/images/iron-chef-dinner-2007-observatory-hotel/obs-inukai.jpg)