The golden ahem ... black ticket!
I look around and survey the crowd standing outside the Hilton's Grand Ballroom. There's not a single Chairman Kaga outfit in sight. Despite this lack of frills and puffy shirts, there is excitement in the air as about 300 eager diners holding a ticket enter the waiting area for the Iron Chef dinner, 2010. When I first started this blog just under three years ago, I had won myself tickets to the Iron Chef dinner 2007. It was an event that I thought was brilliant from start to finish and one that I pegged "A once in a lifetime experience". Little did I realise that only a few years later I would have the privilege of dining at the Iron Chef Dinner 2010 thanks to the lovely people at Chef's Armoury who specialise in Japanese knives.
Autographed books for sale
Beef and black bean canapes
_Pork ball canapes
_
At $385 a ticket, prices are lower than the previous event we attended (where they were $495) and they've managed to fit in a lot more people whereas at the Observatory Hotel, they fit 120 people.  The function staff serve us canapes provided by Sushi Samurai. There are porcelain spoons with deep fried beef pieces in a bean sauce, scallop sushi, salmon roe sushi and oyster tempura with the oyster tempura being the pick of the lot. Sparkling wine and soft drinks are flowing and everyone is excited to start. There are signed cookbooks in Japanese available for purchase for $60 each.
\
Taiko drummers
The music starts from inside the ball room. There's a frisson of excitement throughout the crowd as we sense the start of the event proper. There are taiko drums beating and they open the doors to reveal the space. There are two huge projection screens on each side of the stage and on each one reads a quote:
In the centre of the front area is a huge stage which is modelled on the Iron Chef stage. On the left side is a picture of Iron Chef Sakai in resplendent red and on the right hand side is Iron Chef Kenichi in golden yellow. The uniforms they are wearing tonight are the original ones they wore on the show those many, many years ago and Fuji television only allow these to be removed for special occasions (this is only the fifth time they've been used since the show finished). The ball room is a huge function room and a vast contrast to the intimacy of the Observatory Hotel event and diners weave through the tables to find their seats. There's the lovely Maeve O'Meara at a table at the front.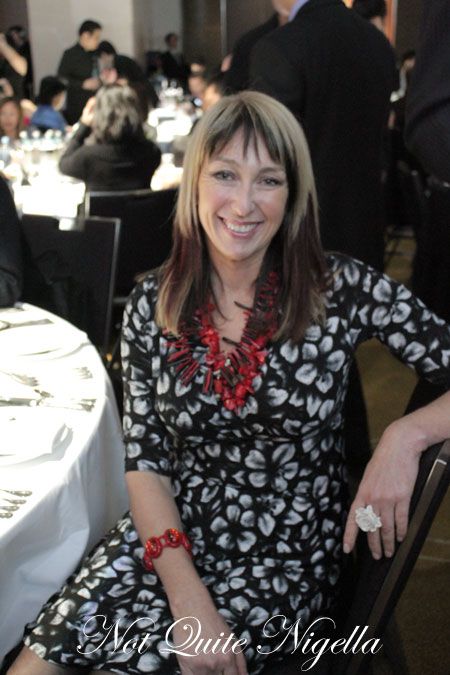 Maeva O'Meara
The signature Iron Chef music sounds. The music used on the Iron Chef television show is from noted Hollywood films like Glory, Backdraft, Dragon: the Bruce Lee story as well as Star Trek Generation. The flame logo appears and Simon Thomsen and Joanna Savill take to the stage and make a brief introduction. They know that we're chomping at the bit to see the Iron Chefs - some diners are veterans of every event that has been held on Australian soil (there have been four in total).
Iron Chef Sakai's stats
And then Iron Chef Sakai!
On the screen flashes a picture of Hiroyuki Sakai along with his statistics. He is currently 68 years old. Number of Iron Chef Battles fought: 86. Number of Iron Chef Battles won: 75. Number of Iron Chef Battles tied: 1, Ratio 88%. He steps out behind the velvet curtain in his red chef's silks holding an apple and feigns biting into it.
Iron Chef Chen's stats
And Iron Chef Chen!
On the screen flashes a picture of Chen Kenichi along with his stats. He is currently 54 years old. Number of Iron Chef Battles fought: 92. Number of Iron Chef Battles won: 67. Ratio 73%. Then one by one the other chefs that are cooking tonight come out. There's Chef Hideki Okazaki from Rise in Darlinghurst and Chef Harunobu Inukai from Blancharu in Potts Point. The Hilton Executive Chef Gary Johnson comes out as well as Chef Saeko Nemoto from Ten on the Gold Coast. They will each be cooking one course in this six course degustation.
The lineup of chefs on the stage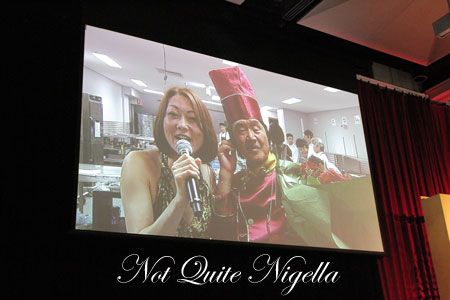 Tomo and Iron Chef Sakai
Each of the two Iron Chefs is given a huge bunch of flowers and they do a quick trip around the tables shaking hands and patting shoulders. Before long they retire to the kitchen where Tomo san from the last Iron Chef dinner holds court with the microphone. She's there to give us a glimpse into the kitchen and show us the background to how the dishes are made. She asks Sakai what inspired this dish and he tells us that it combines his two favourite things in Australia: seafood and vegetables. They show us a short video of how Sakai's dish was made with Sakai in his chef's blacks in the kitchen preparing it earlier.
Sakai making the dish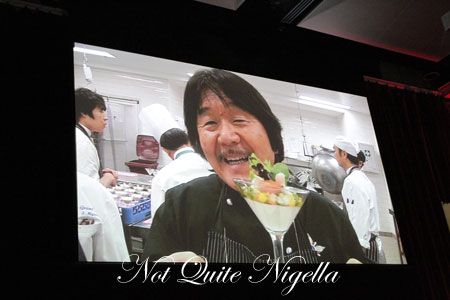 Sakai with the finished dish
And just because he might really be a food blogger at heart...
Iron Chef Sakai: Chilled seafood on cauliflower mousse with mango dressing served with 2009 Mt Difficulty Estate Pinot Gris.
_How about a closeup ;)
_
Sakai's dish comes out in a martini glass and we dip a teaspoon into it. On top there is an assortment of fresh, chilled seafood like Crystal Bay prawns, Ausab abalone, a range of seasonal vegetables and a micro herbs on top of a layer of mango sauce and a soft cauliflower mousse. It's more panna cotta in texture than mousse and it is smooth and velvety with a definite cauliflower flavour with a crunch from the vegetables, sweetness from the mango sauce and texture from the seafood.
Sakai picks a winner
Sakai then walks onto the stage where they initiate a game of "Who can come up with the best Iron Chef judge quote to describe the Mt Difficulty wine?". The one with the most flowery and Iron Chef judge-like description wins. Unless of course you are an attractive girl and Sakai is judging. Even though the crowd felt that the third gentleman's answer was the better (something about "...effervescent as the sea of Bondi's shores"), Sakai is judging and he firmly and insistently awards it to the girl and she wins a Chef's Armoury prize. Simon Thomsen jokingly warns him "This is not a prize for you Sakai san!".
Chef Okazaki and Tomo
Ready for the plating competition
On his way back to the stage, Sakai stops by and pats the shoulder of other young lasses. He has to pick some other volunteers for the next event which is a competition to see who can plate up the next dish the best. Not surprisingly, Sakai picks two women and is only stopped from making it a triple by the intervention of others. An apprentice chef at our table called Troy gets to join them in the kitchen.
Chef Okazaki shows them how to plate up the dish
Plating...plating...
Tomo and Iron Chef Chen eating it afterwards!
Chef Okazaki of Rise shows them the dish which is a trio of tuna and then shows them how to plate it up with Sakai and Chen watching on. Whoever plates it up the quickest and the most precisely wins. The middle woman wins with the praise from Okasaki with the words "Quick, efficient and presentation is marvellous" and she too gets a Chef's Armoury knife set. And within moments our next course arrives. But not before Tomo and Chen eat what they've plated - waste not want not!
Chef Okazaki: Tuna  tartare with spicy miso in wonton cup, Tuna rice paper roll, Tuna tataki, asparagus and lemongrass tomato salsa served with 2009 Knappstein "Three" Gewurtztraminer Riesling Pinot Gris
This dish, particularly the wanton cup is certainly reminiscent of a meal we had at Rise for my birthday last year. The wonton is crispy deep fried and served with spicy miso which is a great combination that really adds flavour to the raw tuna. The tuna rice paper roll is a lovely morsel with a distinct sesame flavour to it and the tuna tataki with asparagus has delicate tendrils of deep fried lemongrass shreds on top giving a Thai flavour to it.
Chef Okazaki
Chef Okazaki comes out to talk to our table quickly and we notice that throughout the night the Iron Chef's come out to chat to tables. To the left hand side of the room there is something of a queue for people to get photos with the Iron Chefs when they emerge from the kitchen to wander around.
Iron Chef mobbed for photos
Chen and the golf game
They bring notoriously golf mad Iron Chef Chen (he golfed out in Camden this morning) out for a putting competition. Iron Chef Sakai appears to have the golfing talent however as witnessed in the little golfing demonstration in the kitchen. Three people on stage are asked to challenge for a hole in one. In the middle of this a disgruntled diner starts yelling "I paid $385 for dinner and I'm getting a comedy act? This is ridiculous!" to jeering and booing from the audience who seemed to be enjoying the on stage antics. We learn later that he apologised for his outburst and left (why you would leave a dinner that cost you $385 I cannot conceive). Back to the golf game on stage, the winner received dinner for two at Rise restaurant. During the night there are some luck door prizes for dinners at Blancharu, Ten and JAL (an airline clock, not a flight) and these are drawn from your ticket and seat allocation.
Making the spatchcock en croute
The next dish is one that Chef Haru demonstrates for us in the kitchen to the right of the stage. He has made  salt crust consisting of flour, thyme, water and a lot of salt. He rolls this out and cuts out two "wings" and shapes a head and studs it with cloves for the eyes. He then rolls out more pastry and places a spatchcock in the centre of it, envelops the bird in the pastry, adds the wings, head and brushes it with egg wash.
Ta da!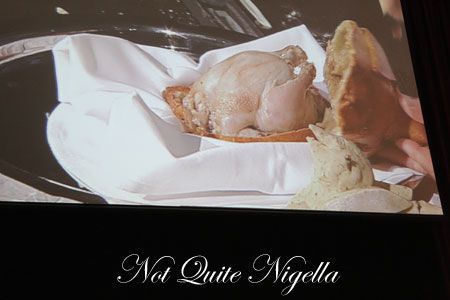 Breaking it open to reveal a juicy, cooked spatchcock
He breaks open the salt crust (which is not meant for eating but serves as a pressure cooker shell) and reveals the cooked spatchcock, moist and dripping with juices. I may have moaned in excitement. Ok I did. I couldn't wait to eat this one (and make it at home too).
Spatchcock en croute de sel a la Haru served with 2008 Stonier Estate Chardonnay
It comes out served simply atop a bed of buttery potato mash and a sprig of rosemary. The chicken is divine and is given the lightest touch with the herbs and is perfectly paired with the mash. For such a simple dish with few ingredients, it seems to be all about the quality of the items and the way it is prepared and this ends up being my favourite dish of the night and I enjoy every slowly savoured mouthful.
Chen making his Szechwan lobster
Iron Chef Chen then demonstrates the dish he made at the Press Conference on Friday but today he is using lobster in golf ball sized balls and makes his spicy chilli  sauce with tobanjan (fermented soybean paste), ginger, onion, ketchup, rice and beaten egg. He says that the key to this dish is the sweetness and sourness. He plates it up prettily inside a ring of cut melon and sliced strawberries. Through Tomo, he tells us that it will be served with Chinese steamed buns to mop up all of the sauce with the buns.
_Chen in the kitchen with his son (to his left in white)
_
He then bids us goodbye and tells us that he himself will be cooking all of the lobster for us. The screen cuts to the kitchen when Iron Chef Chen along with the help of his son starts on the task of making lobster - for 300 people! I recall his son accompanied him cooking at the 2007 Iron Chef dinner.
Iron Chef Chen: Lobster with Chili sauce Szechwan style served with 2006 Argyle "reserve" Pinor Noir
Steamed bun
A share plate arrives on the table and the waiter tells us that we have two lobster pieces each. We each get a sweet soft bun and it goes very well although I think I'd like a whole bowlful of the sauce. The lobster is cooked well and isn't tough or dry at all. The sauce is thick and rich with the rice adding a gelatinous thickness as the rice he used was like a congee. As he described, it's a balance between sweetness and sourness as well as intenseness from the rich lobster meat.
Chef Gary Johnson
Hilton Chef Gary Johnson is up next and he demonstrates how to make his dish, a slow cooked beef cheek which he calls a "deconstructed casserole". His voice is deep and he could be a voice double for John Laws. "I'd like to be, I've seen his car" he says.
Slicing up the veal
Chefs in the kitchen busy preparing this dish
I watch transfixed as for the first time in the evening, we get a glimpse into just how many chefs are involved in plating a dish for 300 people. There are numerous chefs in the kitchen and they're all carefully but quickly doing their own tasks while assembling hundreds of the same dish. WE see Chef Haru helping out too and Iron Chef Sakai helps out by...eating a piece. Well I suppose they are the benefits of being the star of the show!
Chef Haru helping out
Iron Chef Sakai deciding which piece to eat! ;)
Chef Gary Johnson: Braised Wagyu veal cheek on green pea and wasabi mash with cabernet jus served with 2008 Petaluma "The Hundred Line" Cabernet Sauvignon.
This is our last savoury dish and it's very rich and filling. The beef needs a helping hand with salt and pepper but it is gelatinously soft and rich. The beef was marinated for 48 hours and then braised for 6-7 hours so that it gets to this divinely unctuous state. I adore the rough pea mash which is sweet and delicious (although not really tasting of wasabi at all) and is made of fresh shelled peas, not frozen. I'm beaten though and after 4.5 courses I need to leave room for dessert.
Chef Saeko
Plating the dessert
Tomo then introduces us to the only female chef tonight Chef Saeko of Ten restaurant At the press  conference they had given out macarons from Ten and the passionfruit ones were divine, the shell so delightfully light transporting them must have been difficult but eating them was extremely easy. The theme for her course was "The Universe" so she made a dome of smoked chocolate mousse and an agar agar ring  of chocolate and milk.
Chef Saeko: Smoked chocolate and "Delamain X.O. Fale & Dry 25 year old" mousse, with agar agar of milk, chocolate anglaise sauce served with 2004 Knappstein Vintage Fortified Shiraz.
It comes out looking very pretty indeed. The mousse has a centre of white chocolate and cognac and there is an outer layer of smoked chocolate mousse which is distinctly smokey with a layer of chocolate flakes at the base. It's great when it's combined with the thick chocolate ganache drops on the side.  There is a "ring" of white chocolate around the top and a pretty peach like blush on the mousse and a nutty toffee tuile to finish on top.
Saying goodbye
All of the chefs on stage
Chen bidding a farewell
We're getting to the end of the evening and they bring out all of the chefs. There are a couple of calls for Iron Chef Sakai's room number from the ladies in the audience (haha!) and we're invited to go outside to the lobby area for coffee and tea and photographs with the Iron Chefs. Autographs aren't allowed here but it doesn't stop everyone from lining up to get a close up glimpse and a photograph with the two Iron Chefs.
The queue for photos
Playing around with one guest
We had a little preview to the excitement the Friday before at the press conference. Here an English translator helped out with the crowd's questions and the two chefs are in a very jovial and joking mood which is a contrast from the seriousness of the show.
They field questions from the crowd including ones such as "How do you guys keep so young?". "Can you guess Iron Chef's age?" asks Iron Chef and they answer back a diplomatic 35. "OK Bingo!". Click the video above for some of the Press Conference action.
Afterwards Iron Chef Chen does a quick cooking demonstration where he prepares the Szechwan dish that we had for dinner but he makes it here with Crystal Bay prawns.
"You want to see me do this?" he asks
"OK!"
_And then promptly tastes them _
Iron Chef Chen's son
Although this event was quite different to the 2007 event, which felt more intimately special and was in a beautiful setting (this one was more function hall) all in all I've had a marvellous two days seeing what the Iron Chefs could do and tasting their fantastic creations. My only question is will there be a Chairman Kaga lookalike competition next year? ;)_
_
So tell me Dear Reader, who is your favourite Iron Chef out of all three and why?
NQN attended the Iron Chef 2010 Dinner as a guest of Chef's Armoury.
Iron Chef Dinner at the Hilton Hotel
488 George Street, Sydney, NSW, 2000
Tel: + 61 (02) 9266 2000
Held on the 6th ad 7th June, 2010