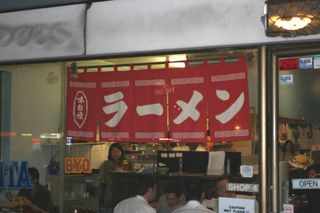 This is no place for a first date, or a second or third, unless of course you're trying to get rid of your paramour. The decor is grungy, grey and completely utilitarian and the service a little hit and miss with one unhappy waitress and one friendly one. Standing outside facing the signature red flags spelling Ramen in Japanese, we remind ourselves, we're here for the food and in our quest to sample Ramen noodles all over Sydney and that looks aren't everything.
A quick look at the menu and I am pleased to see that there is quite a good range of food, from sushi, sashimi, takoyaki, eel, katsu don and a host of other Japanese favourites including of course Ramen. With most items hovering around the $7-$12 mark its a good, cheap eat as evidenced by the patrons who by the most part, are young groups of people.
I am one of those freakish people that loves crunching on the white cartilage chicken bones so I am delighted to see Nankotsu karaage on the menu ($3.90). Also apparently good as a source of calcium it has a teeth thwacking crunch to it and with a squeeze of lemon and the dipping sauce I am transported back to a Tokyo Izakaya.
Next comes our order of Pork Katsu Don with miso soup ($7.70) and our Miso Ramen with roasted pork and mixed vegetables ($9.50). The Pork Katsu Don bowl is a decently sized bowl where a breaded pork fillet mixed with egg and onion sits atop a mound of rice. The pork is deliciously juicy but not crispy at all as the egg soaks into the breading. Its tasty and there is a generous amount of pork and egg on this dish but I do want the crispy sensation which is missing.
The Miso ramen comes in a large chinese patterned melamine bowl with bean sprouts, corn, cabbage, scallions and roasted pork slices on top while lurking deep below is the ramen. The broth is rich and delicious and full of flavour-not too miso-ey but enough to enhance the soup. The Ramen noodles themselves are softer than the Ramen at Ryo's noodles and as I prefer a bit of firmness to the noodles, I'd say that Ryo's are better but I prefer this soup to Ryo's pork soup.
For another five minutes away I'd probably make the trip to Ryo's but if I was hungry and couldn't bear the inevitable queues at Ryo's I'd happily slurp some noodles here again.
Kenta
81 Military Rd
Neutral Bay NSW 2089
Phone (02) 9953 5422
Closed Mondays
Lunch: 12-2pm Thursday to Sunday
Dinner: 6-10pm Tuesday to Sunday
Cash only