Going out with some of my longest and dearest friends Queen Viv and Miss America is always an adventure. They're adventurous enough and always appreciate a good meal, no matter how unusual it is or how far we have to venture. Tonight, we're headed somewhere a little closer to home, Japaz in Neutral Bay. A Japanese version of Tapas with a Japanese chef and Spanish ingredients. The chef Hiro Takagi's CV reads like a dream: Tetsuya's, Bilsons, Ampersand and Restaurant Taillevent Robuchon.
We walk into Japaz, a newish establishment this Saturday night. We let the front of house gentleman know that we have a booking and he greets us with my name. We're seated in the dark brown panelled room next to the sandstone brick printed wallpaper (an odd touch to me but one that Queen Viv likes) and are offered our menu. Tuesday and Wednesday it's BYO whilst the rest of the week they're licensed so they offer to stow Queen Viv's bottle of wine for her so that it stays chilled.
Our dishes come out fast and in the order in which we asked for them precisely. The first dish, White Anchovies in Rosemary Oil has Miss America swooning. She's in love with these plumped little critters, milder and sweeter and less salty than their hairy browny pink cousins.
The Sobrasada on Sourdough Toast is a tomato and sausage mix smeared onto a thick wodge of white toast. Despite its somewhat unamazing look, the Sobrasada, a pork sausage made from a porc negre (a black pig related to the famous Jamon Iberico), is flavoursome against the diced tomatoes.
We ordered three of the Scallops with a Sweet Soy & Onion Butter, one for each of us, and they come in the shell with the roe on. The delicate soy and onion butter is delicious and never overwhelms the delicate scallops which are cooked well and succulent. I don't usually like scallop roe finding it too strong but it's lovely against the sauce. We're finally seeing a Japanese ingredient find its way onto a dish.
The dish that intriuged us with its name was the Twenty-Second Smoked Swordfish with Preserved Lemon Sauce. It's seared for twenty seconds using a hickory smoke, the resulting flavour is buttery soft swordfish (a fish which can tend towards a little dry sometimes so we are greatly relieved) with a piquant, swift to the palette lemon sauce with sweet soft tomato. It's wonderful and Queen Viv and I are particularly big fans. Although just to note we got one piece of swordfish, on their website slideshow there are two to three large pieces of swordfish shown.
_ Twice-Cooked Beef Tongue Cornichon, Seeded Mustard & Red Wine Vinaigrette $13.00_
The dish that we ordered as we were curious and the waiter confirmed its deliciousness, was the Twice-Cooked Beef Tongue Cornichon, Seeded Mustard & Red Wine Vinaigrette. The Beef Tongue is cooked for 4 hours until divinely, gelatinously soft so that a gentle nudge of the fork will make it yield. It's one of those dishes that we know we would order again on our next visit.
The Braised Wagyu Beef Cheek & Almond Sauce is interesting, coming straight after the Beef tongue it's also fall apart soft with the almond sauce resembling a milk or bechamel sauce but the seasoning sprinkled on top is good, but doesn't penetrate all the way to the bottom of the thick pieces.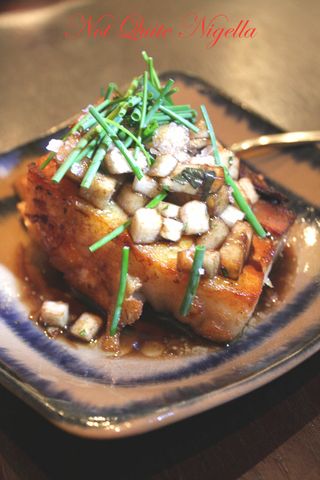 We want to order a couple more dishes and our waiter overhears us umming and aahing over the pork belly and nods his head in agreement so onto the tab it goes. The Pan-fried Pork Belly with Pear, Herbal Balsamic Sauce comes out in three thick pieces, with the belly fat gloriously thick. It's lip smackingly good, the pork belly so soft and delicious with the thin layer of perfect, thin crackling perfect with the little cubes of balsamic pear. I contemplate ordering some to take with me to my husband who has missed out on this fabulous meal but I know I'd only eat it myself.
At the waiter's suggestion we try the Cumquats with Saffron Honey . The stewed cumquats are suspended in the thick viscous saffron honey and we fish each fat cumquat out with a toothpick fork. A tiny explosion in the mouth and the tart cumquat juices gush out and they're offset against the delectably thick gooey honey. Oh yes baby!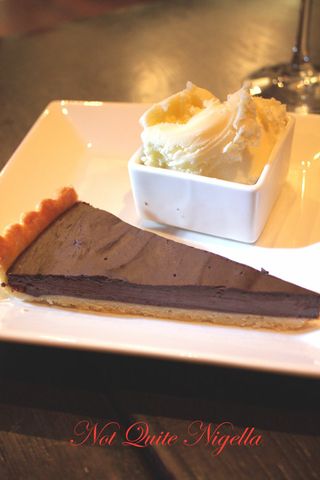 The Coconut Olive Oil Sorbet is so delicate and gorgeous, never overreaching with flavour. We lament the small size of the sorbet as it's utterly delightful. The dark chocolate tart isn't particularly exciting and a little too bitter for me but when Miss America suggests tipping over the leftover saffron honey from the cumquats onto it it is quickly gulped down by us.
By this stage, Miss America is extolling the virtues of plate licking and attempting to get us all to join in on the exercise. Indeed, as someone that cooks for people a lot, if someone were to lick their plate, I'd be momentarily stunned but then elated that they enjoyed their food so much. I'm guessing there were a few people who would've joined her in the cause tonight, myself included.
Japaz
165 Wycombe Road Neutral Bay
Tel: +61 (02) 9904 0688
Lunch Thursday-Saturday, 12-3pm. Dinner Monday-Saturday, 6-10pm
Vegetarian options: 1 or 2 only
The faux Sandstone brick print wallpaper-bad or good?