I love recommendations from readers as I know that they're just as passionate about food as I am and I am always one recommending food to others, usually because I want them to experience as good a meal as I had. One of my longtime readers, SydneyGal wholeheartedly recommended a visit to Zenya and when I told my husband about it, he was all too eager as ramen is one of his very favourite ever meals.
Walking inside you'd never guess from the outside that the interior is done so nicely, looking a bit like a bar rather (and it's dark!) than a brightly lit ramen joint. And a good sign is the queue. There is a crowd of people waiting for a table and one puts down their name and the number of people and tears off the numbered slip and waits for their name to be called. We look at the menu while in line and about 5-10 minutes later we're seated.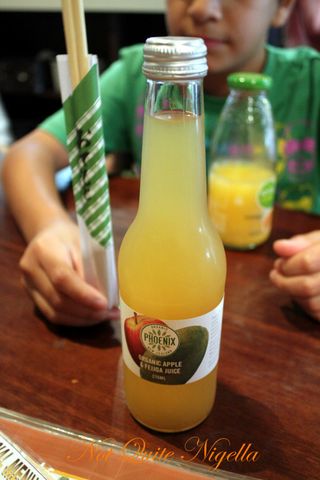 We're dining with M and her sons S and In and we try a variety of things from the curious e.g the raw octopus with wasabi to the staples e.g. Teriyaki Beef as well as the bento boxes and ramen. For an extra $3 you can get a serve of 3 Gyoza and a side salad with the ramen and for an extra $5 you can get a mini bowl of ramen with your bento box. Everyone grabs drinks - they stock Phoenix Organic beverages in their very own Phoenix fridge ($3 each).
The Tako Wasabi arrives first, in a small bowl with a slimy wasabi sauce. The boys refuse to touch it but my husband, M and I try it. It's not bad although raw squid or octopus is not my favourite sashimi texture. The strong but not sinus clearing level of wasabi is not too bad and my husband finds it too chewy but M likes it very much indeed.
It's a little hard to know what side dishes go with what as they're just placed on the table so we assign the side dishes to whoever we think they're meant to go to. In is a firm carnivore (vegetables aren't welcome in his family he says) and so beef teriyaki is chosen for him. It's not a huge serve although it comes with rice and soup but he does a good job finishing it. It probably wouldn't be enough for a very hungry person however.
I like Bento boxes as they allow me maximum sampling opportunities and M and I both choose one each. Mine is with Pork Ton Katsu which isn't too bad although the Pork Katsu is not freshly fried which I think is disappointing. It's dry and has been cooked prior to my order so I eat it but without the gusto that I reserve for freshly cooked Katsu. The salmon sashimi is ok, not the best I've had, and the delicious seaweed salad is delicious, if a little on the small side. The fried gyoza are slightly different to the gyoza that my husband gets with his ramen, and I definitely prefer the ones in the bento box. If I could've swapped the Ton Katsu for the Gyoza I would've been happy.
The Mini ramen that it comes with however is delicious, and there's nothing mini about the size at all. It's enough for me for lunch and is full of richly flavoured deep soup broth, sesame seeds, veges and a slice of roast pork. The ramen noodles are thinner than at Ryo's and of course Ryo's ramen itself is better.
I try some of M's Eel and it's deliciously thick but soft and melts in my mouth. I wish I had ordered the eel instead!
My husband's choice, a little left of centre, is the Citrus Pepper Ramen from the Specials menu and it's a heady citrusy peppery soup with buttered corn and pork slices. He adores this and its deliciously strong taste.
S is convinced that he is up for the gigantic ramen eating challenges we've been telling him about so he orders the Udon which he manages to almost finish leaving a bit of soup and flotsam behind. The udon isn't bad although it's a bit soft for my liking, I like a particular udon texture which is still chewy.
We wait for S to finish his udon but alas the champion in training cannot. But he'll have fun training for it!
Zenya Noodle Bar
217 Rowe St, Eastwood NSW 2122
Tel: +61 (02) 9874 2122
Fax (02) 9874 2144