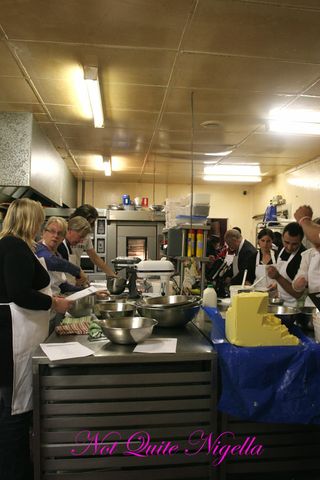 Not even the dampening, miserable weather could put a lid on my enthusiasm for today. For today was the day that I was to meet and attend a cooking lesson held by Adriano Zumbo, creator of the most sublime cakes. Held as part of the Balmain Rozelle Food Week (April 21-27) this Wednesday night Adriano held just two classes for some very lucky people.
Trained in Paris at Ecole Lenotre, Adriano has also represented Australia in the Wold Cup of Patissier, the "Coup de Monde de la Patissier" and the "Chocolate Masters" yet those of us that await his new season's creations like eager groupies at his small but perfectly formed patisserie only know of his friendly staff, as Adriano himself remains an elusive character. Not so tonight.
It's wet and rainy this Wednesday night at 6pm yet there are 20 eager students huddled in the entranceway. Each one is given a clean tea towel and apron as tonight's class, Gateaux de Voyage is a hands on class making a coconut and coriander cake as well as a tart filled with caramel, lemon curd, praline feulletine noisette and topped with chocolate mousse and chocolate swirls. In the flesh, Adriano is much younger than you'd expect. I pictured an older grumpy but tortured egotistical artistic genius but he a young, smiling and modest guy with an eyebrow and upper ear piercing who looks like he'd be right at home at a music festival or sitting at an inner city cafe. The crowd tonight is a fairly even mix of women and men, some couples, some mums and daughters, even two of my old university professors are there and of course food lovers and I'm chuffed to hear that some are NQN readers-hello!
Adriano asks everyone to introduce themselves and explain what they do for a living to break the ice. After that, people group off into 4 groups of 5 people, each team making their own coconut and coriander cake and then making parts of the multi layered tart.
The first supply to materialise is an enormous hunk of butter on a blue plastic sheet - a good 50cm cube which was taken to with a large knife by the various groups to get their supply. I am somewhat fascinated by this enormous chunk of butter-I realise too fascinated when I get home and realise that I've taken 7 pictures of said hunk of butter.
For the rest of the ingredients they are directed to the storeroom, a neatly stacked and ordered room.
There's also a sign reminding everyone of cleaning standards, something Gordon Ramsay would only be too proud of.
I also see the beginnings of the famous Miss Marple crepe cake!
Everyone starts mixing and beating and I survey the kitchen. Adriano and his team of 4 is on hand to give advice and to ensure that everyone is following the directions that they've been given. Bowls are passed out and everyone is busy busy busy.
I look around and notice all of the equipment. There's a thing that looks like a linen press or a piece of gym equipment which I am told is a pastry machine which stretches and rolls pastry. There are also three Kitchenaids of the heavy duty variety and another large mixer. At one end of the room is a huge prover set at 32 degrees for dough and at the other end two multi tiered ovens.
There's also a huge dough mixer and I also see the enormous dough hooks that go with it.
I ask Adriano how his inspiration process works and he explains that he is at first struck with inspiration for a look which he then pairs with a list he has of flavours that he feels will work well together. Inspiration can come from anything and everything and of course like a writer or an artist, when he wants inspiration, it refuses to come. He is never short of ideas though, hence his being able to come with up a new collection every 3 or 6 months and his next collection for Winter may be out in June this year. And for those of you who want to see a cake runway show, do go to the Adriano Zumbo Appreciation Society Facebook page. When he feels that he has enough people interested, he will do one!
Tonight, they're making two variations of the cake, a coconut and coriander butter cake and a lime and basil butter cake. Adriano shows a lady how to roll up the basil leaves together in order to cut them easier.
The mix for the cake is almost done and the tins are buttered and then dusted with shredded coconut and then filled before being popped in the oven.
Now onto the tarts! The first step is to make the caramel, lemon curd and the chocolate caramel mousse. It turns out that the chocolate caramel mousse didn't quite come together so a fast chocolate mousse was used instead. Whilst each group does a different filling, one group starts trimming the ready rolled uncooked pastry. These are then filled with liners and then pie weights and baked dark until beautifully crispy. And I do love these tarts shells more than a person should love pastry.
One of the things that most Zumbo lovers appreciate is his attention to detail and his unfailing refusal to use the same details or decorations across his cakes. Indeed it is astounding how many individual components are made to create one single cake, at least 5 or 6, let alone the range of cakes that his patisserie produces. Ever since my first try, I've been hooked on the look and the taste of these fabulous creations.
So it's with fascination that we watch Adriano create the chocolate swirls - the flourish to top off the tart. The whole process to make the 16 or so swirls takes about an hour from start to finish yet his patience is unwavering in the pursuit of the perfect flourish. It starts with heating the chocolate and getting it to the correct temperature. Adriano heats it to 50 degrees then drops it by 23 degrees, he of course knows this by feel and by instinct but most of us would be doing this by the thermometer. he's looking for the perfect "crack"when the chocolate breaks with a glossy finish. When the chocolate needs more melting, he uses the heat gun again.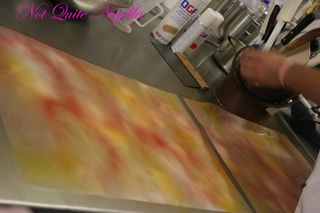 After that he sprays large sheet of acrylic with the coloured sprays, a relatively new product from France which is a huge time saver in his kitchen. Adriano says that Paris is is really _the _place to go to learn about the craft although there is a cooking school in Chicago run by two French chefs that also does an excellent job.[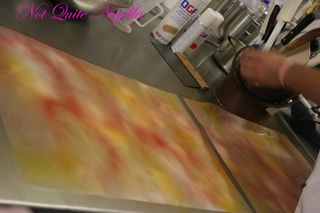 Once dry, these are then cut into strips
He then dollops a measure of melted chocolate and then using a comb runs it through touching the acrylic to make the lines.
He lifts it off and then semi dries it .
Each piece is then cut in half and twirled around and let to set in the fridge into a curl shape.
The tarts are then filled firstly with the liquidey caramel, then a light sprinkle of salt flakes, and then the praline disc.
They are then filled with lemon curd.
And then topped with piped chocolate mousse before receiving their last flourish-the chocolate swirls!
We learn that these tarts are a one off not sold in the store and created specially for tonight's event which makes these delicious morsels even more special. One bite into the crunchy crust and praline, sweet caramel but tangy with lemon and dark chocolate I'm reminded again of how much I love the textural and flavour balance of Zumbo cakes. And when we hear the pop of champagne corks and are handed some bubbly, suddenly everything gets even sweeter.
The cakes are cut up and everyone takes pieces of the cakes and tarts home in a large white cake box. Everyone thanks Adriano and his lovely team for having us, it seems we are all happier for the glimpse into the Zumbo kitchen and to meet the man himself and his team.
For more events see the Balmain Rozelle Food Week program guide here (pdf).
To visit and join the Adriano Zumbo Appreciation Society Facebook page, click here.
To download the recipes click Adriano Zumbo Coconut and Coriander cake or Adriano Zumbo chocolate caramel lemon tart
Adriano Zumbo
296 Darling Street
Balmain NSW
Tel: +61 (02) 9810-7318
Open: 8am-6pm Mon-Sat
8am-4pm Sunday