I am running late and when I get frantic my decidedly dodgy sense of direction tends to get more frantic (which is why Mr NQN tells me that I would be a terrible Amazing Race contestant). And we're at The Star, formerly Star City but with an overhaul and a new look marketing campaign. Everything is different and I can't tell whether we are in the front or the back or the side of the building and I feel a bit like Alice in Wonderland falling down the rabbit warren. And here I am about to see the Adriano Zumbo cake walk. And Zumbo happens to be running even later than we are!
The cake walk is his long held dream of having a fashion parade where models strut down a catwalk holding his creations based on a Parisian cake walk that he once saw.  He had held one previously but that was for the taping of his Zumbo television show and it was more staged for the television show rather than a cake walk. And about 200 guests made up of industry contacts, press, friends and family are here to watch his cake walk which is to celebrate the opening of his new store at The Star.
They're running over an hour late and guests are kept suitably watered and fed with sushi and sashimi from Momofuku Seiobo next door and cocktails including popcorn martinis. Suddenly with a burst of music and a shimmer of the curtain, long legged models strut down the catwalk, pout, turn and flirt with the cameras and crowd.
And there isn't just comely eye candy for the menfolk but also some for the ladies!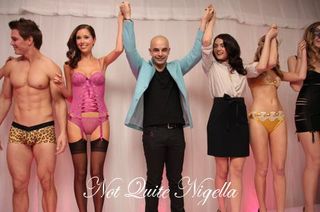 The latest season's cakes are paraded on the catwalk and some of them match the outfits of the models. The catwalk is over after about 10 minutes of strutting and posing and Zumbo comes out for a final bow.
They raise the curtain to reveal the new store with a "I Love Zumbo" in red neon, a turning gumboot display, a bathtub of chocolates and spotlit specimens of cakes in the window. Adriano makes a heartfelt speech thanking his family and his staff and tells people that there will be samples of the goodies brought out on platters. He then invites everyone to play in the shop and then to join him at the Cherry Bar afterwards.
Everyone spills into the shop where they examine the displays of cakes and in a Willy Wonka for adults gesture they are allowed to help themselves to a bathtub of sweets. We try the insanely good "macaroni road" which is a macaron stuffed rocky road with almonds and marshmallows and little malt balls as well as the pistachio and white chocolate truffles.
There are cakes for everyone to try and I pick up one of my favourite pastries, a religieuse. It appears that I have won the door prize of a Molton Brown pack with a candle, body lotion and body wash in the "yuan zhi" scent! Ooh happy dance!
A gorgeous NQN reader and I
Six weeks later Mr NQN and I visit the store to try out the dessert train. We're terribly early, much too early for anyone to have had dinner and want dessert but alas time is a precious commodity nowadays and we have decided to have dessert first. The left hand side of the store is the retail store where you can buy cakes, pastries, macarons and packaged up chocolates and to the right is the dessert train.  As it is school formal season, girls in fancy dresses stop by and coo at the cakes while phone toting fans take photos of the display.
Adriano is there that evening having dropped in to see how things are going and we take a seat at the dessert train which is like a sushi train but instead of customers picking a plate of sushi, they choose a plate of cake or a dessert. The dessert train seats 16 people and is busy on Friday and Saturday nights but relatively quiet on weekdays. There are no bookings taken and on busy nights there is an half hour limit for seats. They do take bookings if people want to book out the entire train for a couple of hours (best kid's birthday idea ever or what!?).
He explains that there are plans to put the chefs inside the centre of the dessert train replacing the astroturf and turning wheels in the centre so that it is more interactive which is a good idea as the dessert train feels a little disconnected from the rest of the action. On the bench there is a cake menu and the prices are based on the colour of the plates-there are white plates for $8.50, pink plates for $9.50 and black plates for $10.50. There is also a soft serve machine that dispenses soft serve in chocolate and vanilla (this is just regular soft serve un-Zumbofied although there are plans to make their own ice cream) for $3.50 a bowl and a plate of four mixed Zumberons for $9.50.
The menu shows the various items on offer-there are about a dozen different desserts listed apart from the cakes that also come around on the sushi train, however only about 5-6 of the listed desserts are on at the time that we are there. We decided to try the desserts that were exclusive to the sushi train (although it was hard to pass up some of the cakes!). And while the train makes its way around we also watch as they make macarons -the majority of Zumbo's macarons will now be made at this location and he counts at least 20-30,000 on the shelves or in the back.
We bide our time examining the items. The occasional plate has a name on it although mostly they don't which would have been an enormous help as people don't necessarily know what is in the desserts, unlike at a sushi train.
Ripe Cherry $9.50
"Aww it's so cute!" I murmur. Admittedly I have a fetish for forest type of items and this looks like a little crop of mushrooms on a pink plate. The stalk of the mushroom is made up of moistened, very fine coconut and it is topped with a dehydrated chocolate mousse disc and it sits in a pool of coconut cream. There is a single sour cherry with a chocolate drizzle.
Pine Mint Splice $8.50
I wasn't quite as taken with the pine mint splice as I had trouble getting all of the components on my spoon in one bite which is where this comes together. So if you're like Mr NQN and I and get a spoonful of strong sour lime jelly you get quite a mouthful. It is markedly better if you get all of the components in one mouthful and that includes the compressed pineapple, fresh mint, cream Chantilly, salted sable, pineapple sorbet and lime jelly.
Chocolate coffee brulee $10.50
This was one of my favourites as I do love coffee and chocolate together. I thought these were three brownie squares but it turns out that this is three squares of Sacher torte (minus the apricot jam) and a log of chocolate coffee brulee with a coat of crunchy toffee on top, a milk emulsion and espresso melt. It's simple (well relatively speaking of course) but has a good balance of flavours and richness.
Violet Crunchie $9.50
A play on Violet Crumble and Crunchie chocolate bars, the Violet Crunchie actually has two ovals of dreamy frozen violet bavarois with just the right amount of violet so that it doesn't taste like soap, dollops of creamy honeycomb foam, chocolate shards and honeycomb pieces.
Peach Melba $10.50
Blood peaches are a newish thing and this dessert is a version of the peach melba with diced blood peaches, fresh raspberries and vanilla cream Chantilly. This dessert has the added component of two cubes of pistachio and raspberry cake which actually give the dessert less of a peach melba flavour as the pistachio and raspberry cake and sprinkles are quite dominant.
Carrot cake $8.50
The carrot cake was easy to spot on the sushi train with the vivid orange carrot puree, compacted and slightly sweet and a scoop of cinnamon ice cream (set but not frozen as it had gone around the train), a refreshing orange mayonnaise, tangy squirts of cream cheese, toasted almonds and walnut cake. And when you got it all on your fork, it did taste like a carrot cake!
Overall the prices are reasonable considering the amount of components and the fact that dessert at a restaurant costs around $18 nowadays. Although one could expect that you might want to try a few cakes and drinks which could lead to a similar phenomenon to when you visit a sushi train where you get a bill for more than you expected.
But I did promise you a surprise didn't I? Well since I was so lucky to have won the door prize at the opening I thought I should pass on the love to one of you and give you my goodie bag containing a copy of the new Zumbo cookbook, a scarf, gift vouchers and samples of chocolate. And not only that but Adriano will autograph the cookbook with the winner's name!
For a chance to win this pack, all you have to do is tell me your favourite Zumbo macaron flavour! Simply add your answer as a comment to the story. The competition ends at midnight AEST on the 10th of December, 2011. You can enter this  competition once daily and it is open to anyone within Australia.
The winner is Elena K. of NSW!
Best of luck!
Lots of love,
Lorraine
xxx
NQN and Mr NQN dined at Zumbo at The Star as guests of Adriano Zumbo
Adriano Zumbo at The Star
Shop 1, Cafe Court, The Star
80 Pyrmont St, Pyrmont, NSW 2009
Entry Via Edward St