Ashiana's is what we call our old favourite, our standby. With our family in law of vegetarians and vegans its a hard task to find a nice place that will cater to everyone without making the omnivores suffer or have to listen to false exclamations of "There's NOTHING vegetarian on the menu" (sigh honestly, I wonder if they just _like _saying that). In the heart of Manly, just off the main Corso, Ashiana's is full of rich maroon and red tones and gold and a trail of tealights leads you up the stairs to the main restaurant.
Ordering Indian is fairly easy, we omnivores share our dishes and the rest do their thing. I am in the mood for tandoori chicken and fish tikka as the weather is hot and a curry doesn't really appeal to me. We order a slew of dishes with the European waitress. She seems to understand what we've ordered but as we later learn, she hasn't quite got the dishes down.
Our meals come quickly starting with an unusual fried pasta-like dish, Delhi Special Chaat -fried ravioli shaped pieces are coated in a tangy English chutney style sauce. Unusual and vinegary, perhaps too vingeary for my taste but I am not a huge fan of vinegars.
Our enormous plate of Tandoori chicken arrives, brightly coloured and charred on the edges. The white meat pieces are delicious, tender and flavoursome but the dark meat pieces don't have the same appeal. My husband whose usual favourite piece is the drumstick, doesn't like his at all and I have to agree, for some reason, the white meat takes to the marinade a lot better and is much tastier.
We're expecting the Fish Tikka and Palak Gosht (Lamb and Spinach curry) but instead we get the Fish Curry and the Palak Paneer (Cheese and spinach curry). The waitress consults her pad and she has written down the wrong items which is a touch annoying as we're hungry and she appeared confident enough when taking our order not to read our order back to us. The cheese and spinach curry (Palak Paneer) is returned but we're a little confused at the Fish curry so by the time she offers to get us the Fish Tikka, we're tired of it and just want to eat. The Lamb and spinach curry is delicious, the lamb soft and tender but not falling apart.
The Fish curry is less successful, not bad by any means, but the strong sauce obscures the delicate-ness of the fish. The sauce would be perfect for chicken or red meat but overpowers the fish.
We also order our favourite Naan-the Nawabi/Pashwari Naan filled with coconut, raisins and nuts. Theirs is a little thinner than others that I've tried, I've tried some fabulously puffy and sweet ones. Its good but not the best I've had.
The vegetarians order a slew of dishes which I did not have the opportunity to try as I was stuffed from the lamb & spinach curry and tandoori chicken but I am assured from their satisfied murmurs and little left over that it is indeed good.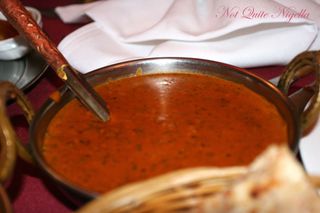 Ashiana's Indian Restaurant
2 Sydney Road (opposite the Steyne Hotel)
Manly NSW 2095
Phone (02)9977 3466
Mon-Fri 5pm-10.30pm, Weekends 5pm-11pm
Seats 55
Licensed with bar. Wine is available by the glass. BYO (wine only) $1 corkage per person.