The menu reads: "hemingway's manly is a small bar and casual dining spot with it's tongue planted firmly in your cheek... He (chef Ben Pichon) wishes to acknowledge his influences: the colonel, mr. mcdonald, school canteens, ikea hot dogs & carnivals across the globe."
If there's one thing I appreciate in any human being it's a sense of humour. I just cannot bond with you unless you have one. So when I read the above line about the chef's influences at Hemingway's in Manly I was tickled pink and had to laugh. It also made me settle right in.
It's a menu housed in a book, a volume of "Collier's Junior Classic: Harvest of Holidays" to be exact. The liquor and food are earmarked and the pages feature a neat selection of eight entrees, seven mains and three desserts. There are spins on childhood classics such as "chip degustation", "2 minute noodles" and "pb &j". Cocktails features Cottee's lime cordial and aeroplane jelly and there are drinks from Passion Pop to "rap-video-level champagne" while bar snacks include chip buttys.
Open for eight weeks already Hemingway sits right on the beach facing the water so it's at a scenic location. Downstairs is the bar which is already abuzz at 7pm on a Saturday night. Upstairs is the restaurant, still noisy, where Louise and Viggo are waiting for us. There's a warm, homey and quirky atmosphere and black and white pictures of Ernest Hemingway line the walls including a picture of him and his cats. And why Hemingway's? Did Ernest Hemingway have a bent towards Antipodean childhood food? No, it's because the three owners admire Hemingway's lifestyle-he drank, he loved women, he survived two plane crashes and he was a very masculine sort of guy.
We enjoy dining out with Louise and Viggo because they are also of the same thinking-try as much as possible and share. So we go a little wild with the dishes which the waitress explains are meant to be playful and shared. The kitchen is very organised and all of our entrees come within a few minutes of each other. The corn comes as two corn cobettes blanketed with tangy, rich manchego cheese and rolled all over with a delectable lime butter. The corn has just the right amount of char and yet the kernels are still plump and soft and the manchego cheese and lime butter give it a tangyness to offset the sweetness of the corn. If you are a corn freak like I am, order one plate for yourself because it will hurt giving your other half the remainder.
How could anyone resist the chip degustation and from watching the other tables, it looks like this is a popular order. Here there are three types of chips (which can change daily) paired with three types of sauces. Today the chips are potato chips, sweet potato chips and onion rings and the three sauces are a tomato & date, home made ranch and a home made bbq sauce. The potato chips that come in a cup are home made and more of a softer wedge variety and aren't super crisp although they aren't bad, the sweet potato chips have some soft edges but the onion rings are juuust right. The three sauces are excellent and cover the spectrum of tastes and it's hard to choose a favourite although the garlicky ranch dressing is a favourite as is the bbq. Louise and Viggo note that the sauces have improved from their first visit here when it first opened.
I make fast work of the school prawns which come well seasoned, fried and crispy. They're moreish little buggers and I like the slightly different green tea salt and citrus mayonnaise on the side.
_
_
This was Mr NQN's favourite as he loves ceviche. The salmon was cured with citrus, salt and angostura bitters and served in a little tin along with avocado and herbs with a little pile of bread.  The salmon has a lovely creamy texture to it offset by the bitterness in the angostura bitters. Piling it onto bread wasn't the best way to eat it though as the bread wasn't quite right for it and buckled under the moisture of the salmon and I preferred to eat this straight.
Who doesn't love a prawn cocktail? This one comes deconstructed on a bed of shredded iceberg lettuce with a Marie Rose cocktail sauce on the side. There are four prawns, head off which are juicy and fresh although I always find it difficult to stop at one prawn.
I'm not usually a cocktail person. Well I am but the effects can be disastrous for me but I couldn't resist this lime green concoction made up of gin, Cottee's lime cordial and Midori aeroplane jelly. It's deceptively drinkable and doesn't taste alcoholic at all and it's only when I start to feel the familiar flush that I realise how potent it is.
The two minute noodles are vermicelli noodles with pieces of chicken and kim chi served with a light broth poured at the table. Although there are pieces of kim chi it's not particularly spicy although it has a good flavour to the soup. The serve is on the small side for a main and I would consider this more entree sized.
The nuggets were a big hit with the table and were served to us in a white cardboard takeaway box with a smear of sweet paprika mayonnaise. The meat is juicy breast meat, slightly spicy and moreish and there are about seven pieces of nuggets in the box.
The sliders were mini beef burgers and these also seemed to be a popular choice. They are mini beef burgers on a sesame seed bun with a slightly crunchy toasted top and came with the sweet tangy bbq sauce and bacon as well as pickles and mayonnaise. They were quite good indeed with just the right amount of sauce and a good quality patty but I was getting very full at this stage so Mr NQN gets half of mine.
There were four pancakes to the serve and four pieces of jellied, steamed pork belly along with a side of moreish, creamy coleslaw and a jar of apple chutney.  Whilst the flavour and texture of these pancakes was great and it was one of my favourite dishes, I didn't think that it was great value when you compare it to the pancake party at The Duke or other similar establishments.
Now infusing ribs with cherry cola doesn't make them taste like cherry cola but it does give them a strong sweet aspect to it which suits pork so well. The ribs are tender and easily come off the bone and the serve has about six rib pieces on it.
I try a little of Louise's Hemingway's Cup cocktail which comprises of Hendricks gin, rose & apple tea, cucumber, "sugar, spice & all things nice" and agree that it is another eminently drinkable cocktail strong in refreshing cucumber.
_
_
' p b & j ' peanut butter parfait, brioche, aeroplane jelly, peanut brittle $10
Louise and Viggo had had this dessert before and loved it so it was a given that we'd try this and we thought why not share all three desserts while we were at it! The pb & j is a roll of frozen peanut butter parfait ice cream with little crunchy brioche crumbs, raspberry Aeroplane jelly, rubbly chunks of peanut brittle, freeze dried raspberries and raspberry powder. My oh my...it's SO good. I'm sure I don't have to sell you on the concept of peanut butter and jam and this is just adult sized childhood fun on a plate.
_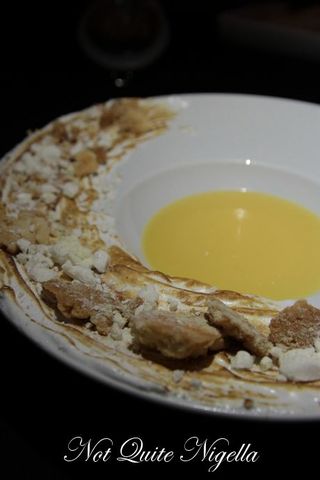 _
' p i e ' lemon curd, crumbs, meringue $10
The pie comes deconstructed looking like a giant egg with the tangy lemon curd in the centre. There are meringue and biscuit bits around the outside and they explain that you scoop a bit of the crunchy outer and pull it towards the centre to combine it on the spoon with the lemon curd. It's crunchy and smooth but I have eyes only for pb&j.
The hot fudge sundae consists of house made vanilla ice cream, chocolate hot fudge sauce, sprinkles, wafer biscuits, glace cherries, chocolate coated honeycomb, white chocolate pieces and whatever you may fish out in the lucky dip. "I got a glace cherry!" Mr NQN exclaims while I go fishing down the bottom to get a piece of white chocolate. "You look about two years old" Louise laughs as I stab at the glass with a spoon trying to break up the honeycomb.
And the lesson learnt today? It is fun to act like a kid again.
So tell me Dear Reader, what foods do you remember fondly from childhood? And do you ever act like a kid?
Hemingway's
48 North Steyne, Manly, NSW
Tel: +61 (02) 9976 3030
Open 7 days: Monday-Saturday 9am-12am; Sunday 9am-10pm
http://www.hemingwaysmanly.com.au/