Opposite the Manly Ferry wharves is a restaurant that we've passed many times but never noticed. It's only when A books a table here for her birthday that we discover this restaurant, a Spanish Moorish restaurant and tapas bar.
The staff are patient, and for us they need to be as half of the party is more than half an hour late, some 45 minutes late which can send a restaurateur round the bend with precious table space being wasted. When three quarters of the people arrive at the table, the owner recommends that we order some tapas to start and then our mains before the rest of the table arrive as the wait for our mains might be long as we've hit the 8-8.30pm crowd. We're rushed into choosing a little but we assume it's all in the name of making sure that our orders are served in a timely manner. Vegetarian dishes are plentiful and clearly marked which makes ordering easier.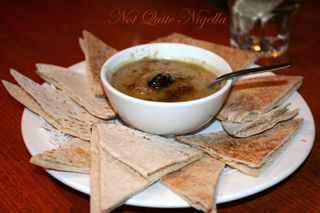 We order a mix of tapas which comes out within 5-10 minutes. The first to arrive is the Bissara Dip $13.00 described as "A rich puree of baby broad beans cooked gently in olive oil, garlic and cumin served with flat bread". I scoop some up on the bread and it's not particularly flavoursome and appears very watery if anything. Not a promising start I must admit.
The second tapas dish to arrive is the Potato Alioli $9.00, described as "Crispy fried potatoes with homemade garlic and parsley mayonnaise". The small potato chunks look delectable and holding back on eating them while taking photos is an exercise in patience. We are rewarded with crispy, delicious potato chunks with an aromatic garlic aioli which makes us for the Bissara Dip nicely. This gets much contented murmuring from the table. In the middle of eating these, curiously my main arrives. The owner apologises for this and removes it and tells me that it is for the wrong table and that a fresh one will be made for me once I finish my entree.
Our third tapas dish is the Moorish Meat Balls $11.00, "Minced beef balls simmered in a spicy tomato, red wine and coriander sauce". There are 4 1/2 small sizzling balls to this plate and they are made of very finely ground beef, if anything the texture is much like that of a felafel without being bright green. They're something that I wanted to try as I haven't experienced Moorish cuisine before but I don't think I'd order these again. My husband comments that the four-and-a-bit small balls hardly represent good value. It seems the only thing I can recall about the Moors is of course a Seinfeld reference of the Bubble Boy episode where George calls them "The Moops". See, Seinfeld is really relevant to everything.
We next try the Cheese & Spinach Balls $13.00, described as "Homemade deep fried, crispy cheese and spinach balls with a spicy dressing". These are very green and spinachey inside with just enough cheese to bind and give it taste. They're much more preferable to the Moorish meatballs and I find myself really enjoying the crispy outside and spinach and cheese inner.
We're expecting to wait a while as the owner had warned us that the kitchen would need time to prepare our 8 mains but it scarcely 15 minutes later before our mains arrive. I had visions of being in a "The Chopping Block" or "Kitchen Nightmares" episode, you know where the food critic/customer waits for an hour for their main. Thankfully not tonight.
_The first B'stilla served $28
_
My B'Stilla $28.00 gets the most attention. Indeed with the sprinkling of cinnamon and powdered sugar and strawberry on top it looks like a dessert. Everyone wonders if I've accidentally ordered myself a dessert and for a second I do too. It is described on the menu as "One of the truly great medieval dishes of the Moors, it is richly spiced, highly flavoured mixture of chicken, almonds and orange blossom water, sparked with cinnamon and saffron, sweetened with pounded sugar and encased in layers of thin crispy warka pastry".
Thankfully I can tell that it is a different one from the one that landed on the table before (phew) and it certainly resembles a strudel pastry with an orange syrup and flaked almonds surrounding it. Cutting into the pie and tasting it is an almost surreal experience. My taste buds and brain fights with itself, one saying "Yes!" and the other saying "No!". One part of me thinks that I am having a sweet cinnamon strudel and then I am delivered a taste of savoury curry spiced chicken and almonds. Everyone else that tries it likes it but I have to admit, it confused my tastebuds a little too much.
I try Snugglepot & Cuddlepie's Zarzuila Marinara (serves 2 $50.00) served in a paella pan. Described as "Mussels, crabs, prawns, ling, baby clams and calamari in a white wine, tomato, garlic and herb sauce" it resembles paella without the rice. It's filled with crab, fish, mussels and prawns and the seafood is juicy, fresh and tender whilst the sauce is richly flavoured and glistening. Perfect to have with the saffron rice. They've ordered couscous to go with it which is nice but the saffron rice gives the bountiful seafood catch a more paella like feel to it.
Sisko and Tuulikki both have the Vegetarian Couscous $24.00 which are beautifully presented on gorgeous Moroccan themed plates which I am coveting for my kitchen. It's described as "A mound of fluffy moist couscous topped with chickpeas, sliced eggplant, caramelised onion and sultanas. Rounded with chunks of four different vegetables" and it is indeed tasty with the eggplant, caramelised onion and sultanas sitting atop the mound of couscous flanked by the simmered chunks of potato, pumpkin, carrot and zucchini. The eggplant, caramelised onion and sultanas are the most flavoursome part of the dish whilst the thick chunks of vegetables are tender and lightly flavoured.
I try A's Vegetarian Tajine $23.00 after they lift off the Tagine lid to reveal an assortment of vegetables. It is described as "A casserole of zucchini, carrots, sweet peas, and artichokes in a fresh herb and tomato concasse". Whilst a vegetarian would probably think this is wonderful, it's just not as flavoursome as the B'Stilla or Zarzuila Marinara and I have meat dishes to attend to so I try a bit and move on.
I then try Figaro's Lamb M'choui $28.00. Described as "Flame grilled marinated lamb fillets over moist fluffy couscous tossed with fresh herbs, almonds and raisins topped with a dollop of minted yoghurt",the lamb is delicious and perfectly cooked. Slightly crispy on the outside and lovely and tender inside and great alongside the couscous which is doused in a tomato concasse and minted yogurt.
Lastly I try my husband's Chicken and Preserved Lemon Tajine $27.00, "Marinated chicken pieces smothered with confits of preserved lemon, tomato, saffron, and onions. Garnished with potatoes and olives". I have this with the saffron rice ($5 extra) and it's very good, the chicken on the bone falls away easily and the salty preserved lemons lend an extra element to the dish. I do a lemon pucker face when I do eat some of the preserved lemon as I find it too salty.
After dinner the music starts and a trio of Flamenco dancers start dancing. It's a great show full of skirt swirling and foot stamping and Snugglepot being a huge fan of dance is urged to dance onstage by one of the dancers.
Alhambra Tapas bar & Moorish Cuisine
1/54 West Esplanade Manly
Tel: (02) 9976 2975
Winter hours
Lunch
Wed-Sun: 12.00pm - 3.00pm
Dinner
Tue-Sun: 6.00pm - 10.30pm
Cash, Bankcard, Visa, Mastercard, AMEX, Diners Club
BYO (bottled wine only) $3.00 per person 10% surcharge on public holidays